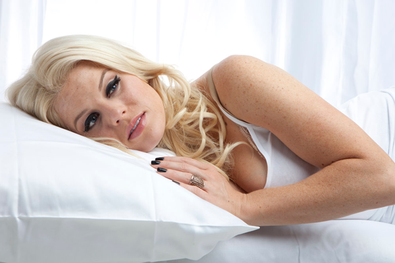 "Don't you worry about Ivy Lynn!" Megan Hilty says when the subject of the "Smash" Season 2 trailer comes up. Rebooted after a rocky first season, NBC's song-filled drama about the makings of a Marilyn Monroe Broadway bio-musical appears to position Broadway belter Ivy Lynn—who slept with her rival's fiancé, had a pill-induced meltdown on stage, and ended the first season contemplating an overdose—as the cast pariah. With Hilty leading the charge, however, there's no way Ivy's innate talent and warmth will be down for the count.
In the first season, those qualities seemed to come directly from Hilty rather than the often-contradictory scripts. Sitting on a photographer's couch after knocking out two photo shoots on a rainy afternoon, Hilty's demeanor—relaxed and affable—belies her movie-glam appearance, complete with mile-long lashes. She doesn't shy away from discussing the furor that "Smash" created in the theater community last year, but she's also savvy enough to downplay it when speaking to the press. This is one newly minted TV star who is both thankful for and cautious about her hard-won success.
A consistent performer on Broadway for years, Hilty was a replacement Glinda in "Wicked" and played the Dolly Parton role in the short-lived "9 to 5" musical, but in an economic environment dependent on star power to drive theatrical box office, the days when an unknown quantity could become the toast of the town in one opening night seemed long gone. In an interview shortly before "Smash" debuted, Hilty told a reporter that instead of allowing herself to be frustrated by the influx of television stars on Broadway, she would make a name for herself in that field too. If you can't beat them, why not create a plan to join them and then execute it with hard work and determination, Hilty's thinking seemed to go.
A few months later, the first season of "Smash" ended, and Hilty was starring in a rapturously reviewed New York City revival of "Gentlemen Prefer Blondes" at City Center's Encores! and recording her debut album, "It Happens All the Time," set for a March 12 release. So did her plan work? Did "Smash" lead to "Blondes"?
"Honestly, I don't know," Hilty says before adding with a laugh, "I know that it helped! I can't imagine that it didn't."
That combination of bubbliness and steely willpower served Hilty well during Season 1. Even when "Smash" asked Ivy to swerve from victim to vixen, Hilty's authenticity kept the show grounded. Who better to play a struggling Broadway almost-is who does whatever it takes to step out of the ensemble and nab that brass ring than someone who's actually pounded the pavement? Ivy's apartment is even decorated with photos of Hilty when she was first starting out, in costume as Ermengarde from a production of "Hello, Dolly!" and wearing a body suit in "Pippin."
"It's a little bizarre to be doing a TV show that is based on the world that I come from," Hilty says. "There are so many moments in the show where it's like, wow, I've heard that or I've said that. I hear all the moans and groans from the theater community, and I would totally agree if they weren't casting from our community. But they're employing everyone! I'm really proud to be a part of something that is celebrating our community. So if we have to make it a little unrealistic to make it interesting and spark interest in our community again, then so be it."
Unrealistic may be putting it mildly, but Hilty is unapologetic about the show's shaky start. "Of course there's going to be problems; we're finding our footing," she says, then points to new showrunner Joshua Safran and says that the show is in "very good hands."
She's right. Safran has streamlined story lines and refocused the show in the first few episodes of Season 2, finding a middle ground for characters who oscillated from crazy to pathetic, or worse, entertaining to dull. As a result, Hilty blossoms as Ivy, still vulnerable but with a more assured core that allows her gradual redemption to be cathartic for viewers.
"I don't choose to look at her as a villain; I choose to look at her as a person who is deeply flawed," Hilty says. "Yeah, she makes mistakes, but she has the capacity to show remorse for it. It's not like she gets away with all of her things and twiddles her mustache as she rides away into the sunset. She does bad things sometimes, and she pays for it. So in Season 2, she's re-evaluating her personal life and her professional life. She's trying."
Hilty gives no sign of ever questioning her own choices, even on an exhausting day that finds her doing two photo shoots before filming "Smash." Not to mention the voiceover work she does on the side, the concerts, and finding time to engage fans and friends on Twitter.
"Don't get me wrong—I like to rest a little bit," she says with a laugh as she reveals the full extent of her workhorse tendencies. "But I don't do well with downtime."
Not that she has much of it with "Smash." "Yes, we have 16-hour days. Whatever," she says. "I come from the theater. Nothing is as difficult as working eight shows a week. Period. End of story. For me, I still maintain that theater is 10 times harder."
Her capacity for work is extraordinary, even on a show that often finds the cast asked to learn, record, and execute an entire musical number in a week, on top of the often emotional scene work of a drama series. "It's great—it develops another muscle," she says. "Like on Wednesday, we had something come up that made us rearrange the entire schedule. All of a sudden we're doing this intense scene that none of us had worked on, but it had to be done now. If you start to think too much about it, then you get in trouble."