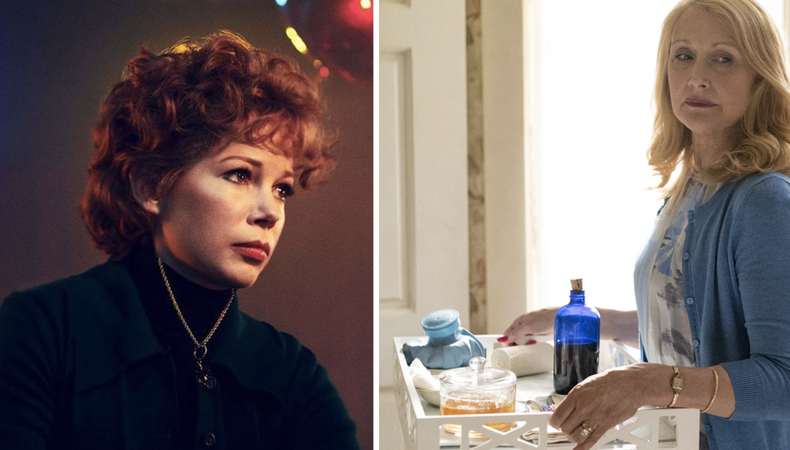 Today, Patricia Clarkson and Michelle Williams are easily two of the most formidable onscreen forces that TV and film can lure. But let it be known, they have paid their dues.
In fact, the respective "Sharp Objects" and "Fosse/Verdon" leads met way back in 2003 on the small indie feature "The Station Agent," and while Clarkson was already a veteran actor at the time, Williams was still very much finding her on-camera sea legs. Fortunately, she had guidance from Clarkson, who provided some absolutely crucial advice.
"I remember, you gave me a great piece of advice that I think of to this day," Williams recalls to Clarkson in a conversation for Variety. "It was very actress-to-actress. We were out to dinner before shooting the next day, and I had ordered some atrocious meal. You were like, 'No Chinese food before you have to shoot in the morning. Salt.' "
READ: How Michelle Williams Learned to Dance on 'Fosse/Verdon'
That is certainly some advice to chew on. Elsewhere in the interview, the two powerhouses discuss transitioning from film to the realm of prestige television, mediums that are in some ways very different—and in some ways very much the same.
"It's about the people you work with. I watch you in 'Fosse/Verdon,' and to me, it's a movie. I was making a little movie each week," Clarkson says of "Sharp Objects," for which she won a Golden Globe. "It didn't feel as though we were on some TV schedule because it was HBO. We had luxuries. And I love doing independent films, but we know we like having a trailer."

Williams agrees on the trailer front, and also in the vein of stability, relishes the consistency of shooting a television show. "Isn't that nice to have something to return to?" she marvels. "Often, making independent films, you're in these intense situations with people, but for a short amount of time. And then you disband and you grieve them. You miss them."
If you'd like to read the whole advice-filled conversation (and why wouldn't you?), you can do so right here.
Want more from the best in the biz? Check out all of our Backstage Live interviews here!