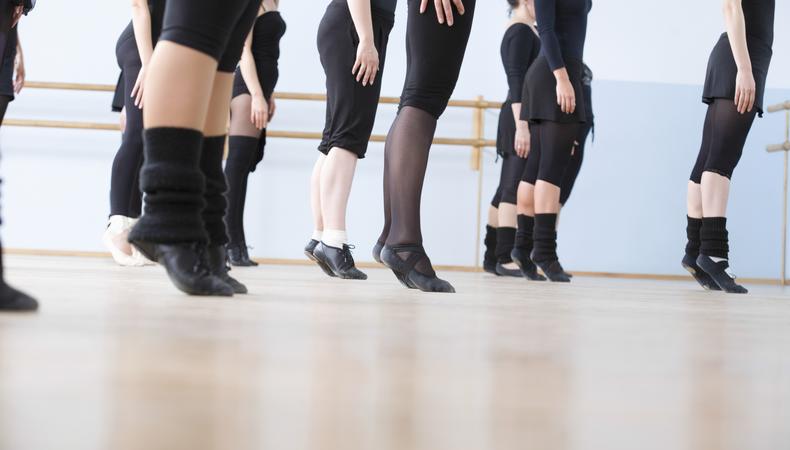 The "third position" is used on a very basic level in ballet and dance. It's when one is "practicing to get to fifth position. You want to put your heel of one foot into the center of your other foot, and stand with both feet firmly on the ground, feet turned out." Now, why am I talking about the third position?
Let's walk through a familiar audition scenario: You arrive for the dance call, and assuming you've done well—(you've made it through a possible cross-floor, combo one, and possible combo two)—the team may announce that they would like you to sing. This could be a 16-bar cut, but they might ask you to sing a song of your own choice, or vocal sides (from the show) that have been sent to you via your agent. Now here's the essence of what I'm getting at: At this critical stage of the audition, I prefer my dancers to leave the dancer at the door and walk in with a singer mindset!
If you're singing, I want to see a singer. If you're acting, I want to see an actor. What I don't want to see are dancers who walk into the singing component of their audition and display the demeanor of, "I'm not really a singer. I'm a dancer so please don't expect me to 'nail' this."
This may sound like a no-brainer, but time and time again, I see dancers sabotage themselves during this part of the audition process. How exactly do dancers manage to do this? They come in with little or no preparation on their song; they exhibit a voice that has obviously had limited training. (If one is a musical theater professional, it's imperative that training be maintained in all three disciplines.); they choose easy or unimaginative songs as their quick, predictable go-to's; or they walk into the room as a dancer, often standing in third position, and gesturing or adding bits of choreography/movement to their songs. (Many times these gestures are nervous habits because they don't seem to trust themselves as singers.)
So, what is the remedy? When you, as the dancer, enter into the singing component of your audition, take a minute to get your head in the game and establish what you want/need to accomplish. Sufficiently impress the panel with your vocal prowess so that they see you as a bonafide dancer and singer.
1. If you have the time post-dancing, take a few minutes to change into some other outfit or look (other than the sweaty clothes you've been moving in for the past two to three hours). Towel off. Pull your hair back or put a comb through it. Look spiffy.
2. When your name is called, walk into the room with confidence. Have your organized music binder under your arm and head directly over to the accompanist.
3. Give brief but specific instructions to the accompanist regarding tempo and any other notes you may have in order to have him/her play the very best for you.
4. Walk into the center of the room in front of the panel, and should they ask you what you are singing, state the name of song and then start with no delay or apology.
5. As I mention above, trust in the power of the song's words (and yourself as a singer). Stillness is your friend here. Hands down by your side. You are not stiff by any means, but instead presenting a clean, crisp image.
6. Keep your eyes open and sing over the heads of the panel instead of looking them directly in the eyes.
7. Once your song has ended, immediately thank the panel and start out the door, not forgetting to collect your book from the accompanist.
8. And finally, once you're out of the door, take a well-deserved breath and reflect on what worked/did not work in the room for you. This is the time for honest and helpful self-critique—critique that is going to help you better and up your game for the future!
After you browse our musicals audition listings, watch the video below for dance tips for actors!
The views expressed in this article are solely that of the individual(s) providing them,
and do not necessarily reflect the opinions of Backstage or its staff.