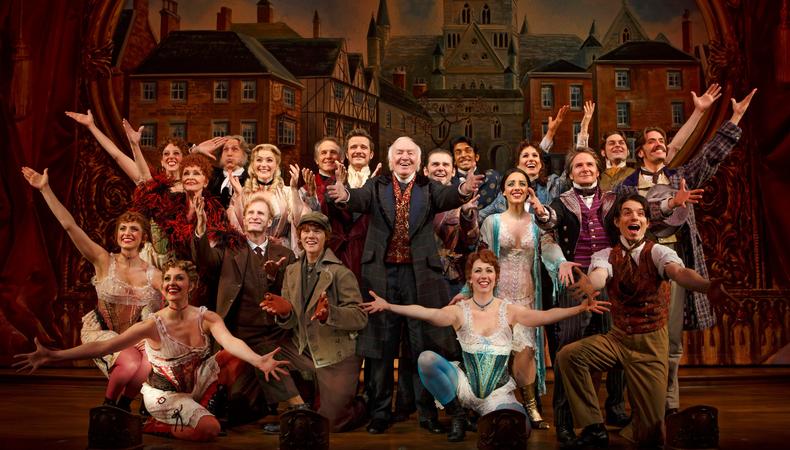 I caught the original 1985 Public Theater production of Rupert Holmes' musical version of Charles Dickens' "The Mystery of Edwin Drood" in its initial run in Central Park and on opening night on Broadway. I was considerably less than charmed on both occasions by its generic ersatz Englishness, meandering score, and relentlessly one-joke construction, despite the efforts of a top-notch cast. Nevertheless, it did just fine without my approbation, winning the 1986 Tony Award for best musical and running for one-and-a-half years. Now Roundabout Theatre Company has brought it back to the Great White Way in a strikingly handsome production featuring another cast riddled with talent. My reaction was identical, and that will undoubtedly mean just as much as it did the first time around.
Holmes' conceit is a show within a show. We are at the Music Hall Royale in 1895, where a troupe of British actors is performing a musical adaptation of Dickens' final, unfinished novel. This allows the performers to whipsaw between the story's characters and the hammy actors portraying them. The audience is ginned up at every opportunity to participate in the melodramatic proceedings and give major love to the company. The device culminates in the gimmick of having the patrons vote to choose the murderer.
Young Edwin Drood is the nephew of John Jasper, the secretly opium-smoking choirmaster of the cathedral of Cloisterham. Drood has been engaged since childhood to the lovely Rosa Bud, Jasper's singing pupil, after whom this tortured musician lusts. Enter twins Neville and Helena Landless, of the British crown colony of Ceylon, newly orphaned and in England under the protection of the dotty Rev. Mr. Crisparkle. Neville shows immediate interest in Rosa, sparking Drood's anger and Helena's spirited defense. Then there is the Princess Puffer, Jasper's opium dealer, who knows more than she lets on. When Drood disappears on a stormy Christmas Eve, he is feared dead, and the hunt for his murderer commences.
Director Scott Ellis' edition is brisker and brighter than Wilford Leach's original, most notably in the performances of Will Chase and Betsy Wolfe as Jasper and Rosa. The creepy sexual tension between the broodingly erotic Howard McGillin and the nervously neurotic Patti Cohenour is entirely absent. Chase opts for energetic mustache-twirling and Wolfe sticks with innocent and virginal, though both sing powerfully. In the pants role of Drood, Stephanie Block cavorts with a winking manliness and employs her spectacular voice authoritatively, though she lacks originator Betty Buckley's sharp edge. Jessie Mueller and Andy Karl milk Helena and Neville's cartoon exoticism for big laughs, and Gregg Edelman dithers appropriately as Crisparkle. Best are the elegantly authentic Jim Norton, absolutely the equal of the peerless George Rose as the troupe's leader and our host, and, as Puffer, the playful Chita Rivera, who knows in her bones how to do a star turn despite the worst cockney accent since Dick Van Dyke.
The audience I saw "Drood" with adored it, and I suspect most will, so hooray for Roundabout. Alas, the show still makes my teeth hurt.
Presented by Roundabout Theatre Company at Studio 54, 254 W. 54th St., NYC. Nov. 13–March. 10. (212) 719-1300 or www.roundabouttheatre.org. Casting by Jim Carnahan, Carrie Gardner, and Stephen Kopel.
Critic's Score: C+