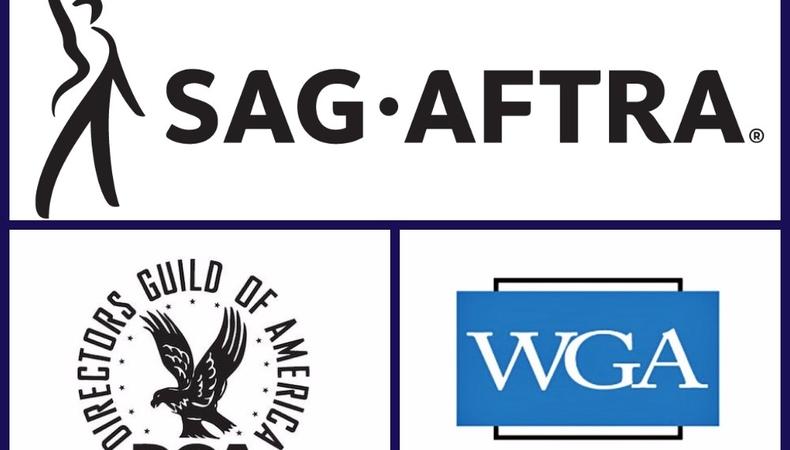 As an actor, no matter where you're located, an awareness of the unions associated with the business will be to your benefit. As an actor in Los Angeles, however, not knowing DGA from WGA could easily cost you a job, as well as demonstrate a highly unprofessional lack of awareness about your industry.
So you can have all the information you need in one handy place, we've created this breakdown of the three unions that dominate Hollywood—SAG-AFTRA, the Writers Guild of America, and the Directors Guild of America—and how they relate to you as the actor.
READ: How to Join SAG-AFTRA
SAG-AFTRA
Formerly the Screen Actors Guild, the organization merged with the American Federation of Television and Radio Artists in 2012 to become SAG-AFTRA. The two entities together represent roughly 160,000 actors in film, television, and commercials, as well as recording artists, radio personalities, and video game performers.
The Screen Actors Guild was founded in 1933, in an attempt to minimize actor exploitation brought on by the performers who were being forced into multi-year contracts with film studios. (The contracts provided no restrictions on working hours and essentially gave studios ownership of the actors' professional and, to an extent, personal lives).
AFTRA was initially formed as the American Federation of Radio Artists (AFRA) in 1937, made possible in large part by Congress' passing of the National Labor Relations Act. It later merged with the television authority in 1952 to become AFTRA.
The SAG-AFTRA main offices are, of course, located in L.A., on Wilshire Boulevard. (There are offices elsewhere in the country, including in New York.) Gabrielle Carteris is the currently-serving president, with Rebecca Damon serving as Executive Vice President.
In order to qualify for SAG-AFTRA membership, a given performer must have proof of SAG or AFTRA employment or be employed under an affiliated performers' union, including Actors' Equity Association, Alliance of Canadian Cinema, Television and Radio Artists, American Guild of Musical Artists, and American Guild of Variety Artists. All new members must pay a one-time initiation fee of $3,000, with an annual base fee applying thereafter of $227.42.
Also of note: in 1995, the union created the SAG Awards, the only awards show focused solely on actors in which each prize is given to an actor. The event is still held annually in L.A.
The DGA
The Directors Guild of America represents the country's film and television directors. It was founded in 1936 as the Screen Directors Guild before it merged with the Radio Television Directors Guild in 1960 to become what is today known as the DGA.
An important distinction to note is that the DGA is a craft union, unionizing members of a specific craft rather than various professions across an industry.
Its current president is Thomas Schlamme, with Mary Rae Thewlis serving as national vice president. The primary office is smack-dab on Sunset Boulevard, with satellite locations in New York and Chicago. As of 2020, the union had more than 17,500 members according to data provided by the DGA.
First-time membership fees will vary depending on the role within the industry. Feature/television directors will pay $13,416 to join, for example, while low budget feature directors will pay $3,500.
READ: SAG Awards Founder & Executive Producer Kathy Connell Takes Us 'In the Envelope'
The WGA
Formed as a confluence of five organizations, the Writers Guild of America actually has two branches for its respective East and West Coast components: the WGA East is in New York, while the WGA West is in L.A. According to the WGA Annual Report to Writers, the guild has around 20,000 members.
The first incarnation of the union was the Screenwriters Guild (which was ultimately one of the aforementioned organizations included under the umbrella of the WGA), created in 1921 by a group of 10 Hollywood screenwriters who were incensed over major film studios' wage reductions for writers. The union expanded to also represent television writers in 1948 and in 1954, it officially became the WGA.
Notably, in 2007, the WGA went on strike over revenue and residuals pertaining to new media. As a result, several major series, including "30 Rock" and "Lost," saw their seasons abbreviated. More recently, in April 2017, the WGA voted to authorize striking again if a new deal providing better working conditions was not reached. At the proverbial 11th hour, a strike was avoided.
To qualify for what is known as Current membership, writers must acquire a minimum of 24 "units" in the three years preceding their application. Units can be gained in a variety of ways: two units are awarded for each completed week of employment within the Guild's jurisdiction on a weekly basis; eight are given to the writer of a screenplay for a short subject theatrical motion picture or for a radio play or teleplay up to 60 minutes in length. A one-time initiation payment of $2,500 is due upon final qualification.
David A. Goodman is the current president of the WGA West, with Marjorie David serving as vice president. Meanwhile, the Writers Guild of America East is helmed by Beau Willimon as president, with Kathy McGee serving as vice president.