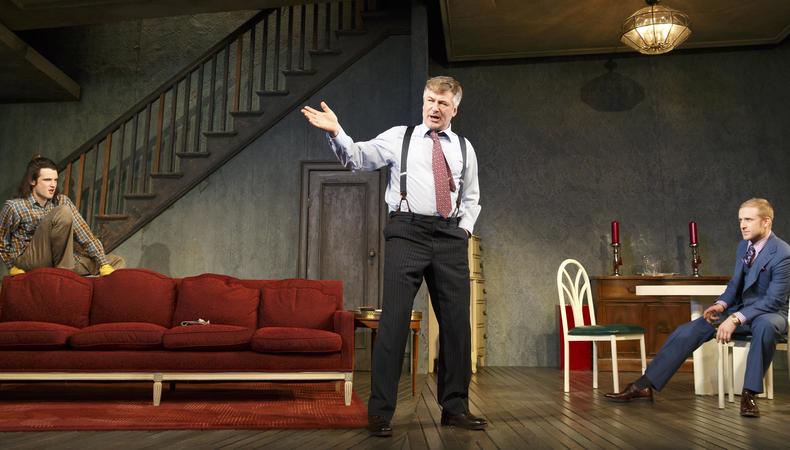 When I saw the original Off-Broadway production of Lyle Kessler's "Orphans" back in 1985, I found the play to be a tiresome mix of pilfered Pinter and stolen Shepard, notable solely for Steppenwolf Theatre's visceral acting style, exemplified in the flashy performances of Kevin Anderson, Terry Kinney, and John Mahoney. Nearly 30 years later the play is getting its Broadway debut, but time hasn't altered my assessment. "Orphans" remains as synthetic as ever, only now Tom Sturridge, Ben Foster, and Alec Baldwin do the bravura thesping.
Once set in the present day but now taking place "sometime in the not-too-distant past," "Orphans" doesn't tell much of a story, content instead to mine a situation. Brothers Treat and Phillip occupy a crumbling house in North Philadelphia, having apparently lost their parents at a tender age; Treat, the elder, makes reference to having "raised" Phillip when Treat was "only a little boy." Treat keeps the wolf from the door by robbing people at knifepoint, while Phillip never goes outside, convinced by Treat that allergies will kill him if he does. When Treat comes home one night with the drunken Harold, a businessman from Chicago with a suitcase full of stocks and bonds, he thinks that he has hit the jackpot. But it soon becomes apparent that Harold, himself an orphan and on the lam from some shady characters out to kill him, has chosen Treat to provide him with a hideout. Power dynamics quickly switch as Harold domesticates these feral siblings, putting Treat in his employ and socializing Phillip, allowing him to get out from under his brother's near-total dominance. Naturally, it all ends badly.
In 1985 director Gary Sinise gave the show an enveloping claustrophobia in the intimate Westside Arts Theatre, emphasized by Phillip's habit of leaping, loping, swinging, and climbing about the house like a caged animal. Sturridge does the same at the Gerald Schoenfeld Theatre, but helmer Daniel Sullivan is stuck with too much space on John Lee Beatty's airy set and can't pull off the same pressure-cooker atmosphere. Still, he gets strong performances out of his actors. In a fearlessly physical turn, Sturridge gives Phillip sweetness and vulnerability, emphasizing his all-but-smothered intelligence and wide-eyed desire to learn. Foster's Treat is at first a boiling cauldron of rage, his lid ready to blow at the slightest provocation. But once the household dynamics shift, Foster brilliantly plays a range of emotions, first cocky and eager to please Harold, then unraveling with panic and despair due to his new mentor's disapproval and his own spiraling lack of control, ending in the abject anguish of an abandoned child. Broadway veteran Baldwin snaps with paternal authority as Harold and is amusingly sentimental in the man's desire to help these two boys, to whom he refers in a running cinematic reference as "Dead End kids." The actor misses, however, the edgy sense of menace that Mahoney brought to the role. Baldwin's smirking Harold rarely seems dangerous.
New York Times critic Frank Rich called the original production "theater for the senses and emotions, not the mind…a taut trampoline for its levitating performers." In other words, look too closely, and you'll hurt the spell.
Presented by Frederick Zollo, Robert Cole, Lucky VIII, Scott M. Delman, James P. MacGilvray, and StylesFour Productions at the Gerald Schoenfeld Theatre, 236 W. 45th St., NYC. April 18–June 30. (212) 239-6200, (800) 447-7400, or www.telecharge.com. Casting by Caparelliotis Casting.
Critic's Score: C+