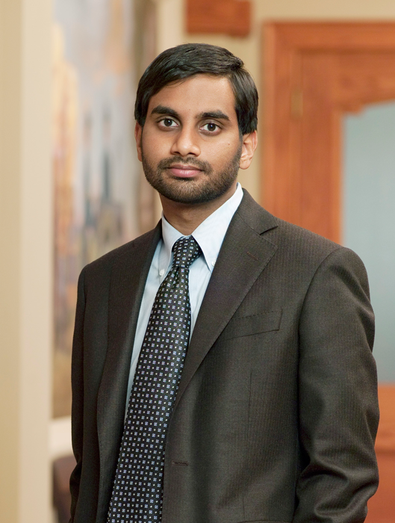 Tom Haverford has changed a lot during the four seasons of NBC's "Parks and Recreation." He's gone from a SnakeJuice–pushing, club-promoting partyer to a lovable romantic with business savvy. One thing hasn't changed, though: He is still the charming attention hog audiences have come to know and love. And actor-comedian Aziz Ansari, the man behind the epicurean goofball, can still turn a one-liner into a meme-worthy GIF overnight.
Ansari has come a long way, too. The South Carolina native's comedy roots stretch to the grungy downtown clubs he performed in while studying at New York University. "It all started with standup," says Ansari. "I've had no proper, formal training as an actor, really."
Instead, he honed his chops on the job in comedy joints and had some improv training at Upright Citizens Brigade before shooting into the mainstream in 2007 with the MTV sketch show "Human Giant." That gig led to other work and landed him on "Parks and Rec" in 2009.
While the show launched with almost-crippling comparisons to network mate "The Office"—an association "Parks" has long since escaped—Ansari gives the original British "Office" a shout-out as having a huge effect on his acting skills.
"That probably has affected me more than a lot of things I've seen," he says. "They displayed things to be real. I always feel like if you play things real, that ends up being very funny, as opposed to hamming it up."
Being real in a character is crucial for any actor, and even though Tom is an extroverted jokester who loves to "ham it up," Ansari finds the funny in his humanity.
"He's kind of a silly guy," says Ansari. "There's still a way to do that in a real way. All these characters are pretty weird, but you play them as real people."
Ansari has often been compared to his television alter ego, though he says that other than their mutual love of food and suits, he and Tom are not alike—though both also have a love of social media. One of Ansari's favorite episodes this season was "Sex Education," when Tom and Ron Swanson (Nick Offerman) go off the grid and Ron makes Tom abandon all screens cold turkey, with hilarious results.
While Ansari might not share Tom's addiction, he uses social media for some standup material and for engaging fans online. He has 2.4 million followers on Twitter, a fan base that helped him self-release his comedy album, "Dangerously Delicious," on his website.
"I don't know if it really helps me as an actor," Ansari says of his online presence. "I never really planned on doing that stuff. It happened by accident. It's a good way to communicate with people and joke about things I might not get to joke about in 'Parks.' It's so immediate."
While Ansari considers his standup work as separate from his work on the series—"Standup is a totally different animal than acting," he says—he also works as a writer. Aside from working on his acts, he's penning film scripts with "Human Giant" co-creator Jason Woliner for filmmaking juggernaut Judd Apatow. However, Ansari's not looking to exercise his writing muscle for TV any time soon.
"My hands are pretty full," he says, adding that he has no time-management secrets. "I'm pretty happy with 'Parks.' I'm not yearning to take over."