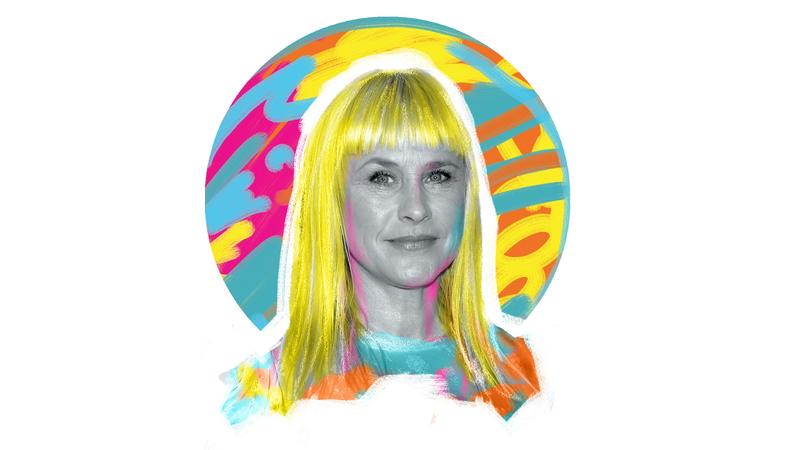 Patricia Arquette has learned to enjoy the ride of her career—and especially in recent years, it's taken her to very unexpected places. The veteran actor was nominated for and won her first Oscar in 2015 for Richard Linklater's "Boyhood," and in the years since, she's turned in career-best work on Showtime's "Escape at Dannemora" and Hulu's "The Act." Last year, she won a SAG Award for the former and was twice Emmy-nominated this year for both, winning for the latter. "The Act" now has her as a frontrunner for her second consecutive SAG win come January. Sitting with Backstage, Arquette reflects on her early journeys that led to such successes.
How Patricia Arquette Uses Her Own Life—and Her Own Process—to Build a Character
How did you first get your SAG-AFTRA card?
I think it was this movie "Pretty Smart." That was the first movie I did, and it was really a hard job. It was very weird; we were all doing our own wardrobe. And one of the producers' girlfriends was on coke and ended up punching this other producer, and her nail went through this lady's cheek. It was insane. The whole job was insane. It was after Chernobyl and there really weren't any vegetables—I was a vegetarian. They brought us some lunch in plastic containers, and mine was not only meat, but it had fur on it. I broke open the bread and there were maggots in it. I was like, Oh, my God—welcome to Hollywood. I almost gave up then. There was also this feeling that there was a dangerous, lascivious aspect that was very close. I just didn't want anything to do with it. So, yeah, that was an adventure.
Do you have an audition horror story that you can share with us?
I was auditioning for this movie, it was about a girl band, and [the character] was a drummer and Italian or something. I thought, Maybe I'll look more Italian if I dye my hair dark. So I put in a temporary rinse. And I was like, "I don't know how to play drums." They were like, "No, no, they'll teach you if you get the part." So I go to do the audition, and I'm wearing a white tank top, and they're like, "Now for the dance part of the audition." These people are real dancers, but I'm turning the wrong way and I'm bumping into people. I'm pouring sweat, it's boiling hot. And I go to meet the director to do the audition part with so much sweat pouring off my face, and I realize all the temporary dye started pouring down my face and my tank top. It looked pretty bad. But those are the little moments where it's our humility and it's our humanness. I couldn't grasp that at the time, when I was a teenager [and] everything is such a distortion and you feel so weird in yourself anyway. It's such a brutal kind of time where everyone is picking on each other and belittling each other. Later, these are all the human things that I think are beautiful to observe.
What's one screen performance every actor should see and why?
I don't think it's fair to break it down to just one! Two of the performances that were very pivotal to me as a young actress were Jessica Lange in "Frances" and Gena Rowlands in "A Woman Under the Influence." I grew up watching "Leave It to Beaver" and "The Brady Bunch," and I grew up indoctrinated with this "perfect woman" idea. And when I started seeing these more complicated women who are mercurial and emotional and on the edge asking really good questions in a world that wasn't even ready to hear those questions, all that was really interesting to me. I think those are really brave performances, especially when you take into account what was allowed to even be explored at that time.
What's the wildest thing you've ever done to get a job?
I'm trying to think of the weirdest thing—that silly story I already told you, that was humiliating. I don't know. I kinda played by the rules, I guess. As far as like, [auditions go, they are] a professional meeting. I'm just going to make my choice in the room.
What's one piece of advice that you would give your younger self?
I would say this life has many facets; your work is one of them. Have fun with work. I think as artists, if we get past our own ego, we could have a relationship with the creator—God, or whatever you want to call it, is the source of the creative force. It could be working through clay with potters, working through songs with singers, dancers with their bodies, actors with this human exploration of our species. But be open to the joy of the birth of the creative spirit—and the pain! 'Cause you know what? I've had a child at home with no painkillers, and I'll tell you: As beautiful as it is, it is ugly and bloody and painful, too. So—it's alright. It's a ride.