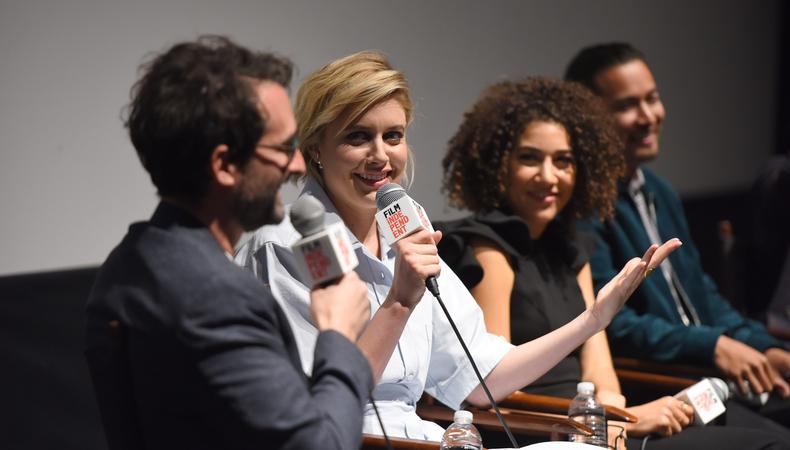 Film Independent's Directors Close-Up series, showcasing intimate panel interviews with Hollywood's most fascinating visionaries, kicked off its 2018 events Feb. 7 in Los Angeles. Featuring Greta Gerwig and some of her collaborators on this year's award-winning A24 hit "Lady Bird," the talk provided an example of what the non-profit does best: delve into and demystify the filmmaking process.
The Spirit Award- and Oscar-nominated writer-director was joined by "Lady Bird" costume designer April Napier and stars Jordan Rodrigues and Marielle Scott, as well as moderator and fellow filmmaker-actor Jay Duplass, who first worked with Gerwig in 2008's "Baghead." Here are some of their insights into the process of bringing "Lady Bird" to life.
On preparing to direct her first feature film.
"The process of wanting to direct was a long one," explained Gerwig, who began writing and acting mostly on stage. "I fell in love with movies in college but they still felt very far away from me. Theater I could understand was made by people because the people were in front of me, but movies always seemed like they were handed down from gods."
Working in just about every other area of filmmaking first, with collaborators like Noah Baumbach and the Duplass brothers, Gerwig learned about being behind the camera largely by performing in front of it. "I got pretty deliberate about apprenticing myself as much as I could," she said. "And the great thing about being an actor is very few people will kick you off of a set! They think you're supposed to be there for some reason." She took copious notes and asked directors questions at every given opportunity.
On casting actors who could bring vivid life to her characters.
Gerwig touched on casting Rodrigues and Scott, who play Lady Bird's brother and his girlfriend, respectively. "I looked at so many people and it was just an instantaneous thing," she remembered of their auditions. "They're both very funny but they also have this real goodness that I think shines. I felt like I just wanted every character to feel like a real person that you wish you could follow."
Casting for this story required people who could convey whole characters, with fully formed pasts and futures. Gerwig said the prime example was Kathryn Newton. "She plays Darlene, who's the girl who tells them to stop eating the wafers. She auditioned for another role and it wasn't right. But she was so talented and so creative that I called her and said, 'This role of Darlene is not big enough for you but do you want to just come do it?' And she totally showed up and made a whole person. I think every single person in the cast, I feel like I'll get to say, 'I knew them when.' "
On the set's collaborative vibe.
None of the lines in "Lady Bird" were improvised or changed from the original script, but for Scott, the set's atmosphere nevertheless allowed for flexible creativity. Gerwig, she said, "approached it with conviction and compassion. Greta knew exactly what she wanted every single time.... It was, 'Let's try it this way, let's try it that way, let's keep it moving.' So you're not thinking! When you get in your head as an actor it's the worst, it's hard to work like that. So we kept it moving. You just have to check your ego. To say, 'I want to do it this way' doesn't matter. What's going to serve the story?"
"It was a very relaxed set," said Rodrigues. "It didn't feel like we were working, it felt like we were playing. Greta kept it really fresh, and kept us on our toes, really, the whole time."
"It's never like I'm aiming for a target you have to hit otherwise I'll be unsatisfied," said Gerwig of her directing style. "It could be alive in so many different directions. Let's get all the aliveness."
On her writing process.
"Writing is hard," Gerwig said—repeatedly. Scribbling over the years, however, she has picked up some favorite tricks. She's learned to trust her subconscious instincts more than pure logic. "Lady Bird," as well as her writing collaborations with Baumbach, "Frances Ha" and "Mistress America," developed in part by stewing on various ideas and allowing them to solidify into stories, she said. "If you have something that's cooking in the back of your head, you'll see all of it coalescing. But your conscious, intellectual brain is too dumb to see it."
Stories for the screen often emerge for Gerwig, she said, in the way Cheryl Strayed has described it: "Like a second heart is growing inside of me that I had to get out.... I never know what it's going to be, I know when I can feel it start pressing and I'm like, oh, it's that thing or me! I either got to get it out or it's gonna take over or turn into something bad."
Duplass agreed. "Movies are monsters that threaten to kill you at all times," he said.
On the value of real-world dialogue.
Another writing technique, Gerwig pointed out, is eavesdropping. "I do spend a lot of time listening to people," she said. "I'm always interested in the limits of language, in how people always use words to not say what they mean. People constantly use language to avoid saying the things that are true. So many scenes with Lady Bird and her mom, when she's yelling at her about her room, the thing her mom wants to say is, 'I'm scared.' And she can't say that. So she says, 'Why do you never clean up your room?' "
That discrepancy between chosen words and actual meaning can be found anywhere if you are listening for it, Gerwig added. "You can hear it in coffee shops, you can hear it walking down the street. People use language in the oddest way. And if you actually write down what people say, word for word, it's the most bizarre thing. Beckett or Pinter, I used to read those [plays] and go, What in the world is this? But then you look at actual written language that's been transcribed, and it's odd."
READ: The Unassuming Genius of Laurie Metcalf
On how to spawn an entire story from one imagined moment.
A line late in "Lady Bird" surfaced early in Gerwig's writing of the film and provided a jumping-off point. "I didn't even know who the people were yet, but the interaction of: 'Where are you from?' 'Sacramento. 'I'm sorry, where?' And she says, 'San Francisco.' I had this idea of, what if I could reverse engineer a movie so when that scene happens, it's kind of funny, but also she's selling out everyone you just got to know? And it's this place that actually is a beautiful place, and she's lying so she can look a little bit cooler to someone she doesn't even know."
Those flashes of inspiration illuminating both character and plot, she explained, provide "a sense of the overall thing. Then I'll just write and write and write. I'll write too much. My original script for this was 350 pages!"
On self-doubt at every stage of the artistic process.
"Writing is just self-doubt," said Gerwig, adding jokingly, "interspersed by drunken arrogance."
Long before the character had begun to take shape, she said, Lady Bird's philosophy was summed up by a quote that sprang into Gerwig's head: "I remember I just wrote at the top of the page, 'Why won't you call me Lady Bird? You promised you would call me that.' I looked at it and was like, what? Who's this person? Then I kept writing. But then the next day I was like, is this the dumbest idea anyone's ever had? What does this even mean? [Writing] is continually doing that.
"I certainly had days where I sat down with our gaffer, Jerry, and was like, 'Jerry, am I a hack?' And he was such a nice, lovely man. He said, 'Greta, hacks don't ask themselves that.' Thanks, Jerry."
The Directors Close-Up series' upcoming guests include Mike White, Ava DuVernay, Sean Baker, Chloé Zhao, and more. For more information on the series and Film Independent's other programming, visit www.filmindependent.org.
Check out Backstage's film audition listings!