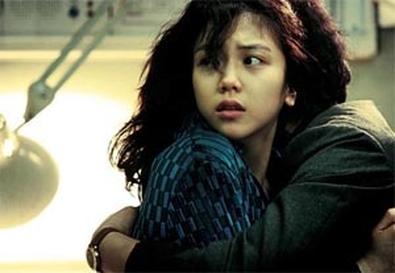 Park Chan-wook's films are not for the delicate. They contain murdered children, incest, live-octopus eating, face boils, twisted humor, and a whole lot of revenge. The reigning filmmaker of the Korean New Wave, he is most famous for his revenge trilogy: "Sympathy for Mr. Vengeance," "Old Boy," and "Sympathy for Lady Vengeance." His latest, "Thirst," is his second film to receive the Grand Jury Prize at Cannes (the first was the popular "Old Boy" in 2004).
Released July 31, "Thirst" centers on a priest turned vampire who gets entangled in a deadly love affair. The daring director loathes all things cliché, so crosses, garlic, bats, and stakes through hearts are noticeably absent. "Thirst" is more of a scandalous vampire melodrama. But the man behind all those immaculately framed, brutal sequences has a confession to make. "Every horror movie that I see scares me," Chan-wook admits through a translator. Was there a particular film that frightened him? "The more accurate question would be, 'Are there are any horror movies that
don't
scare me?' "
"Thirst" stars Song Kang-ho ("The Host"), the Tom Hanks of Korea. Kang-ho is a frequent Chan-wook leading man in the way Cary Grant and Jimmy Stewart were for Alfred Hitchcock, one of the filmmaker's idols. "Song can do cold-blooded or he can do your average guy next door, warm and cuddly as well," says Chan-wook. "When you look at him from the front, his eyes are definitely not symmetrical. Sometimes I get the feeling that each eye is performing with a different emotion, so much so that Byung-hun Lee, who played the South Korean solider in ['J.S.A.: Joint Security Area'] and he has a role in 'G.I. Joe,' complains that when he does a scene with Song Kang-ho and he's sitting across from him, he doesn't know which eye to react to, because they seem to be performing with different emotions."
Chan-wook says he tends to cast bankable Korean movie stars like Kang-ho because his films are "commercially dangerous." He loves "counter-casting" by taking what's already known about these actors, stripping it away, and changing them for his purposes. When casting Kang-ho's leading lady, Chan-wook was consciously looking for more than just a pretty face.
"I was drawn to [newcomer] Kim Ok-vin's big, thick hands and her lengthy fingers with sturdy joints," says the filmmaker. "She plays a femme fatale–like character. It's important to see these rough hands grabbing hold onto the male character. She won't let go. Not only that, [Ok-vin] is a very famous dancer in Korea as well, and she is really into sports. You can see the muscle tones in her beautiful legs. These qualities, like her legs and her hands, are not considered attributable to a traditional Korean beauty, but this character of Tae-ju can't bear the frustrations of her daily life and she feels trapped in this family. So every night she sneaks out and goes for a run. It's a brilliant match."
A meticulous storyboarder, Chan-wook says directing movies would be boring if it weren't for the actors' spontaneity. If an actor can still surprise him after days of rehearsal and discussion, he says, "Then I know he or she is the real thing." Chan-wook urges actors to have ingenuity and make a habit of playing the most unexpected emotion during the scene. "If the script says, 'Cries,' do it while you're laughing. Think of the opposite ways to approach it," he advises.
"Thirst" marks two firsts for the filmmaker: It is the first of his films to screen in the United States, and it is the first mainstream Korean film to feature full-frontal male nudity. With Chan-wook, there's bound to be at least one steamy love scene. "Any actress worth her salt, if they feel certain sex scene or nudity is not really essential for the film, then they will not do it," says the former film critic.
"In Korea, especially—well, perhaps this goes the same for actresses in the rest of the world—but Korean actresses are extremely shy of performing in the nude during sex scenes. The first scenes I storyboard will be any scenes having to do with nudity or sex. I go to the actress, and we go through the storyboard together explaining in detail what's to be expected. 'This shot the audience gets to see your left nipple; in this shot they get to see your right buttock.' "
Once on set, Chan-wook and the male co-star do all they can to make the female actor comfortable. "We show her how much we appreciate, cherish, and love her, so that she gets to feel that she is not being exploited but she is working together as colleague. She should feel that she is protected and in a safe environment," says the director.