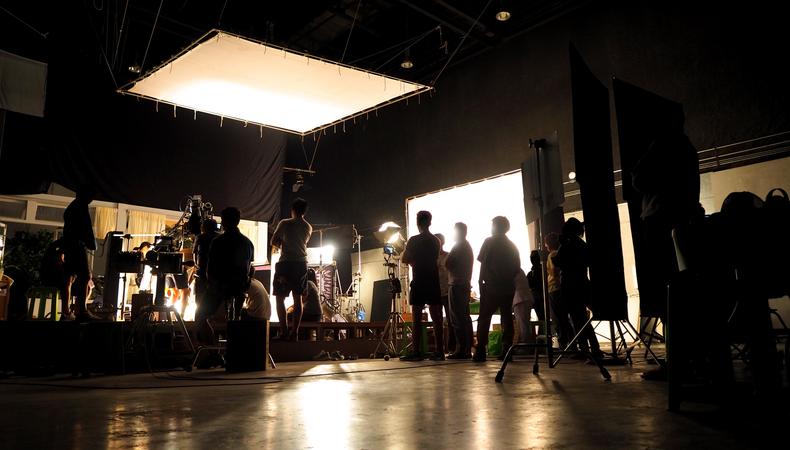 Looking for a new perspective? Here we talk to more of the top professionals in the field to bring you the latest career advice!
There are many factors that play a role in making sure the atmosphere is right for your favorite films, including the lighting. This might not jump to the top of your mind when you're watching a scene, but the difference in atmosphere between a gritty city street and a suburban home is aided by how lights are placed. An essential crew member making that a reality is the rigging gaffer.
Rigging gaffer Steve Kitchen knows exactly what's needed to get a film lit the way it needs to be lit. With work on films like "Dolittle," "Jurassic World: Fallen Kingdom," and most recently "355," Kitchen has extensive experience lighting both studios and on location. Speaking with Backstage, Kitchen shares what it takes to become a rigging gaffer and what his days on set are like.
What does a rigging gaffer do?
As a rigging gaffer, it's my job to put into practice any ideas the director of photography (DP) and gaffer have about the way the film should be lit. I work quite closely with my head of department rigger as often I need to rig lights at heights or on cranes, towers, etc. Also on studio sets, we need a way of rigging lamps above a set which often includes scaffold rigs. I need to liaise with set decoration and practical electrical departments as they need power for on set lights or machines that need to be working and might need to be controlled via dimmers. I offer up ideas as we work and offer other ways of getting the result wanted.
How did you get started as a rigging gaffer?
I basically worked my way through all the jobs on the electrical side. I've been a gel/tea boy looking after all the filters and making the tea, a floor electrician, a rigging electrician, best boy, gaffer, and finally a rigging gaffer. I could go back to any of these jobs at any time which is one of the pluses with our industry. I prefer the rigging side of the job as there's no hanging around which happens when you're shooting.
What was your first film crew job?
I started in 1976 and worked with a team called Group 5. We used to do sitcoms and films like "Rising Damp," "George and Mildred," and "Hammer House of Horrors." I used to drive the lighting truck and work on the floor with these guys. I learned a lot from them.
What's your process when approaching a new project?
When I'm first offered a project, the first thing I do is look at the script and schedule to get an idea of what's wanted. I look for night work as this is normally the busiest part of a job for me, having to put the rig in before the night shoot and be there to see the shooting crew in so they know where all the power and equipment are. Looking at the schedule can also give you an idea of how much crew you'll need to do the job.
How do you find work?
My jobs normally come from the same people. For the last few years, my work has mainly been with Pat Sweeney and Lee Walters, both top gaffers with great reputations. I've known Pat for over 20 years. He used to be my best boy when I was gaffer.
What training does someone need to become a rigging gaffer?
Training wise, I'm a qualified electrician which is good for working out cabling and loading for different rigs. The main training I feel people need is to work on films and commercials to get to know the equipment, what each bit does, and the best time to use certain things. I'm still learning today, picking up ideas from other people.
What is a day like for you on set?
I arrange to meet my crew in our tea hut or my office. If we're on location, I'll go straight to the tea hut. I let the guys know what I want them to do and where. I'll then make sure the equipment needed is there, do any lists for the next few days, and contact the lighting company. Then I phone around trying to find any extra labor I'll need over the next few days. I check with the art department to see if there's anything I need to be aware of for the next sets or locations and get any movement orders for crew who are going onto locations for me.
During the middle of the week, I'll start doing the week's timesheets for the crew. I'd then visit my supervisors on the different stages or locations to make sure there are no problems or if I need to order any extra equipment for them. I'll visit the gaffer on the floor two or three times a day to make sure he's happy with everything or if he needs me and my team to reset anything after wrap or first thing in the morning.
My crew is very important to me. I don't have the time to check on every rig that goes in, so I rely on them to do what I require and talk to me if there's a problem. I'm fortunate [that] my core crew is highly experienced. Half of them are gaffers in their own right.
How does your work impact actors on set?
My work as far as actors are concerned is more of a safety issue. Everything that's rigged has to be made safe as the actors are working directly below them.
What's one thing you wish everyone knew about your work?
I'd like people to realize the job is 24 hours a day once it starts. I've woken up in the middle of the night worrying if I'd ordered something for the next day or thought of another quicker or cheaper way of doing something.
What's the hardest part of your job?
The hardest part of the job is trying to keep ahead of the shooting crew, which means talking to all other departments as a slight change on their part will affect my job. Also sometimes the DP or the gaffer may make a change in the plan which means you have to explain to production why you require overtime and work out what you need to make the changes for and crew up appropriately.
What skills are essential to become a rigging gaffer?
You need a good knowledge of electricity, a good way of dealing with people, crews, and production, and experience. Also, keep an open mind. You're never too old to learn. There are new lamps and equipment coming out monthly.
What do you look for when hiring someone?
When I take on electricians, I normally talk to someone they've worked with before for their opinion. I also look for good timekeeping and a willingness to learn.
What advice would you give aspiring rigging gaffers?
For someone trying to get into lighting, I'd suggest phoning lighting companies to see if they're taking on warehouse staff as that'll give you the chance to learn the equipment and also meet electricians, who come in to load their trucks. Also, send your details to best boys and rigging gaffers so your name is known. During the summer months, the industry is usually busy so if you keep in contact with people you have a chance of getting a start. As a department, we're attempting to get a training scheme underway for large productions.
Do you have any advice for someone's first day on the job?
Keep your eyes and ears open. Watch what people are doing. If you're not sure about anything, ask. Most people are more than happy to help out.
Want to learn more about working on a film crew? Visit Backstage's crew hub!