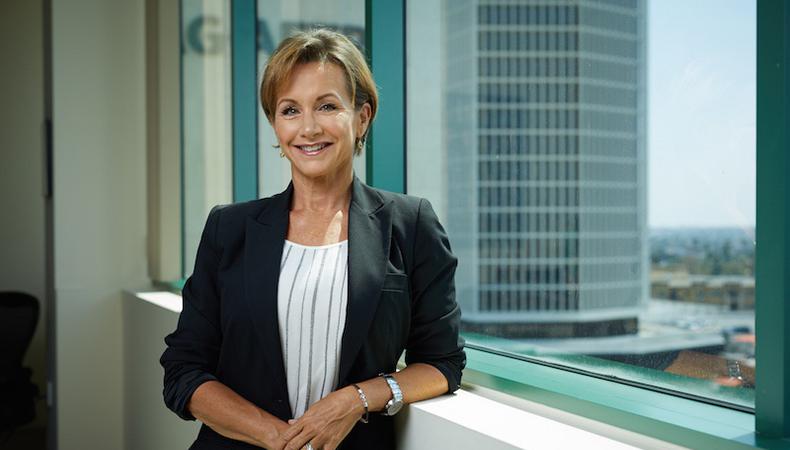 In August of 2019, Gabrielle Carteris of "Beverly Hills, 90210" fame was reelected as president of one of the nation's most recognizable labor unions: SAG-AFTRA. With a membership of roughly 160,000 and constituencies ranging from news broadcasters to voiceover artists, background actors to movie stars, SAG-AFTRA is a force in American culture. Under Carteris' leadership, the union has levied pressure campaigns against advertisement agencies, video game companies, and streaming services like Netflix. The union has negotiated raises for television actors and animation voiceover artists. SAG-AFTRA has also responded to the #MeToo and Time's Up movements that rocked Hollywood near the beginning of Carteris' first elected term in 2017. Since becoming president, Carteris has also faced unrelenting opposition (and, occasionally, vitriol) from her political rivals within the union. Backstage interviewed Carteris about her agenda as the leader of the nation's most famous labor union—a position Ronald Reagan once had. Now moving into her second term, we decided to check in with the union boss about the state of entertainment.
Perhaps the biggest change has been the sheer volume and variety of content that's being created. Between streaming services, online productions, social media, podcasts, gaming, and the proliferation of cable channels—the amount of content being put out is staggering. There is, literally, something for everyone.
"People usually know me in one of two ways: as Andrea Zuckerman ['Beverly Hills, 90210'] or the president of SAG-AFTRA."
This growth challenges traditional definitions of what it means to be an actor, a producer, a writer, and so on. This evolution has sometimes been difficult to navigate, but what the past decade or so has shown us is that creativity is flourishing.
Another big change, of course, is the advent of social media and what this means for when, how, and why entertainers engage with the public. With these new platforms, many actors are becoming advocates for causes that matter to them personally and professionally in a much more public way. Social media is also like a [24 hours a day, seven days a week, 365 days a year] focus group and actors have had to learn how to sort through the good and useful while leaving the bad behind.
I'm not sure it can be categorized as the "next big thing" because billions of production and advertising dollars are already being funneled in this direction, but how we view and work with influencers needs to change. I believe the industry would do well to embrace and learn from this new generation of content creators. While, in turn, they can benefit from the same rights and protections represented entertainers currently enjoy.
Work hard, show up on time, fight for what you believe, nurture your creative spirit—while recognizing this is a business—and bring others with you; success isn't a limited resource, there is plenty to go around.
I'm concerned and very focused on artificial intelligence (AI). However, not in terms of actors' jobs being threatened. As of now, the biggest AI threat to actors is "deepfake" technology, which is being used to not only violate actors' privacy and rights of publicity but also as a weapon against actors' consent. Nonconsensual deepfake pornographic videos are a particularly dangerous problem. We must continue to fight and fight hard to ensure media professionals' image rights. SAG-AFTRA has been working at the national and state levels to institute protections that will benefit all media professionals.
That I'm always serious. People usually know me in one of two ways: as Andrea Zuckerman ["Beverly Hills, 90210"] or the president of SAG-AFTRA. I have loved both of these roles dearly, but neither of them defines me. I love to have fun and laugh.
That is an interesting question. I do not look at my work as president in regards to terms. I do look at my service as one continuous growing experience.
"Work hard, show up on time, fight for what you believe, nurture your creative spirit—while recognizing this is a business—and bring others with you."
I would hope to be known for supporting and protecting our members. My focus has been—and will continue to be—about strong innovative contracts, organizing work, inclusion, and, of course, safety.
I truly love being of service to our members and am honored to be in this position during such challenging times. I am a fighter and will continue to do everything in my power to support members in their quest to work with dignity and look to the future.
I believe the Netflix deal is an eye to the future, our sexual harassment guidelines and legislative bills serve as a protection for today and the future, and our commercials contract reflect our nimbleness and courage to recognize where we must change to thrive.
We have to be willing to move forward. We have to let debate and discussion inform our thinking, not supplant it. We have to be courageous and recognize that having the courage to change simply does not guarantee success. I can't make people want to work with me, but I hope that we can come together to build on our recent victories and the future we all deserve to have.
To encourage engagement among our younger members—these are the next generation of people who will be tapped to fight for our members' rights and protections, so they need to learn the business of this union.