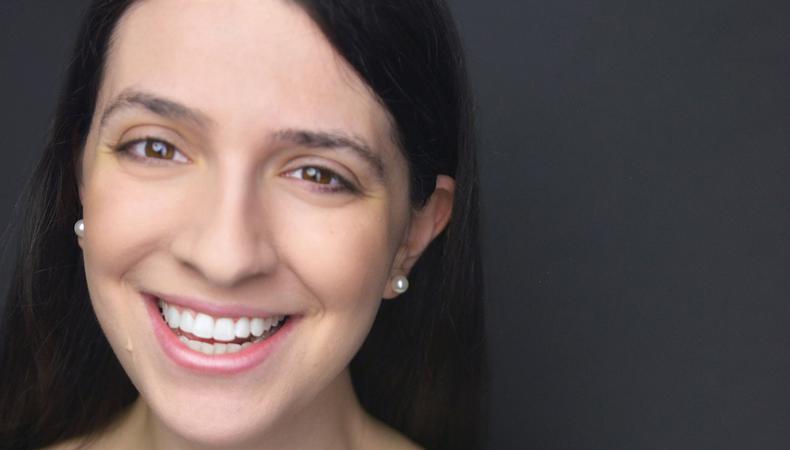 Director Sammi Cannold had been entertaining a career in theater, but she remembers the exact moment when the prospect shifted from pipe dream to reality—not because her mind changed but because she saw the industry starting to do so.
"A critical turning point for me was when Diane Paulus won the Tony for directing 'Pippin,' " she recalls. "I was interning for the Tony Awards that year and I was standing at the back of the house and I watched her win and I was like, 'Woah! I look like her! I see that I can do this.' I don't know that I would have had that moment if I had not seen someone that looked like me."
How to get cast at the New York Theatre Workshop
If you have heard of Cannold—and if you're working in theater today, you have—you likely know one of two things: she's young and she's a woman. Realistically, you know both. Having assisted Tony-winning "Hadestown" director Rachel Chavkin for years, the 25-year-old staked her claim with last fall's Encores! production of "Evita"; her directorial choice to cast two separate actors in the title role in order to more accurately depict the predatory nature of the protagonist's early relationships made clear to the industry and her peers: Cannold isn't here to follow rules.
But on a mild January evening upstairs at New York Theatre Workshop, where she was in rehearsals for Celine Song's "Endlings" (running Feb. 19–March 29), Cannold also makes it clear she isn't here to arbitrarily break the rules, either.
"Anytime I walk into a room there's a, 'Let's see what she can actually do' about it, and I kinda have fun with that," she says. "It's like a game, earning people's trust, and the way I approach it is very much through prep. Preparation and research is how I feel ready. If I can come in with a lot of ground to stand on, even if I don't use it, then I feel confident in knowing that I can lead a room, regardless of experience—or lack thereof."
Cannold, indirectly, touches on the insidious sexism that works against all female directors, but especially young ones: the inherent belief that they cannot lead a room. She, again, credits the women who have come before her, for proving what's possible merely by doing it.
"I watched them direct and then I would take parts of their practice because there is no one way to direct but you can borrow parts," she explains. She also cites her time leading the understudy and replacement rehearsal room for Chavkin's "Natasha, Pierre & the Great Comet of 1812" as the way in which she learned to direct actors herself. "It was so critical because you're working with Broadway caliber actors, but you don't have to have your own ideas. It was all about learning how to talk to actors, how to execute," she says. "That job was the most useful thing for me because it gave me a year to learn how to give a note, essentially."
Speaking further to her working relationship with performers, Cannold admits she's had to fight impulses to posture, to show off as a means of proving herself. In reality, that approach to the room benefits neither her own process nor the storytelling.
What to know about Broadway, Off-Broadway, and Off-Off Broadway
"Depending on the university you come out of as a young director, oftentimes you try to just prove to your actors how smart you are, which is completely wrong," she warns. "They don't care. They just need to lay the groundwork for the performance that they're gonna give. Rachel Chavkin taught me a lot about, 'Don't ramble about what you know about this scene. Give the actor playable things, things that are objectives of the scene, and give the actor opinions on the scene. Give the actor your point of view in order to help them live in the world that you've created.' "
And just as Cannold has learned to clearly delineate in her work, she's come to expect the same from the actors whom she is auditioning. "It's about having a very clear point of view on the piece and understanding the story you want to tell before you go into the audition room," she advises performers. That doesn't, however, negate the need to be malleable in the room—and that's true no matter which side of the table you are on.
"Of course you prep it a specific way. You want to make a decision and drive hard towards that decision. But you also want to be able to let go," she says, ending where she started. "Diane Paulus' favorite motto is, 'Hang on tight; let go light' in the sense that you hold fast to your choices and then when you discover they're wrong, you back down. And I think about that a lot, in both acting and directing.
"To me, it's about storytelling: What story are we trying to tell? Who is the right person to tell it?," Cannold continues, shifting back to her director's M.O. "I am very much still learning as a director, [but] in the audition room, it's a lot of, 'Do they get the story we're trying to tell?' And I'll always try to push if I don't think they do, try to give them notes that communicate the story we're trying to tell so they have the opportunity to prove that they get it."
Want to hear more from the best creators in film, TV, and theater? Get it right here!