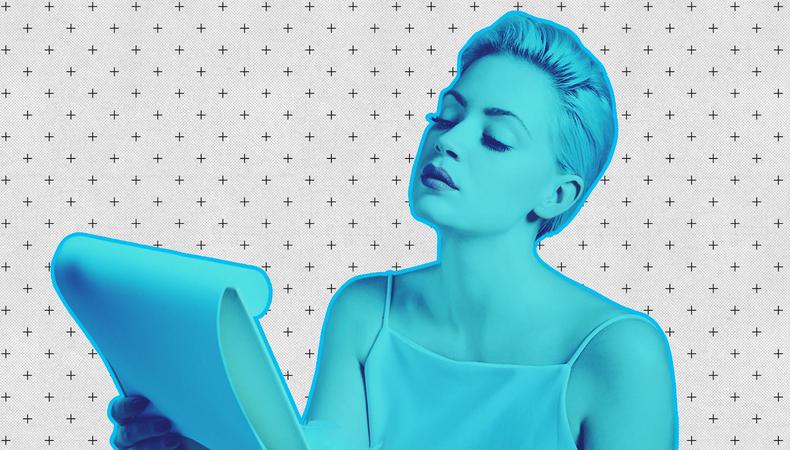 Q: What's a good backdrop for self-tapes in a tiny apartment? I need something that works well but is feasible to store in my space. —@Notsofunnygirl, Backstage Community Forums*
Actors living in small spaces have the challenge of finding equipment that's functional and easy to store. When choosing a backdrop, it's important to assess your budget, how many self-tapes you submit per month, and your space's actual size. Too many actors forget to measure their space and end up with a backdrop that's too large to function properly.
I suggest actors living in tiny spaces consider these options: a full-size bedsheet, a pop-up backdrop, or painting your small wall space. Let's look at the pros and cons of each.
A bedsheet is the most inexpensive way to create a professional-looking self-tape. It's easy to tack to your wall and pull the corners taut. I suggest using Gorilla Tape or masking tape to secure the sides so the sheet is flush against your wall, or you can buy a cord and hang it from the ceiling so you can pull the sheet across when you need to self-tape. Get a small, cheap handheld steamer to get the wrinkles out of the bedsheet, rather than trying to iron the whole thing. Constantly taking it down and putting it up is a lot of work, but you'll get faster over time.
A pop-up backdrop comes folded in an easy-to-store circle bag. They are usually reversible and come in a myriad of color choices that make you pop on camera. These backdrops can be challenging to fold back into their original circle shapes, though; it takes time to get the storage system down. You must also know the size of your storage area and shooting space so the backdrop does not overwhelm it. The backdrop needs to have room to lean against a flush wall or be propped up.
With painting, you'll never worry about ironing, folding, tacking, or taping again! Getting the exact color of paint that makes you pop can be a challenge, however. Your lighting will affect the paint choice, too.
Take your time to go through each option to decide which best fits your space. No matter which you choose, remember that the best colors for backdrops are gray or blue.
*Submit questions for our Experts on Backstage's Facebook or Twitter accounts or via our forums page at backstage.com/forums!
This story originally appeared in the Aug. 6 issue of Backstage Magazine. Subscribe here.
Looking for remote work? Backstage has got you covered! Click here for auditions you can do from home!
The views expressed in this article are solely that of the individual(s) providing them,
and do not necessarily reflect the opinions of Backstage or its staff.