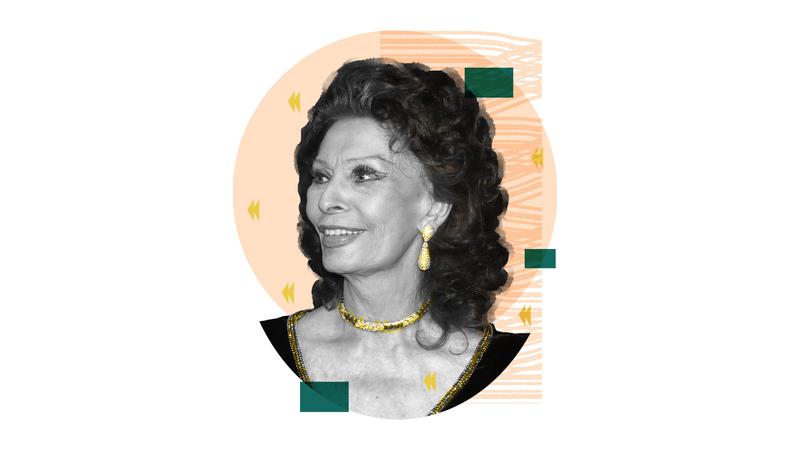 Her name is synonymous with film royalty, and yet, Sophia Loren feels the way many actors do about auditioning: horror. In fact, the Oscar winner has never booked a job through an audition—though, as we all know, that hasn't stopped her from working and making celebrated film after celebrated film. Her latest, "The Life Ahead," is another notch in an illustrious career, and a particularly special one: the Netflix feature from allowed Loren to both act in her native Neapolitan—which she calls the most free experience she can have on-camera—and to once again work with her son, director Edoardo Ponti.
What about "The Life Ahead" made you want to sign on?
Just about everything, really. I had been in love with the book by Romain Gary for years. I just adored the story of love and friendship between Holocaust survivor Madame Rosa and Momo, a Senegalese immigrant child. Everything seems to separate them—race, age, religion, and culture. And yet, they are two sides of the same coin, and gradually these two seemingly polar opposite souls come together and change each other's lives. I loved the message of tolerance, empathy, and inclusion of the book. I also wanted to work with my son Edoardo again, with whom I had already made two films. This film was truly an unforgettable experience from beginning to end.
What kind of preparation did you do to play Madame Rosa?
From the moment I read the script, every time I got to a Madame Rosa line, I would hear the voice of my mother. Madame Rosa shared my mother's sense of irreverence, toughness. But also deep fragility. So in many scenes, I channeled my mother. Another aspect of my life, which helped inform the character, was my childhood spent during the war: that sense of fear, uncertainty, and chaotic desperation that never leaves you, I put all of that in Madame Rosa and her own remembrance of the war. When it came to preparing for all those episodes where we see Rosa gradually falling deeper and deeper into her mental disability, Edoardo and I consulted a medical advisor; that was extremely helpful [for] laying out all the different symptoms born from such a condition. Finally, the role, I feel, was also greatly enriched by the fact that my son asked me to play it in Neapolitan, which is my mother tongue. I was born on the streets of Naples and that means that I am at my most free when I act in Neapolitan. It also brings out of me a certain grit and irony that helped stave off any unwanted sentimentality.
"I was born on the streets of Naples and that means that I am at my most free when I act in Neapolitan. It also brings out of me a certain grit and irony that helped stave off any unwanted sentimentality."
What was it like sharing so many scenes with such a young actor? How did you two develop trust?
Ibrahima Gueye is such an amazing person. He is so generous, so open emotionally, and such a hard worker that I truly had a great partner in him. It was hard to believe this was his first film. He also has such a light in his eyes and his heart is reflected in everything he does in such a delicate and compelling way. It was a joy to let myself go in his eyes and ride that wave of emotion. In the beginning, he was understandably a bit nervous, so Edoardo had the idea for all of us to live together in the same house throughout principal photography. That helped Ibra see me the way my son sees me, in the most natural of ways. This helped us establish a friendship that was deep and authentic. The love you see on the screen between me and Ibra is real. He is a treasure.
And now for our questionnaire: What is one screen performance every actor should see and why?
Everything Meryl Streep does, you should watch. I am in awe of her, of her versatility, her emotional range, but also how she infuses every role with such authenticity, heart, and soul. And on top of it all, she makes it all look so easy. Bless her. I never had the opportunity to go to acting school, but when I see Meryl, I feel she's my teacher!
"Believe in yourself. Stop wasting your time trying to be and look like everybody else."
Do you have an audition "horror story" you can share?
Is there any other type? All auditions are horrible. I never got a role I auditioned for. The cameramen would tell me that my face was "unlightable" because my nose was too long and my mouth too large. I never felt I could give the directors what they wanted because the whole process felt so forced and fake. The first big role I got was in De Sica's "Gold of Naples," and I didn't audition for it. I bumped into Vittorio De Sica at the commissary of Cinecittà and we hit it off. We were both Neapolitan, we spoke our dialect together, and I made him laugh a lot. At the end of our lunch, he offered me a role in his next film and the rest is history. I ended up making over 20 films with him and I never auditioned for him, thank goodness.
READ: The Best Leading Film Performances of 2020
What's the wildest thing you ever did to actually get a job?
There was a role I was up for in a film called "Boy on a Dolphin." It was a role I wanted very badly, but the character had to be a great swimmer. That was a problem because I could not swim for the life of me. But when asked by the casting director and producer if I could swim, I replied, "Like a fish." When it came time to shoot my first swimming scene, I dove in the water, and instead of swimming like a fish, I sank like a rock. Two PAs had to rescue me. I got lucky, I didn't drown and the production was very nice, they didn't fire me. Instead they changed the schedule around so I could take swimming lessons. To this day, I am not a very good swimmer.
How did you first get your SAG-AFTRA Card?
I believe I got it on that film, "Boy on a Dolphin," as it was an American production. If not on that film, then it was on "Desire Under the Elms" in 1958 with Anthony Perkins.
What is the advice you'd tell your younger self?
Believe in yourself. Stop wasting your time trying to be and look like everybody else. What makes you unique is the secret that will help make your dreams come true.
Looking for remote work? Backstage has got you covered! Click here for auditions you can do from home!