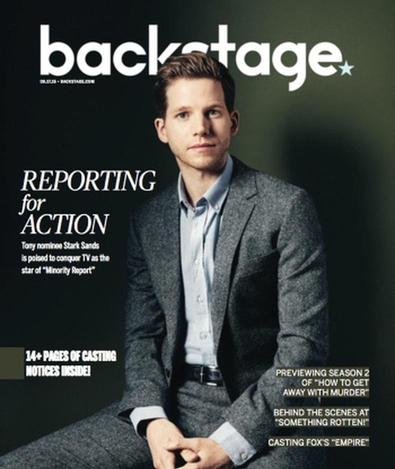 The days of Broadway being a reliable star maker are mostly gone. Sure, every now and then a Chenoweth or Foster or Jordan breaks through, but those are the exceptions. You can probably add Stark Sands to that list, too.
Though he worked in TV before making his Broadway debut in 2007's "Journey's End" (and earning his first Tony nomination), Sands saw his profile significantly raised with his second Tony nom for smash hit "Kinky Boots" in 2013. And now he's headlining Fox's hotly anticipated adaptation of "Minority Report," premiering Sept. 21, as one of the psychic twins whose visions of future murders enable him to prevent crime. And he's relishing the challenge.
"I am exhausted," he says over the phone in Vancouver, B.C., while on his way to set. "In all the best ways! We're working 15-hour days and I'm very lucky to be in such a principal position, but it means that I'm working a lot. But I've found my rhythm and I've adjusted and I've found that I don't really need sleep to get by!"
Two months earlier, Sands had known almost nothing about his new gig. He had filmed the pilot but hadn't yet seen a script for the second episode. In fact, he wasn't even sure what performance he ended up giving until he screened the pilot for the first time.
The series picks up several years after the 2002 Tom Cruise film ended. Based on the Philip K. Dick short story, the film found three siblings—Agatha, Dash, and Arthur—serving as Washington, D.C.'s "Precrime" unit by utilizing their psychic visions to prevent future crimes from happening. While the film ends with the unit dismantled, the series picks up with Dash, still suffering from premonitions of murder and feeling purposeless without being able to help stop the killings, teaming up with a detective (Meagan Good) to do what he can—all while grappling with his less-than-honorable twin, played by Nick Zano.
Because Dash began life as a "drug baby" and then was kept sequestered with his siblings from the rest of the world, Sands and director Mark Mylod tried a few different versions of Dash's naiveté. "He doesn't know how to talk to people! He's like a baby chick," Sands says over decaf coffee after his photo shoot in June. "But is he naive in a way that's childish or is he naive in a way that's alien? We did so many versions of everything so they had options, and it turns out, for a network show like this, you need your lead to be approachable and accessible and attractive. And the childish thing was going against that."
The final result works both in terms of creating a compelling hero—a purely noble lead character has been a rarity in the last decade—and providing the actor with something a little knottier than the usual procedural cop. Because Sands wasn't a known TV and film quantity during pilot season, he had to jump through quite a few hoops to land the No. 1 slot on the call sheet, but he says it was all worth it.
"It was three or four auditions," Sands says. "The network understandably wanted to make sure. But it was a nice feeling to actually go in there and convince them. Because it took some convincing!"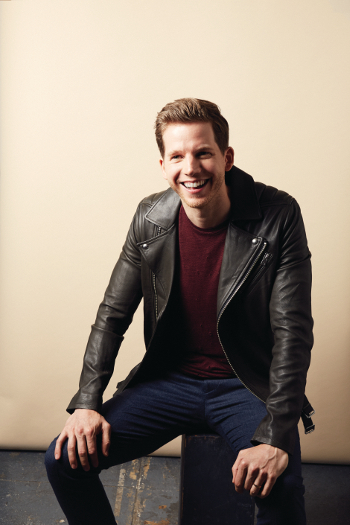 The whole "Minority Report" process has been a rushed one. Sands began filming in Toronto three days after landing the role; the cast and crew were told Fox was picking the pilot up to series on May 8 before officially announcing it May 11; and Sands' son was born May 13—which left him with not a lot of time to pack up his new family and move to Vancouver before filming began in late July. In fact, after his Backstage photo shoot, Sands was on his way to pick up a passport for his infant son.
Over the phone from Vancouver in late August, Sands marvels that filming began a month before and he's already wrapping Episode 4. "We're cramming a lot in, shooting six pages a day and sometimes more," he says. "I guess it's just the way it is. You find your rhythm. You're in the weeds for a while, you make adjustments, and then you start banging it out. I've heard in the past that being the lead on a network TV show is the hardest job in Hollywood. And it's certainly the hardest one I've had! I've worked in film and television and Broadway, and this is the hardest I've had to work."
But as Sands points out, the first few episodes of any new series lean heavily on its leads to set the tone and establish relationships. Even as Episode 5 loomed, Sands was beginning to notice the writers fleshing out more of the supporting characters—and providing some much-needed breathing room for himself and Good. "That's appreciated just on a personal level," Sands says with a laugh, "but I also think it's exciting for the show."
He admits that he reads every script as soon as he receives it to stay abreast of the show's burgeoning "canon." "It's a weird thing to only have the information for each episode as they trickle in," he says. "Every time we get a new script, it tells me who I am. I talk to the showrunner and the writer, but they're not here anymore. So I have to make a decision and hope it's the right one."
Sands takes his position at the top of the call sheet just as seriously, having had some unfortunate experiences on previous series. "This is my seventh pilot and the third to go to series," Sands says. "And I've worked on shows where the No. 1 was not considerate, was actively mean and selfish, and it trickles down. No. 1 sets the tone. This is an opportunity for me to set a good example for the cast and the crew. I love what I do. Why not create an environment where everyone can enjoy it?"
Spoken like a true Broadway trouper!
Want to read more? Check out our Backstage covers here!