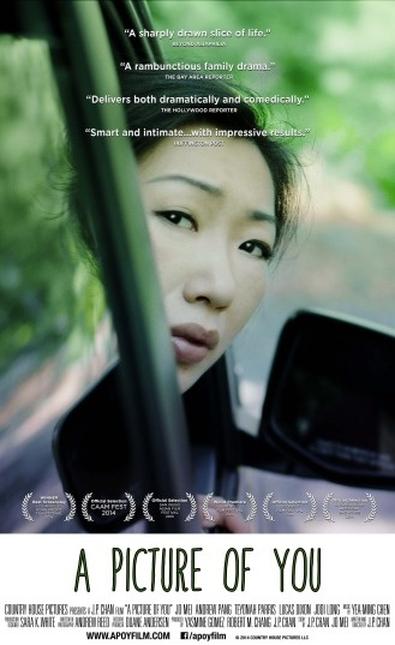 Graduating from an acting conservatory is a major upheaval in your life. This confusing period of change coupled with the pain of losing someone you love were the inspirations behind the new indie flick "A Picture of You," out in select theaters today, June 20.
"We were both going through a point of loss and change," says star and co-writer Jo Mei. "I was just graduating from four years of Juilliard, and that's always a really hard transition coming from a structured training program where someone expects you to be in class or rehearsal every hour of the day and then to graduate and have no one care. J.P. [Chan, the film's writer-director] had lost his mom a few years ago and we wanted to do a story with a sense of loss and transition."
"A Picture of You," starring Mei ("Adult World"), Andrew Pang as her older brother, Teyonah Parris ("Dear White People"), Jodi Long, and Lucas Dixon, follows siblings Jen and Kyle as they travel up to the sticks of Pennsylvania to clear out their mother's house after she dies, only to happen upon a disturbing secret. A rewarding balance of humorous, intimate, and tragic moments, the film examines Jen's overwhelming guilt and anger over her decisions in the last months of her mother's life, Kyle's resentment towards her, and their attempts at rekindling a lost closeness after drifting apart.
"We really wanted to portray Jen in a way that's not often seen from Asian-American female characters," says Mei. "We wanted to take on the challenge of a female character who's not out to please anybody. She's going through stuff on her own and this is the one time in her life where she doesn't want to be smiling at strangers, kind of like letting her displeasure all hang out."
Mei admits her own frustration at the uncertainty of her career choice as an actor really helped her capture the "impatience and bubbling energy" of Jen. "I felt the industry was just telling me to hurry up and wait, just be patient—get in line," says the actor who decided along with Chan that waiting for a role wasn't an option and created "A Picture of You."
"I pretty much cast the movie from actors I'd worked with or actors I knew," says Mei. "It was hardest finding Andy, the actor to play Kyle. The Asian-American acting circle is so small and intimate, and we knew a lot of people could play the part and so many came in and did an amazing audition. At first [Andy] thought he wouldn't be available and he was like 'Yeah whatever, I'll give it a shot'; somehow that kind of dismissive attitude just took to [the audition] another a level."
The film was shot in Pennsylvania over a period of 18 days and the cast and crew raised $30,000 to complete it. Mei served not only as the film's star but as an extra pair of hands throughout the film's development.
"Being able to wear multiple hats on this movie really taught me how useful it is for an actor to know how a film is put together from beginning to end," she says. "We often focus so much on our performance but you don't know if that scene is going to be used in that editing room…That was relieving for me, knowing I don't need to get it in one take, I don't have to be perfect. What's important is to give options and give choices—mine different colors from each scene so when it comes to editing, they a lot of things to work with."