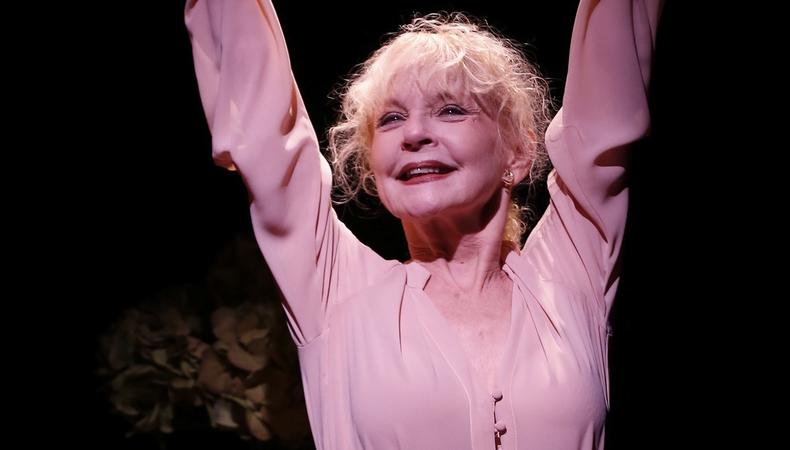 "I always hum when I'm nervous," says Virginia, the lone woman in the easy chair at the start of the 60-minute one-act "13 Things About Ed Carpolotti." That sets us up for this musicalized version of the third part of Jeffrey Hatcher's "Three Viewings," an incisive set of funeral-parlor monologues that was first seen in New York at Manhattan Theater Club in 1995. Hatcher's original starts with "Ed always said I couldn't keep my mouth shut," a line more in keeping with the theme of how not keeping quiet, of sharing her woes, leads to her deliverance.
With direction, book, music, and lyrics by Barry Kleinbort, the musical adaptation is more illustrative of the text than necessary to it. Breaking into song distracts rather than amplifies, although the score by itself is not without merit. But the tuner proves awkward, the songs shoehorned in, nowhere more so than when Virginia joins excellent pianist and musical director Paul Greenwood in a duet. "I'm not really here," says the accompanist, a cute meta reply that draws us away from the action.
Kleinbort adds songs about Virginia's life with now-deceased wheeler-dealer husband Ed ("Where did we meet?/When was our first 'Hello'?/You'd think that I still would know") as well as an amusing aria about the film "My Friend Irma Goes West." Here also is a paean to their home ("It's a house beyond compare/For the one I loved was there"), a zesty calypso tune about those "13 Things," and a lovely bit of nostalgia called "One More Spring." Although Virginia becomes aware of Ed's shady past, their transcendent love is the thread that sustained them.
There's also pain here, but that gets lost. The story of a woman beset by legal troubles after her husband's death and the surprising, affectionate way she survives becomes so explicit that we lose empathy and suspense. The musical interludes interfere with the story's arc, deferring instead of deepening our understanding.
As Virginia, the role she played in the original nonmusical production, Penny Fuller is engaging without being sentimental, showing grit and bravery in the face of threats. The character's defiance contrasts with the actor's pixyish mien. Whether imitating the speech patterns of the people in Virginia's life, re-enacting a Martin and Lewis film, or becoming dewy-eyed at memories, Fuller finds the character's complexities, making her a combination of naiveté, humor, fear, and determination.
The talented Kleinbort, who has a thriving career in cabaret as a director and a writer, proves himself a musical theater scribe to watch. Unfortunately, "13" is not his lucky number.
Presented by Harbinger Records and Jamie deRoy, in association with the Acting Company, at 59E59 Theaters, 59 E. 59th St., NYC. Dec. 11–30. (212) 279-4200, www.ticketcentral.com, or www.59E59.org.
Critic's Score: C+