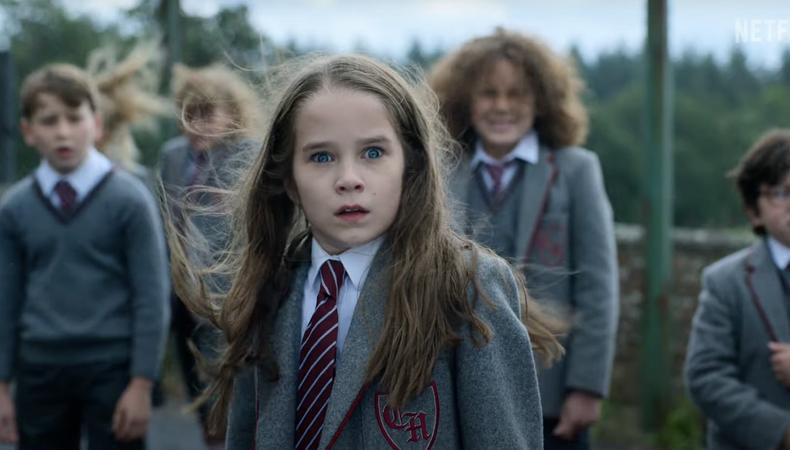 In the UK, there are few agencies as prolific as Lucy Bevan Casting. Films, TV, theatre—they've done it all, working with luminaries such as Emma Thompson, Kenneth Branagh, and Judi Dench.
Emily Brockmann is a casting associate at LBC. After meeting Lucy Bevan herself at a careers evening in high school, Brockmann went on to complete her work experience week in Bevan's office. The rest, as they say, is history. Here, Brockmann speaks to us about LBC's recent projects and the advice she has for actors.
Netflix's Matilda just premiered at the BFI London Film Festival. Can you talk to us about the casting process?
This was a really interesting one, because the bulk of the work that Lucy and I had was casting the kids. We did a bit of work before Christmas 2019 and then really hit the ground running in January 2020. There was a group of us—casting, choreography, music—who travelled the country and saw hundreds and hundreds of children.
Then the world came to a halt in March 2020. We had a four-month hiatus where we took the process online and did open castings, asking kids to submit videos of them singing and dancing in their living rooms, basically. But we met thousands of kids in total. That was my real takeaway: just how incredible the talent was. It was really inspiring, to be honest.
You also recently worked on 1899, which features an international ensemble. Did this present any unique challenges or delights?
This was another really interesting one, because, again, a lot of it took place during lockdown. The creators, Baran [bo Odar] and Jantje [Friese], came to Lucy and me in June 2020. They didn't have scripts, but they had this incredible idea and vision. They had arcs for each character and the groups within the show, so we knew the nationalities and relationships, but we didn't know loads more than that.
The project really lent itself to online casting because we were casting actors from all over the world: Germany, Spain, France, Denmark, Hong Kong… We didn't do a single in-person casting, which was strange, but we were able to meet people that we would never be able to meet otherwise. I'm very proud of that cast.
"If someone nails a one-line role, I always make a note of them. Those are often the hardest parts to do well."
Where do you look for new faces?
There are the obvious ones: seeing as much theatre and watching as many films and television series as I can. What's different is that I often find myself gravitating towards the really small parts. If someone nails a one-line role, I always make a note of them. Those are often the hardest parts to do well.
When we're doing a specific casting, we pursue all avenues: open castings on social media, National Youth Theatre, the Nottingham Television Workshop, drama schools… So there's sort of a two-avenue approach.
Something I've learned from Lucy—and I know most casting directors feel this way—is the duty of care you feel if you do cast someone who's not a professional actor. It's really important to us to make sure that we're always available as a resource and a port of call. [Casting new talent] is great, but it's a big responsibility—and one we take incredibly seriously.
Are you open to actors introducing themselves to you?
As an office, we don't mind people emailing us directly. That's totally fine. We prefer email—maybe I'm just old school—but I prefer email to an Instagram or Twitter message. And we read everything we receive. We can't always respond, but we do read everything and file people who might be right for something upcoming. So I would say it's definitely worth introducing yourself or sending an email if you're going to be in something. But to avoid disappointment, I wouldn't necessarily always expect a response.
How would you advise actors to think about the casting process?
The main thing I want actors to know is: We're on your side. I know that potentially sounds trite, but it's true. In the most crass way of thinking about it, if an actor does well, we look good, so we're always willing an actor to do their best. We're not there to catch you out.
The other thing is, you're not just auditioning or taping for the part that we've given you. If, for whatever reason, you're not right for that part, we will absolutely think of you for something else. So even if an actor doesn't think they're right for a project, it's still worth sending a tape because we've always got lots of other parts in our head we'd love to consider you for.
You've previously said, "Actors are one of my favourite groups of people." Are there any traits that particularly appeal to you?
I'm a sucker for really talented actors. Obviously, the term "talented" is massively subjective, but what I particularly gravitate towards is an open mind and a kind of dexterity and lightness of touch. It's being well-prepared and knowing the lines, knowing the context, but also being light on your feet. I'm in awe of actors who can make really quick adjustments and completely change how they've prepared the character. It's really exciting when that happens. It's kind of electric. It's probably one of the best parts of the job.
You've also worked with some incredible directors—Alfonso Cuarón, Tom Hooper, and Steven Spielberg, to name a few. What have you taken away from these collaborations?
There are two things I've noticed in the filmmakers that have been the most extraordinary. [The first] is meticulous attention to detail. You can just see that attention to detail in every aspect of the filmmaking process. The other thing I find really amazing is the ability to effectively communicate their vision—the ability to effectively communicate the world and the characters and how they see them. That means we can help give actors the steer they might need.
Have you watched any particularly good UK productions lately?
A couple of films and a theatre production. Blue Jean [directed by Georgia Oakley] and Living [directed by Oliver Hermanus] are two independent British films that have amazing central performances, and I just loved the world that the directors and casting directors created in both. Then there was a production of Oklahoma! which was American in origin; I saw it earlier this year at the Young Vic and I thought it was fantastic, unlike any musical I'd ever seen before. And it's coming back to the West End next year.
I'm massively biased, but Matilda is quite good! I feel incredibly privileged to have worked on it and hope that people get to go see it.