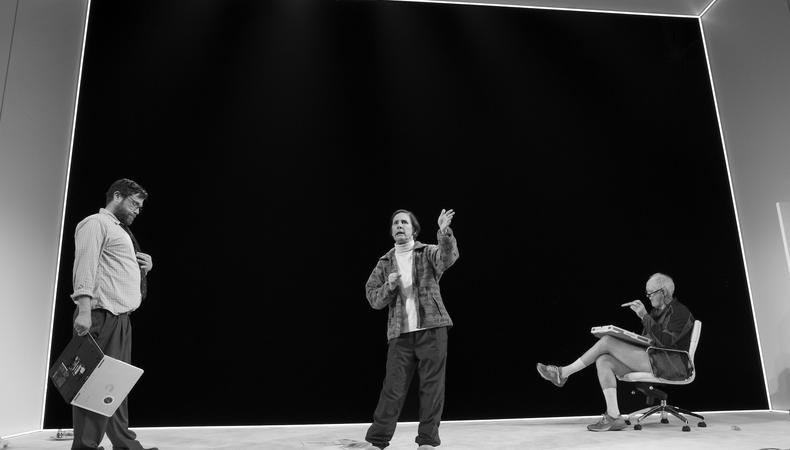 The Tony Award acting nominees of the 2018–19 Broadway season defy convention in subtle yet thrilling ways. It's a year when many of the musical stars are giving performances full of nuanced drama, while several of the play actors hail from a musical theater background. New York City stage veterans like Kelli O'Hara, André De Shields, and Laurie Metcalf join talented newcomers like Jeremy Pope and Ali Stroker—all of whom are giving some of the year's best turns. To learn more about the performances nominated for theater's highest honor, check out our comprehensive guide below (and tune in June 9 to see who wins)! While you're at it, check out our full breakdown of the musical nominees here.
LEADING ACTOR IN A PLAY
Paddy Considine, "The Ferryman"
In Jez Butterworth's sprawling, specific-yet-universal, ultimately tragic drama, Considine balanced fatherly warmth with brutal, bitter anger. Although he prepared his audience emotionally for that anger's explosion, the inevitable violence still felt like one of the most shocking theatrical moments in recent memory.
Bryan Cranston, "Network"
Talk about leaving your blood, sweat, and tears on the stage. By the end of Lee Hall and Ivo van Hove's ultra-theatrical adaptation of Paddy Chayefsky's classic film, one feels Cranston must be struggling to remain upright, so emotionally draining and "mad as hell" is his performance as news anchor Howard Beale.
Jeff Daniels, "To Kill a Mockingbird"
Harper Lee's Atticus Finch is a figure so monumental, it takes an actor's unrelenting humanity to bring him down to earth. Daniels, smartly subdued in Aaron Sorkin's Broadway adaptation, ensures his righteous lawyer and father is no infallible savior, but rather a human being trying damn hard to do right by other human beings.
Adam Driver, "Burn This"
One of the most exciting and daring performers working today, the recently Oscar-nominated Driver has found the stage role that enables him to shine brightest. The towering, foul-mouthed Pale, both a symbol of an American class and a specific weirdo like no other, is, in Driver's capable hands, the best kind of scene stealer.
Jeremy Pope, "Choir Boy"
Pope's stunning, gorgeous, jaw-dropping, there-aren't-enough-superlatives-to-describe-it voice proved to be just one of the actor's many dramatic tools in this Tarell Alvin McCraney drama about a prep school and its illustrious gospel choir. As Pharus, openly gay and trying to stay true to himself, Pope was restrained yet expressive, charting an astonishingly detailed journey.
LEADING ACTRESS IN A PLAY
Annette Bening, "Arthur Miller's All My Sons"
What a treat to see a living legend with a "what can't she do?" reputation wowing us once again onstage. The layers of Bening's Kate Keller are so plentiful, from superficial charm to deepest denial, yet she unveils each of them so carefully, it feels like a performance with absolute authenticity at its core.
Laura Donnelly, "The Ferryman"
There were many things to marvel at in Donnelly's portrayal of the grieving, lovesick, guilt-ridden Caitlin Carney, but perhaps most extraordinary was her ability to project. Like the best stage actors, Donnelly can truthfully convey to the back of a large theater the tiniest nuances and reactions.
Elaine May, "The Waverly Gallery"
The theater is so lucky to have May. In one of the most masterful transformations seen on Broadway this season, the legendary actor exposed the inner workings of Kenneth Lonergan's elderly, ailing Gladys Green, bringing a level of nuance only she could deliver.
Janet McTeer, "Bernhardt/Hamlet"
The most magical moments in McTeer's performance, as both Sarah Bernhardt and Hamlet as portrayed by Bernhardt, were the rehearsals. Seeing her untangle text, think aloud with her scene partners, and make the kinds of discoveries stage actors live for felt like a reminder of why we love watching actors at work.
Laurie Metcalf, "Hillary and Clinton"
For playing the world's most well-known Hillary, the mesmerizing Metcalf is nominated for her fourth consecutive Tony. She has stiff competition in the category this time around, but that's been true of every previous season—and she's won the last two years in a row.
Heidi Schreck, "What the Constitution Means to Me"
In a near-solo show that is angry, devastating, and brutally confronting; in playing the role of Heidi Schreck and telling the story of Heidi Schreck; and in bringing this landmark work all the way to Broadway, this actor-playwright has (politely) demanded to be heard—and made nominators reconsider what a Tony-worthy performance looks like along the way.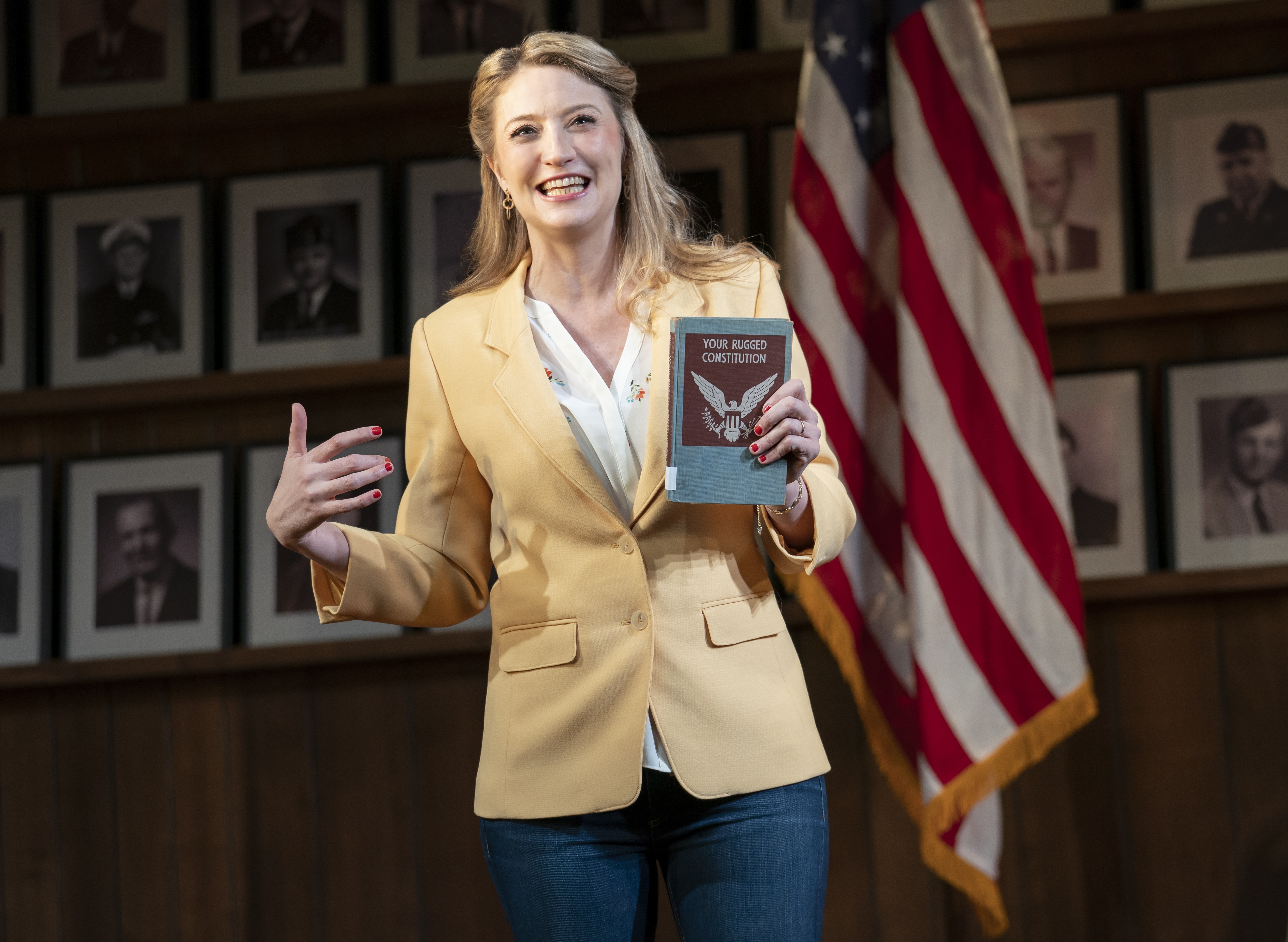 READ: Tony Nominees on Their No. 1 Piece of Audition Advice
FEATURED ACTOR IN A PLAY
Bertie Carvel, "Ink"
There's a fine line between love and hate, and, as Rupert Murdoch, Carvel treads it marvelously. With a charisma that could only be described as verminous, he kinda sorta almost makes New York audiences root for the much-loathed founder of Fox News. That alone is a Tony-worthy feat.
Robin de Jesús, "The Boys in the Band"
In Mart Crowley's large ensemble piece, De Jesús' Emory stole the show with his interpretation of a role that could easily have slid into victim-baiting—a man ostracized for his flamboyancy—and instead flips it on its head, rendering a character that elicits sympathy not because of pity but because of his strength, verve, and humor.
Gideon Glick, "To Kill a Mockingbird"
Whether as a perpetually single millennial in 2017's "Significant Other" or now as the precocious Dill in "Mockingbird," Glick makes you want to look into his evocative eyes and embrace him tightly—before furiously shaking some sense into him. His heartbreaking performance is as true to life as any can get.
Brandon Uranowitz, "Burn This"
With no disrespect to Lanford Wilson, the supporting character of Larry in this intimate four-hander could come off as frivolous comedic relief—or, even worse, as a stereotypical gay man. But Uranowitz's razor-sharp comic timing, far from cheapening the dramatic conflict, somehow substantiates the production and Larry's more existential moments. He is subtly brilliant at revealing his character's heart when we least expect it.
Benjamin Walker, "Arthur Miller's All My Sons"
During the curtain call of Roundabout Theatre's production of this Arthur Miller classic, just after its gut-wrenching conclusion, you may notice a detail that points to Walker's commitment as an actor: Bening's dress is covered in his tears. The way his Chris Keller clutches at his mother, wishing the world were not as it is, is an unforgettable stage moment.
FEATURED ACTRESS IN A PLAY
Fionnula Flanagan, "The Ferryman"
"They're here! They're here! They're here." Rarely do a play's final lines linger as hauntingly as they do emerging from Flanagan's mouth. Her Aunt Maggie Far Away sits staring into space for most of the action, occasionally breaking her reverie with dispatches from the beyond that may chill you to the bone.
Celia Keenan-Bolger, "To Kill a Mockingbird"
A stalwart of the New York stage, Keenan-Bolger is one of those actors frequently taken for granted simply because she is always that wonderful. But with her career-best performance as beloved literary heroine and narrator Scout Finch, she may finally get her due in the form of Tony gold.
Kristine Nielsen, "Gary: A Sequel to Titus Andronicus"
Taylor Mac's "Gary" is a strange play, to say the least. Mixing both intellectual and lowbrow humor into the bloody, Beckettian aftermath of "Titus Andronicus," it's a comedy that requires players with an off-kilter yet profoundly heartfelt sensibility. No one could capture that exact nexus, touching and titillating and totally bizarre, as capably as Nielsen.
Julie White, "Gary: A Sequel to Titus Andronicus"
As Carol the midwife, White provides our introduction to the wacky world of this play with a Shakespearean prologue on the nature of death and sequels. All the while, her neck is spouting blood. Watching the inimitable White stagger about the stage delivering this speech feels akin to some kind of comedic nirvana.
Ruth Wilson, "King Lear"
Wilson delivers two performances for the price of one: Cordelia, the daughter tormented by the parent who will never love her as she is, and the Fool, who at one point chomps down on a carrot she had seconds prior poked through the fly of her pants—quite the contrast!