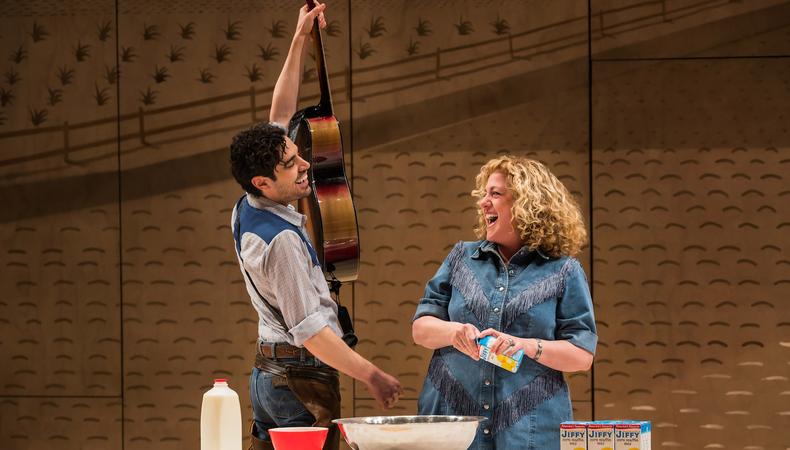 The Tony Award acting nominees of the 2018–19 Broadway season defy convention in subtle yet thrilling ways. It's a year when many of the musical stars are giving performances full of nuanced drama, while several of the play actors hail from a musical theater background. New York City stage veterans like Kelli O'Hara, André De Shields, and Laurie Metcalf join talented newcomers like Jeremy Pope and Ali Stroker—all of whom are giving some of the year's best turns. To learn more about the performances nominated for musical theater's highest honor, check out our comprehensive guide below (and tune in June 9 to see who wins)! While you're at it, check out our full breakdown of the drama nominees here.
LEADING ACTOR IN A MUSICAL
Brooks Ashmanskas, "The Prom"
Turning vanity into hilarity and buffoonery into brilliance, Ashmanskas plays the smart-alecky actor Barry Glickman with just the right amount of scenery chewing—plenty, but without ever resorting to cartoonishness. Ashmanskas can make an audience putty in his hands, and somewhere along the way he makes us cry between the laughs.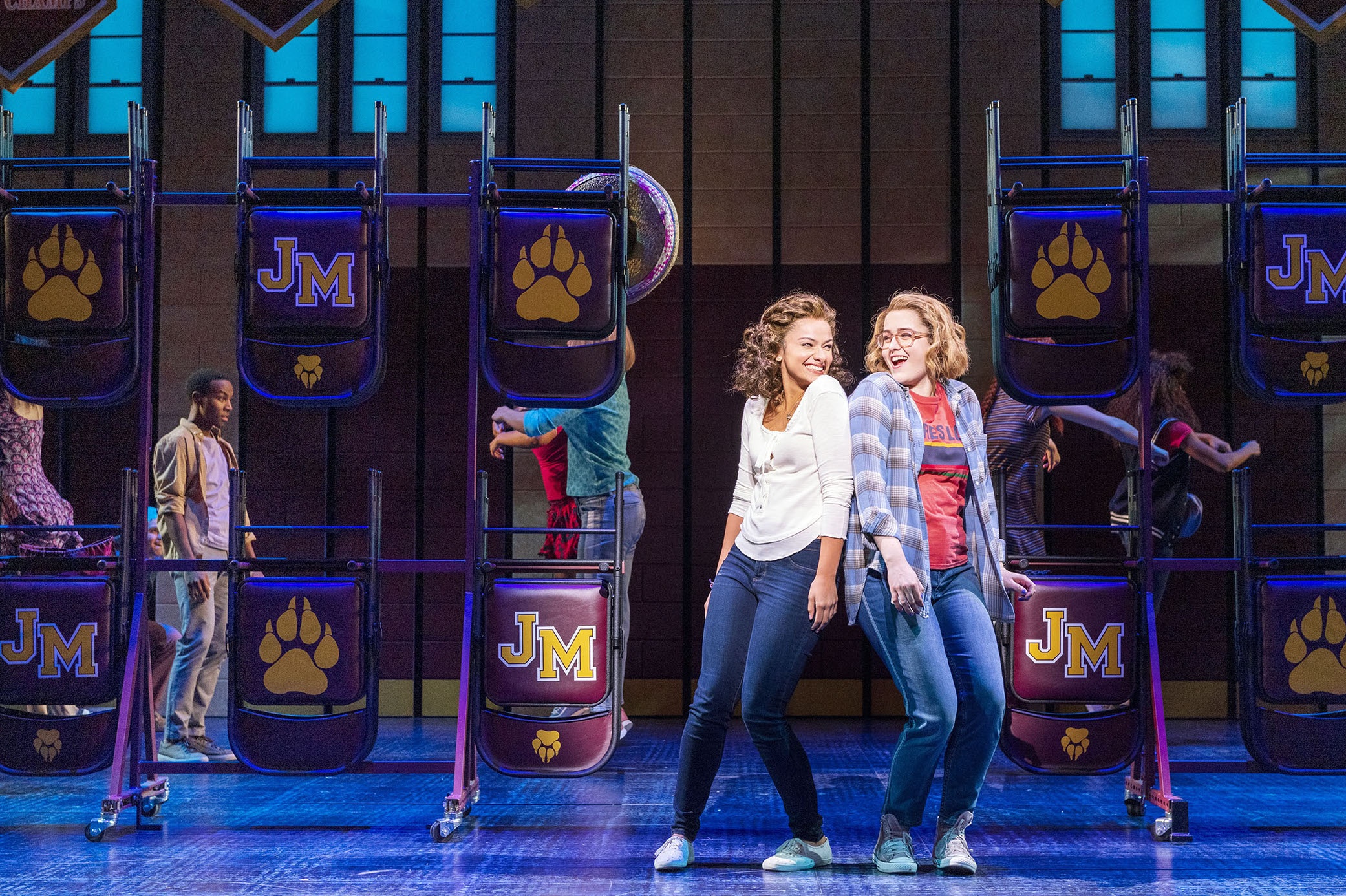 Derrick Baskin, "Ain't Too Proud—The Life and Times of the Temptations"
As Otis Williams, founding member and frontman of the titular Temptations, Baskin guides his captive audience through the high highs and low lows of this groundbreaking group of musicians. Every time he transitions (oh, so smoothly) from wry narration to crooning and dancing, it's a marvel to witness.
Alex Brightman, "Beetlejuice"
How does Brightman play the title role in this delightful monstrosity of a musical adaptation eight times a week? Bouncing around the stage with infectious glee, singing with a menacing rasp in his voice, and daring audiences to root for his demonic Beetlejuice, Brightman is the Tasmanian devil of Broadway.
Damon Daunno, "Oklahoma!"
A crooner with a dark side, Daunno's take on Richard Rodgers and Oscar Hammerstein II's leading man is essential to Daniel Fish's innovative revival. It was never obvious until now: His voice and his swagger sweep Laurey off her feet, but Curly is far from the story's hero—and he gets away with murder.
Santino Fontana, "Tootsie"
Each time he takes the stage, we see new talents in Fontana, who in addition to cracking us up with endlessly inventive line deliveries and reactions toes the line between charming and morally questionable as Michael Dorsey, aka rising stage star Dorothy Michaels. And his singing, as both a man and a woman, is terrific.
LEADING ACTRESS IN A MUSICAL
Stephanie J. Block, "The Cher Show"
Let's do this, bitches. By "this," we mean "give the fabulous Stephanie J. Block the statue she deserves." And by "bitches," we mean "Tony Award voters." As a certain acting and music legend might say, snap out of it!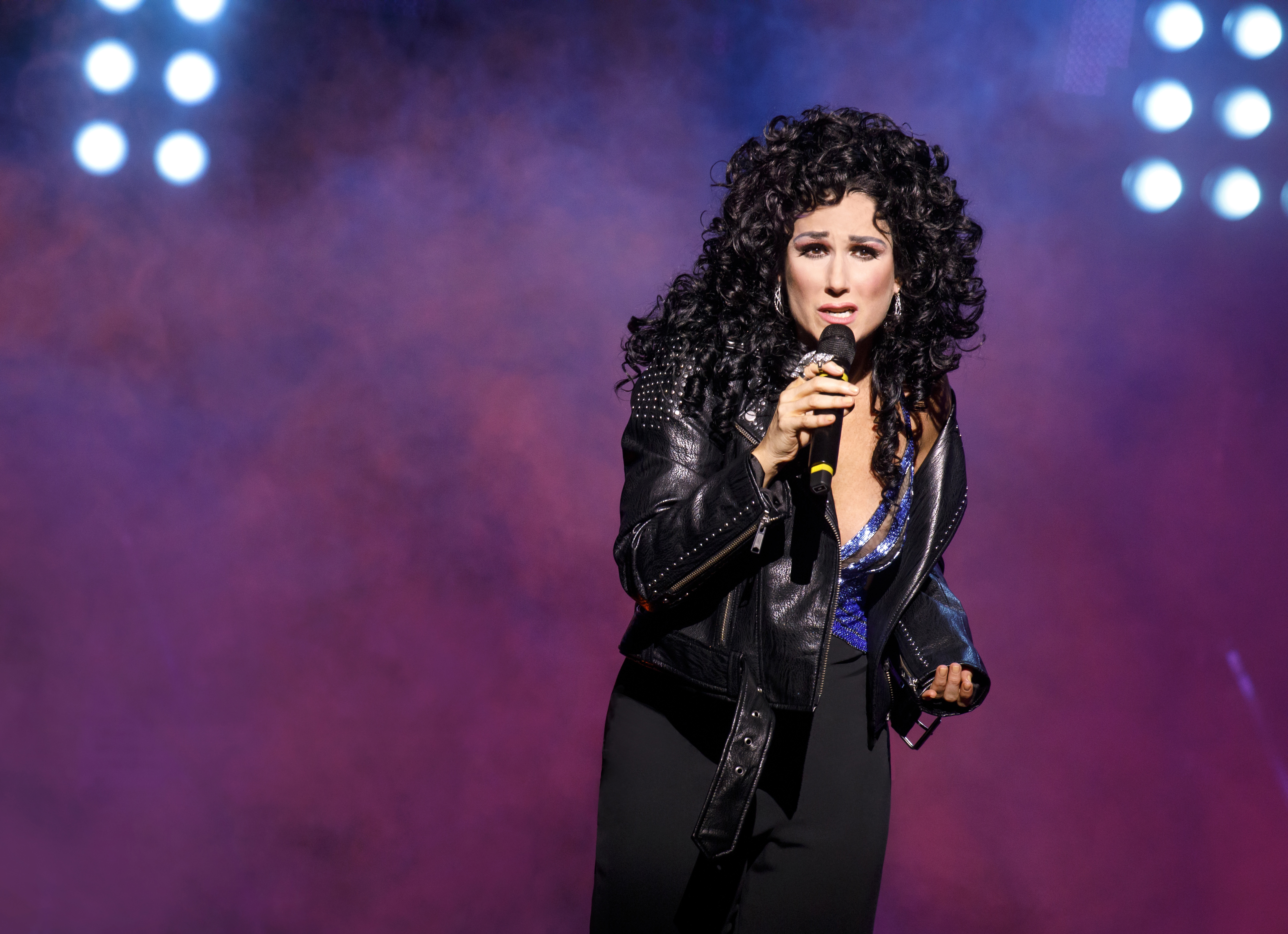 Caitlin Kinnunen, "The Prom"
There are a lot of larger-than-life characters in this story of a teenage lesbian in Indiana whose quest for a prom attracts New York thespians seeking good press. Kinnunen's portrayal of a bullied girl quietly sticking up for herself grounds the proceedings, tugging at our heartstrings with her every soaring note.
Beth Leavel, "The Prom"
It was 13 years ago that Leavel won a Tony for "The Drowsy Chaperone," and "The Prom" now marks her 13th role on Broadway. As the stupendously self-absorbed Dee Dee Allen, Leavel hams it up, brings the house down, and lends genuine heart to this musical's goofy satire.
Eva Noblezada, "Hadestown"
A damsel in combat boots, Noblezada is very much not in distress. Plucked from the Greek myth wherein her character, Eurydice, doesn't speak, Anaïs Mitchell's feminist hero of "Hadestown" is one with agency and spunk, and that's due largely to the choices of this young actor—now with two Tony nominations and more, surely, to come.
Kelli O'Hara, "Kiss Me, Kate"
Despite nearly 20 years on its stages, Broadway still hasn't seen all sides of the ever-cunning O'Hara. As fading actor Lilli Vanessi, our favorite ingénue-turned-consummate leading lady unleashes a newfound ferocity, proving the Tony winner still has lots more surprises up her sleeve.
READ: Your Official 2019 NYC Theater Awards Calendar
FEATURED ACTOR IN A MUSICAL
André De Shields, "Hadestown"
Through its heart-bending love stories and allegorical tests, "Hadestown" is anchored by the legendary De Shields' all-knowing narrator, Hermes. It's his septuagenarian warmth and the delicate care he gives his storytelling that ensures every audience is ushered safely through the underground and then back above it.
Andy Grotelueschen, "Tootsie"
A character actor with deft comedic timing, in "Tootsie," Grotelueschen provides a prime example of how to steal a scene with restraint rather than razzle-dazzle. His Jeff, a schlubby roommate and aspiring playwright, cracks us up most after a brilliantly well-timed pause.
Patrick Page, "Hadestown"
They say the devil you know is better than the one you don't—unless that devil is Hades, lord of the underworld himself. Yet Page (and his thunderous baritone) never skews overtly villainous; instead, he takes one of the season's most challenging roles and turns it into one of the most affecting.
Jeremy Pope, "Ain't Too Proud—The Life and Times of the Temptations"
This year's only twice-nominated actor, Pope's domination of the spring Broadway season is the kind of star turn we love to see. Eddie Kendricks' falsetto is so legendary it seems impossible an actor could replicate it onstage, let alone sustain it through almost every Temptations song eight times a week. Pope more than rises to the occasion.
Ephraim Sykes, "Ain't Too Proud—The Life and Times of the Temptations"
You get the feeling that after any moment in Sykes' performance as David Ruffin, the stage under his feet would be hot to the touch. His full-bodied, full-voiced commitment to a music legend known for his wild stage shenanigans must be seen to be believed.
FEATURED ACTRESS IN A MUSICAL
Lilli Cooper, "Tootsie"
Cooper's turn as actor Julie Nichols is terrific musical theater acting: Yes, her voice matches the material and sounds spectacular, but hers feels more like a straight play performance, equal parts relatable and effortlessly natural. It's the kind of performance that hints at bigger and meatier roles to come.
Amber Gray, "Hadestown"
No performance like Gray's has ever appeared on Broadway before. Her Persephone, the at once ageless and ancient, blazing goddess of the underworld, yields some of the most sensitive work of this or any other recent season. Audiences should be thanking both heaven and hell to bear witness to it.
Sarah Stiles, "Tootsie"
David Yazbek's music and lyrics reach dizzying new heights of hilarity—and speed—in this movie-to-musical adaptation, especially with Stiles' Sandy Lester. A frantic, frustrated bundle of nerves, she enters and exits scenes in a whirlwind, giving voice to every out-of-work actor who's ever yearned for some dignity.
Ali Stroker, "Oklahoma!"
A few years ago, Stroker made history as the first actor in a wheelchair to appear on a Broadway stage. Now, she's the first such actor to earn a Tony nomination. Underneath her Ado Annie's twangy vocals and lustful joie de vivre, there's the slightest edge—the possibility that all is not well in this particular Old West.
Mary Testa, "Oklahoma!"
Testa's command of the stage becomes a double-edged weapon in this revamped but not revised take on "Oklahoma!" Her Aunt Eller's humor is irresistibly deadpan early in the show, a tone that warps into an enforcement of the status quo that may leave her audience feeling betrayed.