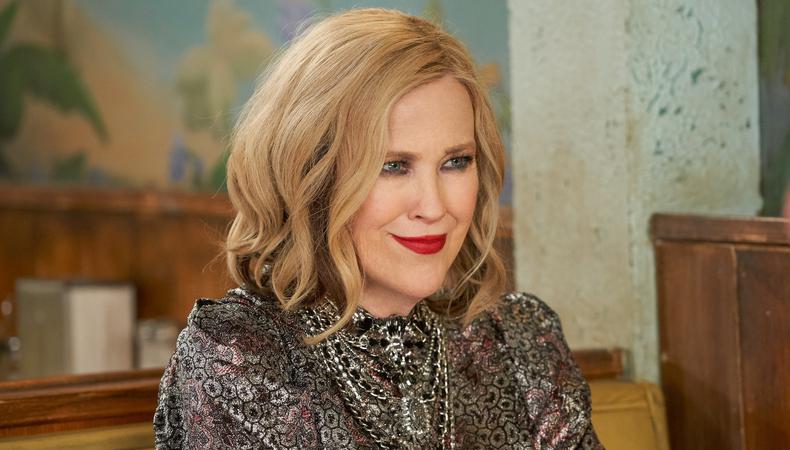 The time has come to crown the best of television's best. Before the 72nd Primetime Emmy Awards, which will be held virtually on Sept. 20, Backstage is rounding up every nominee in the major acting categories with a refresher on their stellar performances, how they earned the Television Academy's recognition, and why we couch potatoes at Backstage can't stop thinking about them. Read on for your 2020 Emmy acting voting guide—and pick your favorites along with us!
OUTSTANDING LEAD ACTOR IN A COMEDY SERIES
Anthony Anderson, "Black-ish"
Juggling a growing family, career, and his kids' sense of Blackness in the lily-white surroundings of upper-middle-class suburbia, Anderson's Dre Johnson has been equal parts modern philosopher and swaggering goofball on ABC's hit sitcom for six wonderful seasons. The naturally funny Anderson's ability to pull off both continues to impress, as do those moments where he digs deeper.
Don Cheadle, "Black Monday"
If you enjoy the idea of Cheadle snorting a line of cocaine and then high-fiving a robot butler, "Black Monday" is the comedy for you. This wild '80s throwback stars Cheadle as the suave Maurice Monroe, a stock broker who has the world at his fingertips and craves more. Watching this one-of-a-kind leading man, you'll crave more, too.
Ted Danson, "The Good Place"
The legendary Danson expanded his actorly repertoire as Michael, a demon who manages a section of the land of the departed on Michael Schur's hilariously idiosyncratic and deceptively ambitious NBC comedy. On the show's final season, Michael unveiled more layers of empathy for his human friends, all while never failing to crack us up.
Michael Douglas, "The Kominsky Method"
Hollywood acting coach Sandy Kominsky has seen better days. Douglas, however, is giving one of his best performances to date. He manages to demonstrate funny or touching chemistry with every one of his scene partners, including Sarah Baker, Nancy Travis, and the many actors playing Sandy's students. Opposite Alan Arkin's Norman Newlander, Douglas creates a kind of onscreen magic.
Eugene Levy, "Schitt's Creek"
A longtime vet of the industry, Levy knows comedy—which means he also knows how to play the role of the straight man. He stars with his real-life son, Dan Levy, on their co-created Pop TV hit. Levy plays a well-heeled stiff as the Rose family patriarch, Johnny, who's in over his head and out of his comfort zone after being forced to liquidate his assets and move to the titular town. Over six seasons, his performance retains its absurdity but finds touching depths, too.
Ramy Youssef, "Ramy"
In this age of peak TV, we're finally hearing stories and voices that have, until now, been pushed to the margins far beyond the small screen. We still have a long way to go, but on his semiautobiographical Hulu series about a millennial Muslim, the Golden Globe–winning Youssef provides hope. "Ramy" is whip-smart, hilarious, and proof of those changing tides.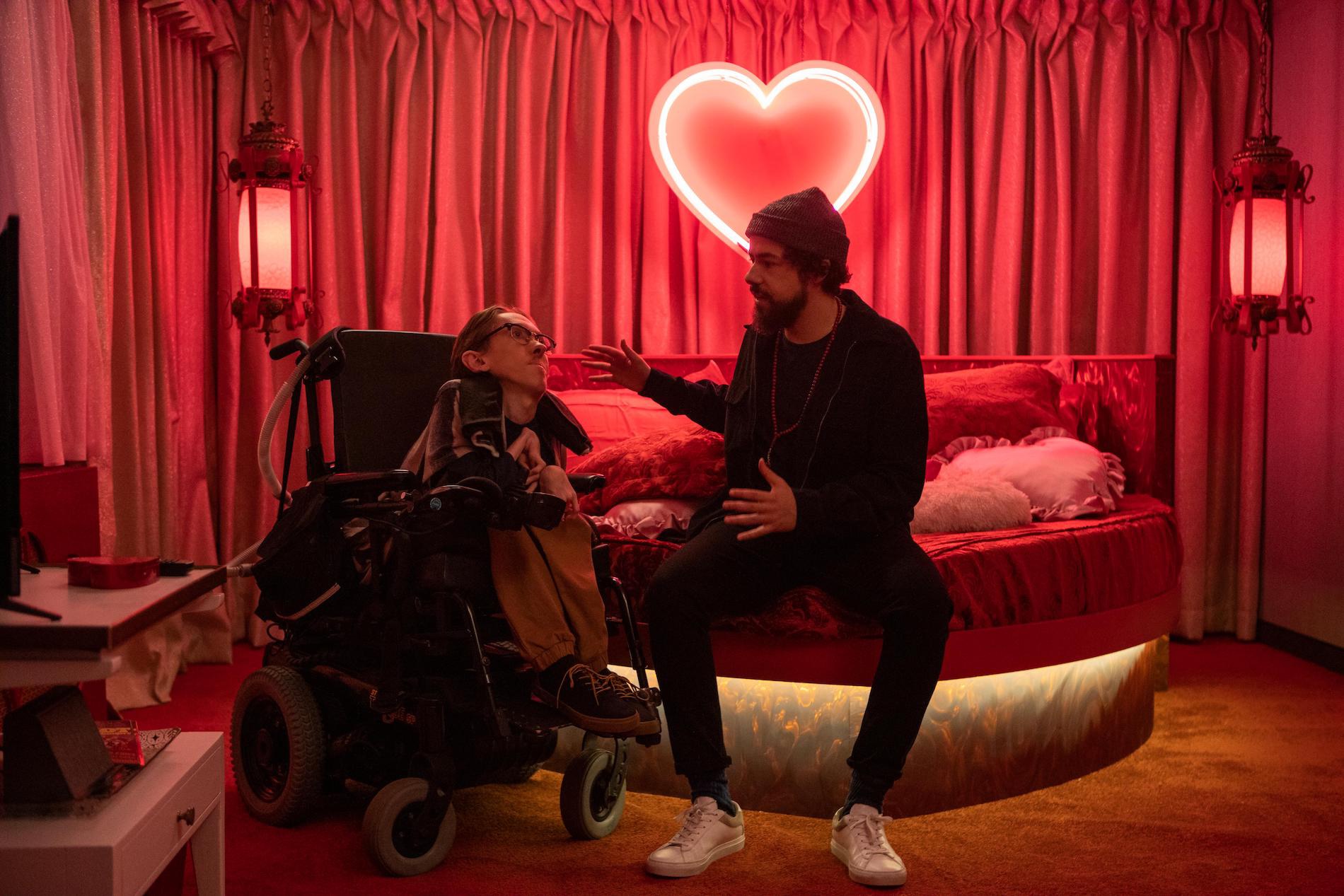 OUTSTANDING LEAD ACTRESS IN A COMEDY SERIES
Christina Applegate, "Dead to Me"
We don't want to live in a world where Applegate isn't on the small screen. Luckily, Netflix's "Dead to Me" is both infinitely watchable and rewatchable, thanks in large part to Applegate's glorious turn as the widowed, wine-swilling Jen Harding. She's as good at digging deep for emotional breakdowns as she is at muttering scathing insults under her breath.
Rachel Brosnahan, "The Marvelous Mrs. Maisel"
We never stop rooting for Midge Maisel, and the Emmy-winning Brosnahan's portrayal of this midcentury housewife and burgeoning standup comedian is a big part of the reason why. She stole the show from her first moment delivering Amy Sherman-Palladino's rapid-fire dialogue, and she's been guiding us through heartbreak, despair, triumph, and side-splitting laughter ever since.
Linda Cardellini, "Dead to Me"
Cardellini has her work cut out for her on "Dead to Me" as a character who is both sweetly naive and a walking cyclone; Judy Hale leaves chaos in her wake, all while smiling the most earnest smile. But in Cardellini's hands, material that shouldn't feel cohesive combines to form a portrait of a woman soldiering through her pain and seeking to better herself.
Catherine O'Hara, "Schitt's Creek"
Much has been said about O'Hara's iconic performance as Moira Rose—but we guarantee she'd have the oddest, most delightful way of saying it herself. She dominates the spotlight every time she's in frame with her line readings as the wacky, wig-wearing, past-her-prime actor and one percenter. Having rounded out her sixth and final season as the lovable narcissist, O'Hara has left us wanting more.
Issa Rae, "Insecure"
For four seasons, Rae's comedic masterpiece has depicted life in Los Angeles for Issa Dee, played with blundering perfection by Rae. Although you constantly feel compelled to grab her by the shoulders and swivel her away from an impending bad decision, you never once lose empathy for the not-so-indefatigable heroine, and that's thanks to the creator-star's knack for the funny, relatable, and painfully insecure.
Tracee Ellis Ross, "Black-ish"
Rainbow Johnson is your typical sitcom mother: frazzled but poised, put-upon yet supportive. But Ross and the creators of ABC's most subversive comedy have turned that trope on its head by adding new qualities: goofy, badass, and often borderline deranged. The actor has again and again demonstrated her dramatic (and directing!) chops, making us love the Johnson family and its matriarch even more than we already did.
OUTSTANDING SUPPORTING ACTOR IN A COMEDY SERIES
Mahershala Ali, "Ramy"
Ali was allegedly cast on Youssef's comedy about modern-day Muslims because he reached out to say he was a fan. We're glad the two-time Oscar winner did; his work as Sheikh Malik confirms his onscreen magnetism yet again. He serves as a foil for Ramy, delivering stirring monologues that guide the former on his religious journey, all while retaining a natural warmth that puts Ramy, and us, at ease.
Alan Arkin, "The Kominsky Method"
What makes Arkin a particularly remarkable presence on "The Kominsky Method" is his ability to undermine his sheepish demeanor with moments of subtle, heartfelt humility. It helps that Chuck Lorre's Golden Globe–winning comedy features a cast of wacky Hollywood types for him to play off of. The moments when Arkin's Norman Newlander is making us laugh are also when he's most able to make us cry.
Andre Braugher, "Brooklyn Nine-Nine"
Captain Raymond Holt is so quietly nuanced, he'd be right at home in a prestige drama. In fact, the more seriousness and subtlety Braugher brings to the character, the more hilarious
his line deliveries become. Opposite the over-the-top Andy Samberg and the rest of the precinct's crew, Braugher continues to make playing unamused amusing.
Sterling K. Brown, "The Marvelous Mrs. Maisel"
Is there anything Brown can't do? From Christopher Darden in "The People v. O. J. Simpson: American Crime Story" to his tear-jerking work on "This Is Us" (both Emmy-winning performances) to now Season 3 of "Maisel," there seems to be no limit to his talent and versatility. He even sings! Watching him play the no-nonsense Reggie, manager to LeRoy McClain's Shy Baldwin, is the treat Brown's fans all knew it would be.
William Jackson Harper, "The Good Place"
It's the sign of a great TV performance when, as a series finale approaches, viewers feel they intimately know a character and don't want to see him leave their screens. As Chidi Anagonye, Harper delighted and endeared himself to us for four twisty seasons; we'll miss his many inventive ways of conveying Chidi freaking the fork out.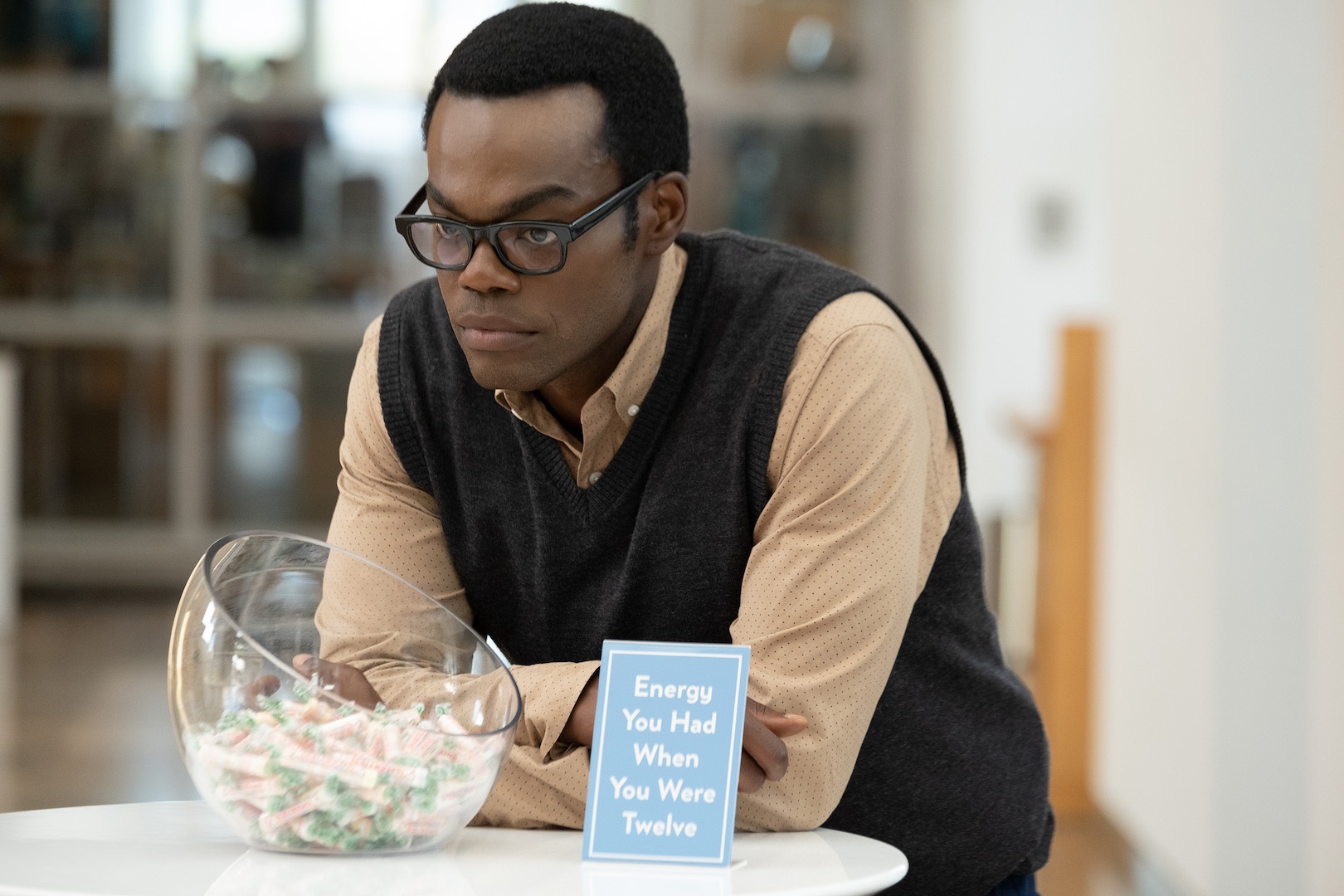 Dan Levy, "Schitt's Creek"
We would pay money for David Rose to hurl classic insults at our faces, and that's thanks to Levy's immense likability. It's also a real testament to his skill as both the writer and star of "Schitt's Creek" that, despite his never-ending sarcastic tirades and eye rolls, David manages to be completely endearing and loveable—someone you want to root for and then get drunk with.
Tony Shalhoub, "The Marvelous Mrs. Maisel"
The similarities between Shalhoub's Abe Weissman and Brosnahan's portrayal of his equally neurotic daughter are uncanny at times. Shalhoub gets some of the biggest laughs when Abe attempts to regain a sense of control over his regimented life. Case in point: his "Abe and Rose end-of-days calculations," the amount of time he's allotted until his and his wife's deaths.
Kenan Thompson, "Saturday Night Live"
After 17 seasons on NBC's live sketch show—a record, by the way—Thompson is inarguably the backbone of "SNL." You'd think he'd be sick of giving his all every Saturday night for nearly two decades, but you'd be wrong. The pure, genuine joy Thompson brings to every sketch is palpable. We loved seeing this season's return to "What Up With That?"—still funny in the show's new webcam format.
OUTSTANDING SUPPORTING ACTRESS IN A COMEDY SERIES
Alex Borstein, "The Marvelous Mrs. Maisel"
Borstein's Susie Myerson (a role for which she won a previous Emmy) feels like a character we've never seen on TV. The contrast between the colorful uptown world of the Maisels and Weissmans and Susie's dark, smoky downtown scene leads to perfect comedic setups, which Borstein makes a full meal out of while walking the line between tough and vulnerable.
D'Arcy Carden, "The Good Place"
One of TV's most consistently surprising and delightful performances in recent memory, Carden's Janet is a character for the ages. The friendly artificial intelligence of the afterlife, programmed with near-omniscience, became more and more of a wild card as this series expanded its already impressive reach; the actor's standout episode features countless Janets intermingling, and you can watch any one of them for laughs.
Betty Gilpin, "GLOW"
Much of the success of this Netflix '80s comedy is due to its ensemble of wildly different but equally convincing women. Stealing the show again on Season 3 is Gilpin, playing the headstrong, demanding, fabulous-but-frazzled starlet Debbie Eagan and her wrestling alter ego, the sunnily patriotic Liberty Belle. What distinguishes Gilpin is her ability to deliver a sarcastic line or reaction shot with off-kilter hilarity; she doesn't look like the cast member who'll crack you up, and then she does.
Marin Hinkle, "The Marvelous Mrs. Maisel"
The times, they are a-changin', especially for Rose Weissman. Hinkle is able to render this most rigid of characters with welcome layers of sympathy as the story of "Maisel" unfolds. Just when you think you have her cadences figured out, she'll go and deliver a line with such unexpected timing or tone, you'll find yourself rewinding to watch her again.
Kate McKinnon, "Saturday Night Live"
The MVP of "SNL" still has that enviable ability to turn mediocre sketches into brilliant ones with a simple head tilt or a widening of the eyes. Her co-stars often laugh so hard they can barely keep it together on the air. Her evolving impersonations of Betsy DeVos and Jeff Sessions, just two examples, are as blisteringly damning as they are hysterically funny.
Annie Murphy, "Schitt's Creek"
"Ew, David!" For lessons on how to use line delivery to produce instantly memorable quips, look no further than Murphy's ditzy Alexis Rose. Her distinct combination of bubbly, bratty, and sweet reached its peak on the final season of "Schitt's Creek," which featured Murphy warming our hearts as much as she cracked us up.
Yvonne Orji, "Insecure"
Like all the stars of "Insecure," Orji is superb at conveying comedy by way of cringeworthy awkwardness. She also lends a relatable authenticity to the ambitious-to-a-fault Molly Carter. But what sets Orji's work apart, especially in this season's friend feud between Molly and Rae's Issa, is her toughest job: fearlessly playing her less likable side.
Cecily Strong, "Saturday Night Live"
Strong is the quintessential "SNL" star: malleable enough to fit any role, no matter how wacky. In the course of her eight seasons, she's portrayed the daffy Girl You Wish You Hadn't Started a Conversation With at a Party, a near-catatonic porn star, a spot-on Jeanine Pirro and Melania Trump, and countless others. So realized are each of her characters that it seems impossible she's only had a week to prepare them.
This story originally appeared in the Aug. 20 issue of Backstage Magazine. Subscribe here.
Looking for remote work? Backstage has got you covered! Click here for auditions you can do from home!