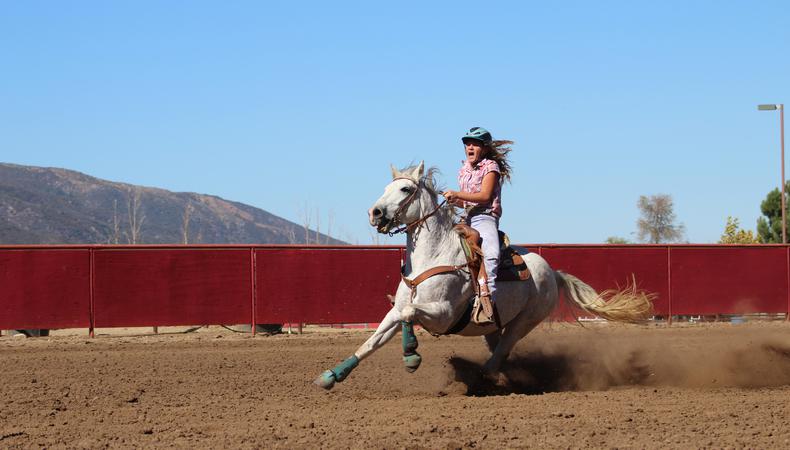 Many actors include a "special skills" section on their résumé—but what type of acting skills should you include, exactly? What about horseback riding? Foreign languages? The ability to drive stick? We surveyed nine acting teachers, talent managers, and other industry experts to get their take on what acting skills make a performer more likely to get cast. From combat training to gymnastics, here are the special talents that will give your acting résumé (and career!) a boost.
Paul Barry, L.A.-based acting teacher and founder of Acting 4 Camera
Though any unique skill (or trait, for that matter) may not help 100 percent of the time, when it does, it will make the world of difference. For example, the three "Game of Thrones" actors who have played "The Mountain" must have found it hard to secure work as actors in worlds other than Westeros. Bronn describes him as "freakish big and freakish strong"—and while "freakish" is not a common castable quality, in this series it paid off big time. Veteran actor Peter Dinklage has had an impressive independent career, but his unique size was also handy when it came to securing the role of Tyrion Lannister, which launched him into the popular culture stratosphere.
Imagine Geoffrey Rush in "Shine" had he not been able to play the piano, Olivia Munn on "The Newsroom" if she wasn't fluent in Japanese, or Channing Tatum if he couldn't dance. Many of the seminal roles of those we now know and love have been career tipping points for actors due to their unique skills. Embrace your unique traits and cultivate your skills, then keep an eye out for projects that can launch you for what makes you different.
Wendy Braun, founder of ActorInspiration.com
Ultimately, the skills that make you the most appealing and castable are the ones you have mastered and those you love doing. Instead of trying to figure out what "they" want, ask yourself, "Where do I want to go in my career and what skills do I need to get there?" When you begin with the end in mind, you'll have a more specific idea of what best next actions you need to take.
If you want to star in musicals on Broadway, mastering singing and dancing is an obvious prerequisite. To become more appealing, mastering tap dancing or backflips might help you stand out from the competition. If you want to do comedy in films or on television, having an improvisation or stand-up comedy background will serve you well. Honing these skills help you define your voice, create spontaneity in your work and ultimately, make you a more well-rounded actor. My best advice is to bring your love of what you do into the audition room and leave. That's the most appealing skill of all.
Marc Cartwright, L.A.-based headshot and editorial photographer
I think people skills are extremely important when it comes to acting. Knowing how to communicate and be professional leaves an impression before a single line of a script is read. This also includes knowing how and when to network with people. Know your business. Taking that knowledge and using it to effectively communicate with the people you wish to work with will go a long way.
It's impossible to master the amazing range of skills that an actor might be called upon to perform, but of course, combat training (including an acquaintance with firearms) is probably more likely to come up than a proficiency with the unicycle. What's important is to possess a basic, strong level of fitness, flexibility, and coordination so as to be able to immediately start applying yourself to whatever crazy thing they throw at you. Not least of which might be the endurance required for putting in very long hours on your feet or doing a jillion takes climbing courthouse steps or battling zombies, etc.
Cathryn Hartt, founder of Hartt and Soul Studio
Honestly, any skills you can add to your résumé could lead to a job, so please make sure you add them. Some skills that are especially desirable are singing, dancing, dialects, languages, and sports.
If you do something really well or have won accolades, make sure you add that. I had a client who was an expert horsewoman and got careful consideration for the "My Friend Flicka" movie even though she was a new actor. I did the audition tape for the young man who won the lead in "The Last Airbender," and he had never acted before, but he was a champion martial artist. Don't forget gymnastics, cheerleading, stunts, fencing, martial arts, skiing, motorcycling, circus techniques, and musical instruments.
The most important skill in any actor's toolkit—the thing that makes them the most appealing to casting directors, producers, audiences, and even random people you meet in your day to day—is a deep and abiding sense of curiosity. It's not what you are interested in, it's that you are interested. Are you the king of Comic Con? Do you know the starting lineup of every World Series team ever? Is your apartment filled with needlepoint images of cats? That's awesome! That's you! If you love it and you can do it well, put it on the résumé. Stop trying to second-guess what other people want. Be who you are, loud and proud, and I guarantee you, someone is looking for exactly what you have to offer.
Joseph Pearlman, L.A.-based acting coach, founder of Pearlman Acting Academy
To stand out, actors must possess the skill of tenacity—this simple cultivable skill is what sets successful actors apart from the "American Idol" masses. Tenacious actors know that major success is a direct result of writing, directing, and producing their own projects. In so doing, they actively cultivate a fan base via social media and email marketing. This level of grit actually makes you more attractive, castable, and valuable to production teams. A client of mine, Karla Solarte, grew an outstanding viewership for her innovative and original YouTube channel, which eventually caught the attention of ABC, who signed her to a year-long holding deal to compete for every major pilot—and Kevin Costner's manager who now reps her.
Growing a fan base and knowing how to strategically market yourself in this industry not only makes you more attractive to production, it also allows you to create more opportunities for yourself. At our studio, we love helping actors to develop the charismatic tenacity required to stand out to a production team, and to launch their careers.
Jackie Reid, manager, and owner of L'il Angels Unlimited
Speaking Spanish is a must if you are of Latino heritage. Whenever we pitch a Latino client to an agent, the first question is always, "Can they speak Spanish fluently?" If I say no, I'm usually left hanging with a dead phone in my hands. Other skills which we have found paid off are knowing sign language and having a driver's license or permit when you are 16-18 years old.
The views expressed in this article are solely that of the individual(s) providing them,
and do not necessarily reflect the opinions of Backstage or its staff.