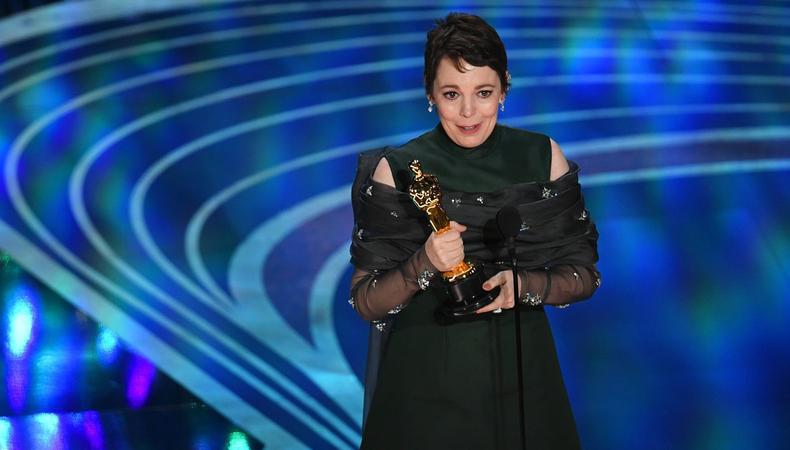 Want the inside scoop on all things awards? Welcome to Letter From the Awards Editor, our weekly series where Backstage's Jack Smart takes a look at the latest film and television news, industry trends, and awards projections that matter to today's working actor.
Dear Backstage reader,
Being your awards editor means having a particular, and almost entirely useless, area of expertise: acceptance speeches.
I re-watch and even commit to memory several of what I consider the best awards ceremony speeches (Meryl Streep's "There are some days when I myself think I'm overrated...but not today" is a personal favorite), and often find myself rooting for contenders who are likely to give the funniest or most inspirational ones. Whether it's delivered with genuine shock, tears, laughter, or touching humility, the acceptance speech is its own skill; if you're an artist aspiring to make great art in Hollywood, it could be part of your job description.
How to Give an Awards Acceptance Speech
This week, let's bid farewell to the year in awards by looking back at the best examples of fabulous acceptance speeches in 2019. What does this roundup have to do with the current film and guild awards season and Backstage's analysis of contenders? Mostly nothing—although the other factor of acceptance speeches is they could increase a winner's chances of earning further trophies in the future. It's entirely conceivable that certain voters, looking at their ballots, are swayed by the memory of seeing a contender onstage holding a statuette, being charming as heck.
Besides, with the holiday season upon us, most of Hollywood's movers and shakers are setting up out of office responses on their emails and readying for a week or two of rest, before the perfect storm of January's awards schedule. Don't expect a letter from me next week, but then stay tuned for reporting on a month of nonstop glamour. Happy New Year! Now, without further ado, we'd like to thank the following winners for their thanks.
After SAG + Globe Noms, This Is Who's Really Leading the Awards Races
Glenn Close at the Golden Globes
This sits atop this list chronologically, but Close's heart-on-her-sleeve reaction to winning a best actress Globe for "The Wife" would lead any ranking of the year's most emotional awards moments. Wiping away tears and speaking with what feels like true spontaneity, she dedicated the victory to her mother and gave a rallying cry to women everywhere. "We have to find personal fulfillment, we have to follow our dreams, we have to say, 'I can do that and I should be allowed to do that.' " I get chills just thinking about it!
Sandra Oh at the Golden Globes
Oh's Globe moment, like Close's, overflowed with genuine emotion, and had an additional ingredient in a great ceremony speech: momentousness. The first Asian person to host a major Hollywood awards show also became the first Asian woman to win a second Golden Globe, in the TV drama actress category for "Killing Eve," elevating an already joyous win.
The cast of "Black Panther" at the SAG Awards
Here's a pro tip if you're producing an awards show and want a great onstage moment: get Angela Bassett up there. She's the kind of Hollywood presence who just looks right holding an award. The same could be said, of course, for the rest of one of the most charismatic casts in cinematic history; "Black Panther" broke plenty of ground last year as an award-winning comic book blockbuster led by black talent, and its Screen Actors Guild ensemble win, voted upon by fellow actors, felt particularly special. Watch Chadwick Boseman commemorate the moment with pride and reverence.
Barry Jenkins at the Spirit Awards
This was a great example of using a speech to both celebrate and challenge fellow members of the industry. In addition to coming off as the all-around down-to-earth dude he is, Jenkins brilliantly used his best director win for "If Beale Street Could Talk" to honor the female filmmakers who shaped the movie, including fellow Spirit Award winner Regina King, and point out how far Hollywood still has to go in terms of gender parity.
Olivia Colman at the Oscars
We've hit the motherlode. Colman's Oscar victory was legendary from the moment Frances McDormand and Sam Rockwell announced her name as the winner for "The Favourite." This was considered the ceremony's biggest surprise win—but the actor's hilarious, heartfelt, and clearly unrehearsed reaction solidified this as an all-time great awards moment. I'll forever hear the words "Lady Gaga" in my head in Colman's delightful delivery. (And her recent admission that she wasn't entirely sober for this moment? We have no choice but to stan.) And now looking ahead, we could see such a speech again: Colman is nominated at both the 2020 Golden Globes and SAG Awards for her work on "The Crown."
Rachel Chavkin at the Tony Awards
Winning best director of a musical at this year's celebration of Broadway, Chavkin (visibly pregnant and fetchingly dressed), like Jenkins, turned her acceptance speech into a call to action. "I wish I wasn't the only woman directing a musical on Broadway this season," she stated. "There are so many women who are ready to go, there are so many artists of color who are ready to go.... It is a failure of imagination by a field whose job is to imagine the way the world could be." That is how you use the spotlight to inspire your peers while also holding them accountable and challenging them to do better.
Ali Stroker at the Tony Awards
Becoming the first person in a wheelchair to win a Tony Award, Stroker knew better than anyone what such a win ultimately means: "This award is for every kid watching tonight who has a disability, who has a limitation or a challenge, who has been waiting to see themselves represented in this arena. You are." Worth noting: the "Oklahoma" star has pointed out how few theater facilities are wheelchair accessible, and nowhere was that more apparent than when, later in the evening, her production won best musical revival and she was unable to join the cast accepting the prize on the Radio City Music Hall stage.
Alex Borstein at the Emmy Awards
Even just two seasons in, Borstein has already won accolades aplenty for her dryly funny work in "The Marvelous Mrs. Maisel." So how does a repeat winner keep acceptance speeches fresh? They speak from the heart. Check out her stunningly direct and impassioned (and of course, super funny) speech—it's one for the books.
Michelle Williams at the Emmy Awards
Williams, taking home a well-deserved Emmy for bringing Gwen Verdon to life in limited series "Fosse/Verdon," voiced her gratitude to her collaborators for supporting her emotionally—and financially. Citing the statistic that women of color stand to make 52 cents for every dollar their white male counterpart makes, she thanked producers "for supporting me completely and for paying me equally because they understood that when you put value into a person, it empowers that person to get in touch with their own inherent value. And then where do they put that value? They put it into their work."
BONUS: Regina Hall...losing at the BET Awards
I have to include this, just for fun. Hall proved a wonderful host of this year's BET Awards, and turned the victory of another Regina—King, absent from the ceremony—into pure comedic gold. Watch the clip here...and next time let's give Hall the trophies she deserves!
Until next year,
Jack
Some More Smart Stuff:
Stay tuned with Backstage for full coverage of this year's SAG Awards, including voting guides, interviews with nominees, and tune-in info for the Jan. 19, 2020 ceremony!
This week's cover star was none other than comedy god Eddie Murphy, Golden Globe-nominated for "Dolemite Is My Name." The actor, who makes his grand return as "Saturday Night Live" host tomorrow, provided plenty of inspirational wisdom: "You don't have to be the best; you don't have to be a genius. You just have to believe in it, whatever it is."