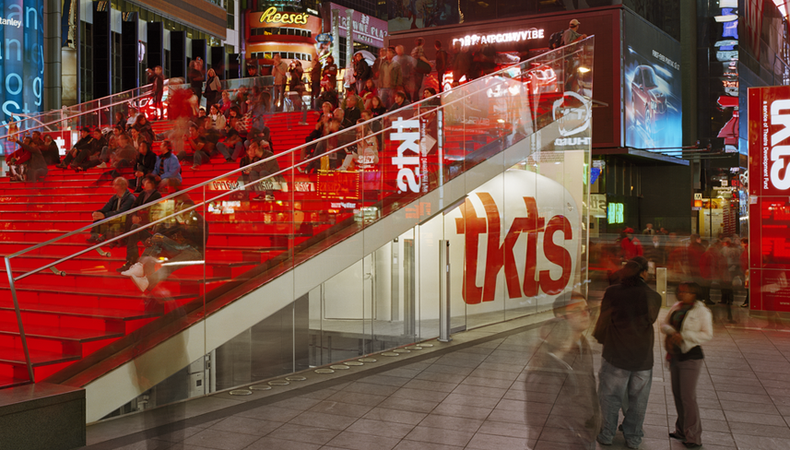 Maybe your evening plans fell through. Maybe it's been a long week and the only remedy is some theater. Whatever your reason for last-minute ticket-buying may, you should know exactly how to go about doing so—without breaking the bank.
TodayTix
This (free) app is the ticket-buying procrastinator's best pal. Beginning a month in advance and going right up to curtain, you can purchase both discounted and full-priced tickets to just about all Broadway and Off-Broadway shows, then pick up your tickets from a concierge outside the theater beginning 30 minutes before showtime. Best of all in this age of immediacy, you can program in your payment info so that when it's time to buy, you can do so with the single swipe of a finger.
Stubhub
Ever-convenient Stubhub provides 100 percent authentic resale services for tickets up until the moment the orchestra swells for the overture. Better yet, you can get tickets to virtually any Broadway show, no matter how thoroughly sold out it may be. (Yes, really, you can get your "Hamilton" and "Dear Evan Hansen" tickets, but expect to pay, well, a lot.) For less in-demand shows, you can find night-of tickets at a fraction of their wholesale price.
TKTS:
Beginning four-to-six hours before curtain depending on the day, you can purchase tickets to loads of Broadway, Off-Broadway, and dance shows all over New York that are discounted up to 50 percent. The flagship TKTS booth is in Times Square but fortunately for those who would like to avoid that tourist-dense area as much as possible, there are also posts in the Financial District, up at Lincoln Center, and in Downtown Brooklyn.
Rush
A truly old school method, rushing a show was the pre-digital way to get yourself day-of tickets and it remains a viable and relatively simple option. The catch is that rush tickets are sold as soon as the theater's box office opens on a given performance day and, as such, popular shows have a rush line that often begins several hours prior. For less popular or some of the very long-running shows, however, you can often purchase a rush ticket right up until the curtain rises. (Check out the full Backstage guide to rushing a show right here.)
Check out Backstage's New York audition listings!