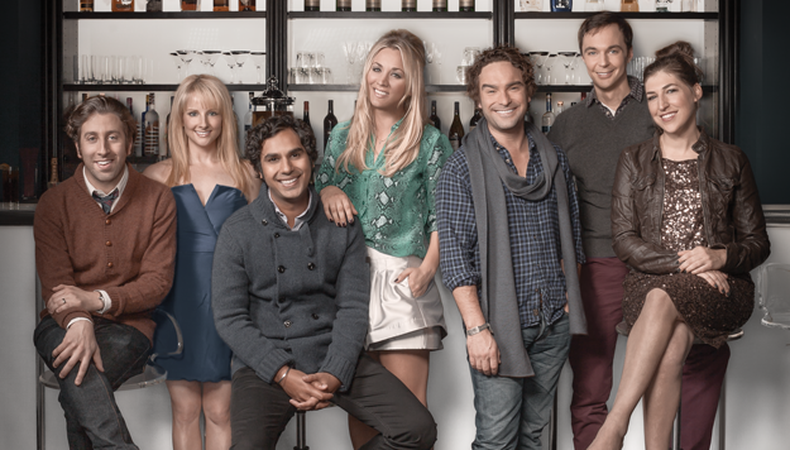 The CBS comedy "The Big Bang Theory" has been on the air for six seasons, enough time for the cast to develop an easy rapport that includes endless teasing. Currently, the seven main cast members are discussing how they got their SAG cards, with two-time Emmy winner Jim Parsons, who plays the brilliant but socially inept Sheldon, noting he got his for a commercial. "Was it the one where you became a wolf?" asks Johnny Galecki, who portrays Sheldon's roommate and co-worker, Leonard. Parsons then has to explain, in his trademark deadpan, "It was for Quiznos. I didn't want Quiznos, and someone asked if I was raised by wolves, and you learned I was."
Kaley Cuoco, who plays Penny, is being teased by Kunal Nayyar, who plays Raj, that "she was handed her card when she came out of the womb." Nayyar adds, "I got mine from playing a terrorist on 'NCIS.' I had a fake mustache. Mark Harmon punched me in the face." Galecki can't resist asking, "What was your mode of terror? Besides the mustache?" Galecki believes he received his card working on the film "A Night in the Life of Jimmy Reardon." He says, "Though, considering my memory of the craft services table, I doubt that was really union."
Mayim Bialik, who first appeared at the end of Season 3 as Amy, got hers playing an urchin on the TV show "Beauty and the Beast." Simon Helberg, who stars as Howard, got his on "Undeclared." He says, "I remember I couldn't afford to pay the SAG dues because I made less on the show than the dues required." And Melissa Rauch, who joined the show in 2009 as Bernadette, thought she hit it big when she got hers from a Dunkin' Donuts commercial. "I thought I was going to be like the Dell Guy," she says. "I was like, 'How am I going to handle this?' Then it only ended up airing regionally. I had mansions picked out."
The seven put joking aside—mostly—to talk about chemistry, auditioning, and captive audiences.
On the secret to building a great ensemble:
Johnny Galecki: I really don't know. If there were ingredients for it, every cast would have it. I do remember from the first table reading I felt it, I felt how everyone's choices served everyone else's.
Jim Parsons: Even being part of it, you don't feel you can identify it. Everybody does their job well, and that's the way it's always been.
Galecki: We've all seen great actors and actresses who are missing a certain chemistry. And it's not about getting along or not getting along—
Kaley Cuoco: Or being good actors.
Galecki: I don't think it's necessary that we all get along; it just happened.
Simon Helberg: I think it's also about just listening to each other—
Galecki: What?
Helberg: Never mind, I zoned out. But there is an understanding of the rhythm and the song we're all singing.
Cuoco: Especially with this show, there is quite a rhythm. We just know how to work with each other. You kind of have to dive in.
Kunal Nayyar: We definitely got more comfortable with each other, but we knew something was special in the pilot.
Melissa Rauch: I was a fan of the show before I joined the cast, and when I came for my first episode, I remember being blown away by how everyone nailed every single word that came out of their mouth at the table read. I had never really experienced anything like that.
Galecki: Who was nicest to you?
Rauch: You all were jerks, pretty much.
Mayim Bialik: I felt the same [at my first table read], and I think I attributed it to "Oh, they've been doing this so long." But now that I see more of the individual talent and professional camaraderie, I think it probably was like that from the get-go, and Melissa and I get to reap the benefits of getting to be added to such an amazing ensemble.
Helberg: But it's a testament to you guys because you didn't just pick up on our genius, so to speak. You were able to seamlessly enter into this while also adding a wonderful dimension to it.
On watching the show grow over six seasons:
Helberg: It's been fun watching the growth of the characters. People were hard on us when we first premiered, sort of like, "It's just nerds and some ditzy blonde!" I feel that's changed.
Cuoco: It's hard to tell what an entire series is going to be based on the first few episodes, or even on the first season. And it's sad because you see great casts and good ideas that don't get that opportunity to grow and show what it could turn into. We were lucky they stuck by us.
Parsons: I think the best thing that ever happened to us was not being some sort of megahit right out of the gate.
Helberg: And the [2007–2008] writers' strike. They showed our episodes over and over during the strike.
Cuoco: I also think forcing people to watch them on planes was great. You either had to watch or jump off.
Helberg: Strikes and captive audiences were good to us.
Parsons: Our ratings weren't remarkable at first, but we had two or three seasons under our belts, and we weren't showing up here thrown off our mark by some sort of sudden success. We just did what we had always done, as did the writers. It was very healthy.
Galecki: There wasn't a lot of attention paid to multicamera shows at the time.
Parsons: Other than claiming they were dead.
On what they remember most about landing their roles:
Galecki: I remember Jim and I did a chemistry read together.
Cuoco: Was there ever an option of you playing different roles?
Galecki: When [series creator] Chuck Lorre first called me they didn't even have anything written yet, and he initially mentioned Sheldon. But two weeks later, he faxed me some pages, and I really liked the idea of the love story with Leonard and Penny. I hadn't had the chance to play that as an actor.
Cuoco: I auditioned three times and got turned down three times. I've known Chuck for years, and initially he said, "We'll work together eventually; I just don't think it's going to be this." But a year went by, and the character changed a lot.
Nayyar: I had just moved to L.A. from England and was about to sign with an agency. As I signed the papers they said they had an audition on Monday for "The Big Bang Theory." I joked, "I'm going to go and book that!"
Cuoco: You know, that doesn't happen.
Rauch: Were there a bunch of guys who looked like you?
Nayyar: There were some Indians, but there were also Koreans and Asians. The guy was called Dave at the time.
Helberg: I remember going in, and I met Kaley; the next day I read that you got the part. But I hadn't been called yet. A whole week went by where I didn't hear anything. And I thought they clearly were scouring the country for any other option but me. In fact, the deadline passed, and it was the next morning I got the call. They said, "I know it's past the deadline, but we want to offer Simon the part." It was clearly an easy decision.
Cuoco: I thought for sure I didn't have the part too. I've learned after so many years in this business that nothing is set in stone until you're on set. I've been told I was the choice for years and never got hired. So I never go there in my mind.
Rauch: I just remember for some reason I became Canadian in the audition—I kept saying, "Aboot." When I was done Chuck said, "Are you Canadian?" I don't know what happened. I was sure I didn't get it.
Bialik: I remember it came down to two of us, and the other girl was a totally different type. She was actually going back to grad school, and it was the last audition she went on, and she told me she was kind of hoping she didn't get it—she had a whole new life planned. I was just told to mimic Jim Parsons. I said, "Who's Jim Parsons?" So I Googled you.
Parsons: That's fair.
Bialik: I also remember, the week they offered me a contract, I thought it was my last episode. I just thought it had come to an end, the character was done. It was Shabbat, and I was about to shut off my phone, and my manager called and said, "Here's the best Shabbat present you ever got: They're offering you a contract."