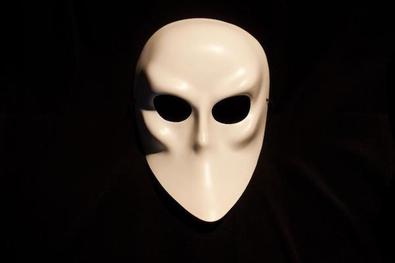 You enter through a back alley, whisper a password, and don a mask. Costumed actors sip whiskey, eat dinner, and mingle with the crowd. Suddenly, a flash of light, a blast of music or a Shakespearean soliloquy reminds you that you are in a theater. It's impossible to ignore this latest trend in performance; from London to New York to Australia, "site-specific" theater companies are breaking down the fourth wall and reimagining the actor-audience relationship. Check out these seven companies creating groundbreaking immersive theater!
Punchdrunk (UK, Boston, New York)
One of the world's top names in immersive theater, Punchdrunk has been producing out of the UK since 2000. They are best known in the United States for creating the smash success "Sleep No More," premiering at American Repertory Theater in 2009 and now running out of New York's McKittrick Hotel. This interactive reimagining of Shakespeare's Macbeth was the largest success in ART's 30-year history, and continues to extend its New York residency. As part of this legendary three-hour performance, audience members in white ghost masks are led by a company of 26 actors through six floors and over a hundred rooms.
Dream Think Speak (UK, Japan, South Korea, Moscow, Australia, Holland)
A major pioneer of "site-responsive" performance, this UK-based company creates immersive and site-specific works in a variety of provocative locations, placing audio-visual technology alongside art installations and live actors. Director Tristan Sharps draws inspiration from great works of fiction and historical events, and has staged performances all over the world. Notable works include "One Day, Maybe" inspired by the Gwangju Uprising and performed in an abandoned South Korean school, and "Don't Look Back," based on the myth of Orpheus and Eurydice, and performed in twelve sites including a Moscow factory, an old Australian Treasury building, and a hotel in Kuala Lumpur.
Fruit for the Apocalypse (London, UK)
Also based out of the UK, Fruit for the Apocalypse is best known for "The Surrealist Taxi," a 24/7 performance project in which potential audience members call for a cab, get picked up, and select from a deck of hand-drawn playing cards to determine the length and direction of their drive. The taxi has been picking up passengers from all over Europe since 2010. Other Fruit for the Apocalypse works include "The Ballad of Skinny Lattes and Vintage Clothing," a six-movement "noise opera" utilizing urban sounds and non-traditional venues to satirize gentrification in Europe.
Third Rail Projects (New York)
This Brooklyn-based company has been creating immersive theater and dance pieces since 2001. Current projects include "Then She Fell," a Lewis Carroll adaptation in a Williamsburg warehouse, "Roadside Attraction," a mobile dance-theater piece performed in a touring camper, and "House No. 17," an artists' residency being held on Governors Island.
Speakeasy Dollhouse (New York)
A relative newcomer to New York's immersive theater scene, Speakeasy Dollhouse produces original and site-specific plays written by Cynthia Van Buhler. The productions are based on Van Buhler's investigations into mysterious historical murders, and invite audience members to help solve the crimes. "The Bloody Beginnings" performs at a Lower East Side speakeasy where audience members are encouraged to dress in 1920s attire and drink out of teacups. "The Brothers Booth," an investigation of Abraham Lincoln's assassination, is performed at Edwin Booth's real-life Gramercy haunt the Players Club.
Bricolage (Pittsburgh, Penn.)
"Bricolage" is defined as "making artful use of what is at hand." This Pittsburgh-based theater company embraces its name by devising works with location, current events, and audience engagement in mind. Housed in a former Turkish bathhouse, Bricolage recently produced "Ojo," in which audience members receive their evening's itinerary from a mock travel agency at the start of the performance, and "STRATA," an evocative and immersive journey through a "refitnessing center."
We Players (Bay Area, Calif.)
The brainchild of artistic director Ava Roy, We Players was founded in 2000 out of Stanford University. This Bay Area-based company produces classical works in site-specific settings, drawing on the energy of the natural environment to break down barriers between language and audience. Drawing on the fundamental philosophies of "place," "choice" (each audience member determines his own vantage point), "movement" (the audience follows the action throughout the space) and "community," We Players sheds innovative light on very old works.
Inspired by this post? Check out our audition listings!