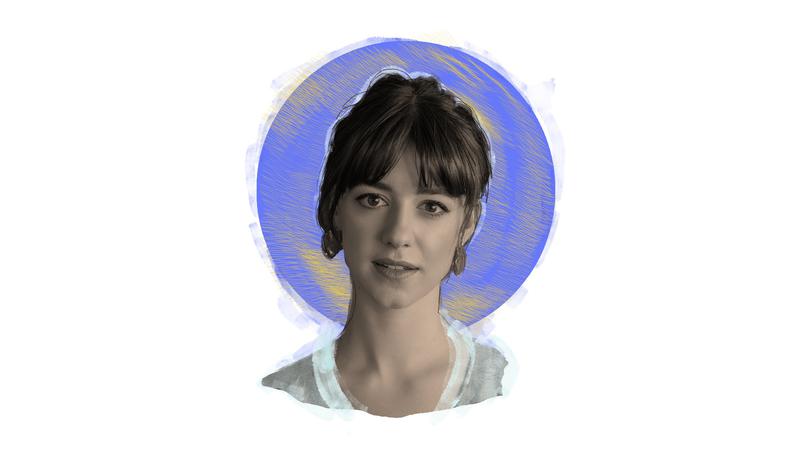 Bringing a character from the page to the screen is a feat on its own—but how do you do so when thousands of people around the world have read those pages, too? Daisy Edgar-Jones gets it. As Marianne on Hulu's adaptation of Sally Rooney's cult novel "Normal People," the British actor knows she won't please everyone, and that's fine; just like the series and the novel that inspired it, that's life.
What's it like bringing a character from a book to life onscreen?
I definitely felt nervous about taking it on because it is a very special character. I feel very lucky I've been able to bring her to life onscreen, but also, as a book lover myself, it's very hard not to constantly be like, "That wasn't how I imagined it!" I know that that's gonna be the case, but I'm also very proud of what we've done. It's just a different way of telling the story.
What performance should every actor see and why?
Hilary Swank in "Boys Don't Cry" is a performance that everybody needs to see. It is incredible. It broke me. I watched it with my flatmates and I just couldn't handle it.
What is the wildest thing you've ever done to get a role?
I cut my fringe [bangs]! The month before Christmas last year, I was like, "I'm not getting any work, I'm cutting a fringe!" Which doesn't sound like a big deal, but anyone who has a fringe knows it is very personal. It's a life-changer; you have to maintain it and constantly trim it. Literally the week after, I got a job, so I think my fringe brought me luck. I will never part with it now!
What is your worst audition horror story?
I was auditioning for this young company for the Royal Court [Theatre]. I was so excited, because I'd never done stage before and I was desperate to get any experience. We were all given monologues to do on the day and had 20 minutes to look at them and then perform them. I was given this one that was, like, this boy's monologue where this dude was picking up girls with his car. Everyone else seemed to get perfectly cast monologues about really emotional things. I was the last one. I don't know where this sound came from, I did this massive "woooo!" noise and it shocked everyone to silence. I ended up getting a job on something else, so I messaged them before I could even get my rejection.
How did you get your Equity membership?
I got approached to do a show called "Cold Feet" [on ITV], and they talked me through it all. It's really brilliant to have a union to look after you. I just filled out a form and that was that.
READ: 3 Ways to Build a Character
What advice would you give your younger self?
Be a little more carefree. I've never been a rule-breaker; I've always done as I'm told and been quite anxious about getting in trouble. Not that I want to be a rebel without a cause, but I do [wish] I'd been able to have fun and not worry about making sure I fit in time to revise or do my homework. I'd like to have gone out and seen more of my friends and let loose a little bit more.
Had you heard of "Normal People" prior to your audition?
I'd heard of the book; my flatmate was singing its praises from the rooftops. It was in my world, but it wasn't until I sent through the self-tape that I looked into it. I fell in love with the character just from the sides [for the show] and the description of her. I really felt like I kind of loved her. Then I read the book straight after that audition. I'm really glad I didn't read it beforehand, because I think I'd have messed myself up.
Was the book helpful in any ways to your portrayal?
The book was with me as much as I could have it. I read and re-read and re-read and re-read the book, and I wrote down the details of Marianne and her character and the timeline of her life. It was such a useful tool, because it meant when you were coming to a scene, you had a really good idea of not only the way your character is thinking but also the way your character is being observed by a different character, because you have that other perspective written. You not only know what's going on in your head, but you also know the way you come across. But [director] Lenny [Abrahamson] was great, too, because he was very keen to never get rigid in any rules. He always wanted to shake it up and change the dialogue if we needed to, and it became a very collaborative process.
"Normal People" aside, what are some ways you prepare to play a character?
I like to plot out the key shifts in the character's life, so I write out an extensive list, key quotes. I also find music is very important. I know a lot of actors do, but I think it creates an atmosphere for the character. The music we listen to is quite specific to what we feel, so playlists are really helpful.
What's one song on Marianne's playlist?
There's lots, but one is [The Talking Heads'] "This Must Be the Place."
This story originally appeared in the May 14 issue of Backstage Magazine. Subscribe here.
Looking for remote work? Backstage has got you covered! Click here for auditions you can do from home!