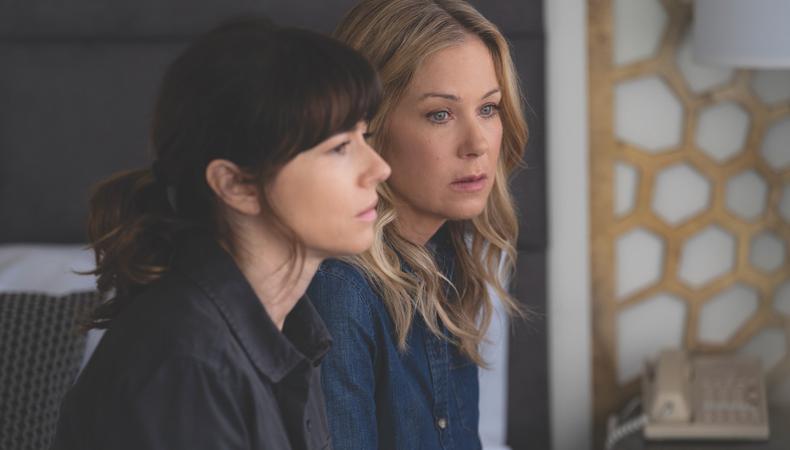 As we look back at 2020, we at Backstage have pinpointed the year's best big- and small-screen ensemble work for your SAG Awards consideration and beyond. For more voting guides and roundups, we've got you covered here.
Main Cast: Christina Applegate, Linda Cardellini, James Marsden, Natalie Morales, Diana Maria Riva
Casting by: Sharon Bialy, Russell Scott, and Sherry Thomas
Created by: Liz Feldman
Distributed by: Netflix
Somewhere in the middle of the weekend that I spent consecutively watching all 20 episodes of Netflix's "Dead to Me," I realized I was deeply in love—with the series, yes, and with the world created by Liz Feldman, which rests at the intersection of profoundly felt and profoundly kooky. Most of all, I was in love with its central relationship: Jen and Judy.
Jen Harding, played by Christina Applegate in the performance of her career, is deep in the throes of grief when we meet her following the sudden death of her husband; Judy Hale, played by perpetually glassy-eyed Linda Cardellini, is grieving, too, though maybe in a more metaphysical sense. Neither woman knows it yet, but the other will complete her, at times ruin her, and, beyond that, become her family.
That's another way in which I was helpless against "Dead to Me": It's so maternal. I am, as a tax-paying adult, able to admit that I have a bit of a mommy complex, and my Pavlovian response to Jen and Judy's co-parenting Jen's kids was, frankly, "I want in." (I tried to make that sound not creepy, and I am certain I didn't succeed!) But neither woman is perfect—far from it. And in its rendering of despair, the show gracefully leans into, rather than away from, the demons both women face.
The half-hour episodes never mitigate the sometimes despicable lengths to which Jen and Judy will both go just to feel something—anything—that reminds them that they are still among the living; and even at its most hideous, that's beautiful. A show simply could not ride on that conceit without two truly gifted actors at its center who can deliver pathos with the same zeal and commitment that they give to over-the-top comedy.
But in addition to its huge-hearted leads, the series is anchored by a number of other actors pulling double comedy-drama duty—and in the case of James Marsden, just pulling double duty. Huge spoiler warning in effect here, but in playing both Judy's abusive ex and his identical twin brother, Marsden takes on the tall order of pivoting between being utterly putrid and the kindest dork you ever did meet, fleece vest and all.
Season 2 also introduces two new characters: Natalie Morales, whose Michelle Gutierrez offers a burst of levity on a series that tackles some seriously dark themes; and Diana Maria Riva's Detective Ana Perez, whose cat-and-mouse game with Jen and Judy is comical, tormenting, and ultimately offers one of the series' best long-game payoffs.
So, yes, in conclusion, I love "Dead to Me" with the kind of intensity you only feel when you have to ask yourself on more than one occasion, "Was this show written specifically for me?" I don't think it was. (I've never met the great Feldman personally, but I believe we'd get along!) But when I pour my evening vat of wine, sometimes I pretend otherwise.
Applegate and Cardellini were nominated for Emmys against each other for their work on the show's second season; if there is any justice in the world, both will somehow tie for the show's upcoming third and final outing. If not, well, ask Judy's ex how pissing these women off worked out for him.
This story originally appeared in the Jan. 20 issue of Backstage Magazine. Subscribe here.
Want more? Stay in the loop with everything you need to know this awards season right here!