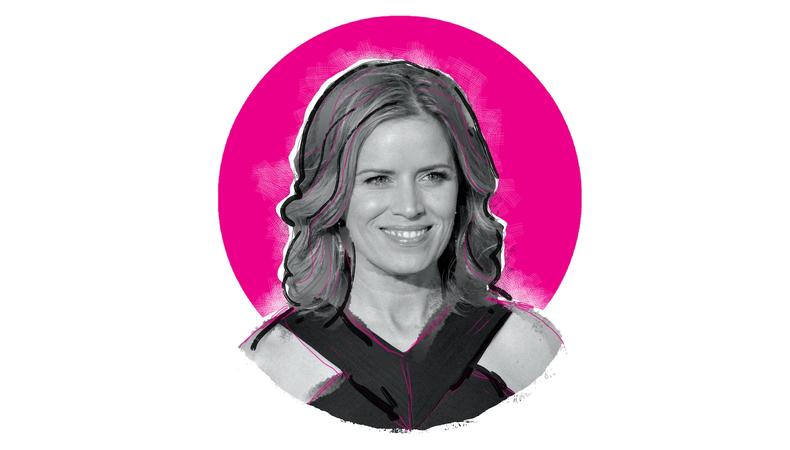 Nearly 13 years since the cancellation of HBO's critically acclaimed Western "Deadwood"—and after countless rumors of its return—the period drama, set in 1870s Deadwood, South Dakota, is finally set to revive with a film, premiering May 31 on HBO. Kim Dickens reprises her role as Joanie Stubbs, the former madam and brothel owner who turns her business into a schoolhouse. Here, Dickens reflects on the real-world and fictional passage of time.
Ten years have passed in the "Deadwood" world. How does that impact the women in the story?
I always thought that the women were so beautifully written on "Deadwood," even though it was a strong male show. There was a strong female presence, as well. They were all making tiny steps toward independence. Whether it was Trixie leaving Al and starting to learn math and beginning to start a life or Alma Garret, who came out of being relegated to a widow role to opening her own bank, or Joanie Stubbs going out and starting her own brothel and turning that into a school... For us, we always felt really actualized. The women have just as much of a voice: very full storylines and three-dimensional, fully realized, fleshed-out characters. I really wanted the movie to happen sooner. There were rumors for years, and then the rumors would go away and then all of a sudden we're given dates to start. Maybe it's just the right passage of time to tell a new story.
Were you as in the dark as the fans were when it came to reboot rumors?
Oh, absolutely. The show was prematurely canceled at the end of Season 3. We didn't get to wrap anything up. We all left having been unofficially told we were getting picked up, and then over the break we were officially told we weren't. [Creator David Milch] didn't even get to finish the story. From the beginning, because it had such a passionate fan base, there were initial attempts at making a couple of two-hour movies to wrap it up. That went away pretty quickly. And then rumors would perk up through another cast member, or you'd hear it on the news. It was always a surprise to us. We were always looking to get the information from somewhere inside. The last I heard it was, "Yeah, it's never happening." And then, all of a sudden, they checked our availability. [I thought,] I'm not going to believe that until I'm on set in a top hat and a corset.
READ: How to Get a Show on HBO
Does putting on that top hat and corset help you get into character?
Janie Bryant is our costume designer -- I can't say enough great things about her. The first job I ever had was a movie called Palookaville, directed by Alan Taylor, and Janie Bryant was the costume designer, and we went on to do a series called "Big Apple" on CBS and then we did "Deadwood" together. She's so wildly talented, and within period costume, she's wildly creative with the little specifics she gives us. Sometimes, when you're putting on the final fitting, it can be overwhelming, it's so beautiful. It was her idea in the first season to do the top hat. It surprised me, and then it became the character, it became my signature. It became the magic twist to her.
What has "Deadwood" added to your acting skills?
On a daily basis, the material that we worked with was so funny. It was ripe, it was full, it was layered. Working with David Milch, he's such a beautiful storyteller and he worked with us on set, and he was there to talk to us about what the scene would be about that day. That's the way we started our day: with David talking to us. The cast, the crew, the director, everybody would gather around and he would tell us the story of what these scenes should really tell. I learned on a daily basis from working with David Milch. If I could go back and talk about "Big Apple," a series I worked on in 2001 for CBS with David: At first, I wasn't going to go on the audition, and then they said, "Oh, you should go talk to him. He liked your reel and thinks you're right for this part." So, I went and talked to him. Meeting him for that first time and sitting with him for about 35 minutes, I walked out of that apartment and called my representative and I said, "I'll do whatever he wants and I'll be a better actor for it." It's so fun to learn with him.
It sounds like Milch had an integral role in pushing your career forward. Is there anyone else?
There would be a few people. First would be my teacher Deena Levy, she's in New York City; I was referred to her and I went to her class and everything clicked. My other teacher is Sharon Chatten, and she's in Los Angeles. I think those people have made a difference in my life. Working with David Milch, I learn from him on any job I'm in. David Fincher, working with him was a beautiful learning experience. I still use the things I learned on "Gone Girl" working with him. I remind myself to engage those tools I learned from working with him.
I saw you posted your first headshot on Instagram about a year ago. What do you see when you look at that headshot?
That's the headshot I sent out unsolicited. When I look at that headshot, I see a waitress who was in an acting class who had two of her friends come down and help do her makeup and hair. I'd already met with the photographer, and she said, "Bring all the clothes you want to wear for different shots." It was freezing and I was wearing four layers of clothes and she said, "I want take a picture of you in this outfit that you just walked in the door in because that's you." We looked through all the pictures later and those were the ones where the spirit came through. I see friendship in that photo. I see the photographer who was so intuitive. I see New York City.
Have you used Backstage in the past?
I did! In the beginning, we would get these little sticker packets at Samuel French bookshop and we'd buy a book of stickers and you'd get your headshot and you'd put the stickers with the addresses of the casting agents. You'd send out your headshot for this, that, and the other. I'd send out 35–50 headshots.
What was your most memorable survival job?
Mostly I was just a waitress. I cocktail waitressed at a nightclub over in the Meatpacking District. It was one of those huge nightclubs, and you'd go to work at 9 p.m. and you'd sit around until midnight, when people started coming in, and you'd walk out the door at 4 a.m. You had to cocktail waitress with a tray of drinks through a crowd with bumping music. I don't know how I did that. Other than that, I waited tables. It's the greatest character study you could ever ask for. There's all walks of life and different personality traits. You're usually working with other artists; I was working with painters, dancers, actors, writers. It can be a pretty heady, exciting environment.