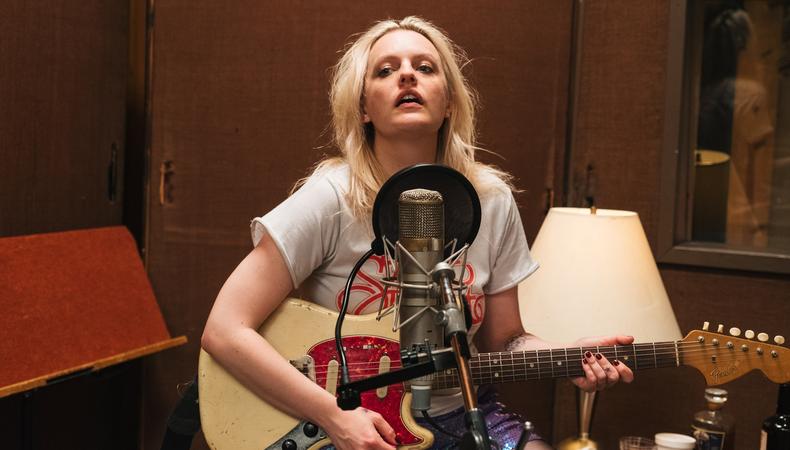 Filmmaker Alex Ross Perry knows that "Her Smell" isn't always easy to watch. But as a visceral, in-your-face depiction of fame, addiction, and how the two come together to explosive consequences in one punk rocker's life, it was never meant to be.
"There are things that are violent that are entertainment and there are things that are transgressive that are entertainment, and there are things that are, narratively, incredibly complicated and difficult to follow that are entertainment. If women wearing mesh tops and playing loud punk music and cursing at one another is the bar that people have for difficult, I'm very worried," Perry deadpans.
Speaking with Backstage, Perry recalls how he and "Her Smell" producer and star Elisabeth Moss—previously the star of Perry's "Queen of Earth"—were looking to push boundaries and go to extremes.
READ: Elisabeth Moss Finds Her 10
"Lizzie and I, we talked about: 'What is an extreme thing? Why are people so likely to be perturbed by this?' " he says. Part of it is her performance. As Becky Something, frontwoman for the fictional trio Something She, Moss' performance is at times heartbreaking in its bottomless lows, showcasing a woman and mother who refuses to better herself while caught in the throes of alcoholism. "The character is written as being very huge and extreme, and I'm counting on Lizzie doing something with that that is extreme and exciting," Perry says, comparing her Becky to Daniel Day-Lewis' Daniel Plainview in "There Will Be Blood." It's the kind of complex, morally ambiguous, and damaged turn that invites audiences to revisit and reexamine time and again, discomfort be damned.
"Daniel Day-Lewis in 'There Will Be Blood' is a huge performance. We love it and it's incredible, but it doesn't push people away from loving the film or even grappling with the film," he says. "It makes you think about the complexity of the work." But, Perry also admits, "some things are more difficult than others, I suppose."
When it came to fleshing out the rest of the "Her Smell" cast (including Agyness Deyn and Gayle Rankin as the other members of Something She, Cara Delevingne, Amber Heard, Virginia Madsen, and Dan Stevens), it was mostly a matter of finding actors who could meet Moss' extremes, mark for mark.
"The only prerequisite is just that it excites me and [Moss] to imagine other performers going toe-to-toe with whatever this performance of hers is going to turn into," Perry says. "It just had to seem like there was something kind of unpredictable and fun and interesting and overpowering and totally skill set-dependent in the rest of the ensemble."
That skill set included the actor's ability to handle long takes without break. Perry remembers "rolling 10 minutes at a time, doing 10 pages with nine people in the room, dialogue on top of dialogue." In other words, he wanted it to feel real and messy—"as chaotic as possible." Perry's approach behind the camera was also "cross-inspired" by New York theater, so a stage background from his actors didn't hurt, either.
"The dialogue with the other actors was just basically me saying that that's how I'm going to want to do this, and making sure the entire cast was ready for that, which meant actors with a certain kind of training or actors who just basically understood what I was saying the filming style was going to be," Perry says. "We're going to be filming 10 minutes, and then we're going to probably break for only three or four minutes just to reset, and then we're going to do all 10 minutes again. And even if you only have a few lines in that, it's going to be like being on stage in a play where, even if you're standing there and you're not delivering dialogue, you are acting, and the camera can find you just as easily as someone in a theater can choose to look at the performer who's not speaking. You have to be creating all of that."
The result is a film that's as jolting and immersive as anything you're likely to see this year. Our advice? Buckle up.
Want to hear from working creators of film, TV, and theater? Check out more here!