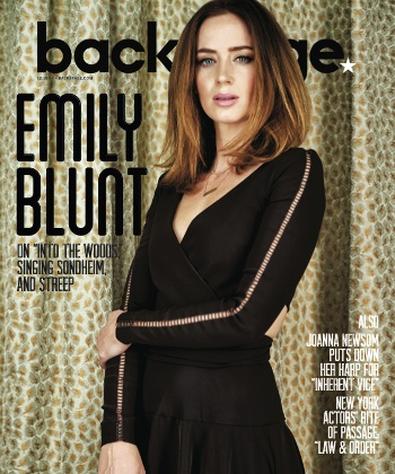 Imagine you're a Midwestern housewife who stays at home cleaning, reads Us Weekly, and never leaves town. One day, George Clooney knocks on your door and asks to kiss you. "What do you do?" asks Emily Blunt wryly.
She's describing the scenario in which the Baker's Wife of "Into the Woods" finds herself opposite a handsome prince, a scenario she invented to connect Stephen Sondheim's revered musical about fairy tales gone awry to our nonmagical world. As Blunt discovered while auditioning for Rob Marshall's epic screen adaptation, modern parallels and parables abound in characters like the Baker's Wife, whose quest to lift her family's curse of childlessness resonates in startling, modern ways.
"I think it's the best part I've been given," says Blunt. "She's really funny, and she's desperate and frenzied and immoral. She screws up and regrets. She's human. She has faults. She's bored. She's all of the above." Despite being surrounded by a vengeful witch, a foppish wolf, and a raging giantess, Blunt calls the Baker's Wife the "slipperiest" of Sondheim's motley crew. "She gets seduced by the woods maybe more than anybody. I know everyone has these incredibly profound thoughts on what they think the woods are. But I think the woods are the trials of life."
In addition to showcasing all her natural charm and comedic chops, Blunt's portrayal of the Baker's Wife highlights every intricacy of that endeavor. A lack of formal voice training—"My soap dish has had experience with my singing in the shower, but that's about it"—may have actually helped Blunt in the audition room, since Marshall was looking for, as she puts it, "actors who can kinda sing." Along with her co-stars—including James Corden as the Baker, Anna Kendrick as Cinderella, and Meryl Streep as that Witch—Blunt spent five weeks experimenting in rehearsals among cardboard trees (and a cow on wheels), not unlike a traveling theater troupe. "It was a space for us to mess up, to make caricatures of these people, to bring them back down to earth," she remembers. "You find the character somewhere in there, somewhere on that scale." Before even stepping into the recording studio, the cast's physical, vocal, and psychological choices were grounded in specificity.
Considering Sondheim was going to be sitting in on the prerecords, that level of preparation came in handy. The composer's presence was daunting, Blunt admits, but it was in the studio that she had her proudest moment. While she was recording "It Takes Two," a romantic duet with the Baker, Blunt's real-life husband, actor-director John Krasinski, watched Sondheim's reaction. "He said he was just going like this"—she closes her eyes, swaying back and forth blissfully—"and at the end, he went, 'Ah, that was wonderful.' John told me [that] and I cried."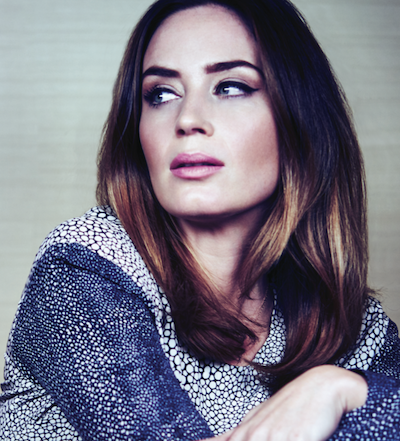 Blunt marvels at the way Sondheim writes chiefly for actors, embedding revelations big and small into his vivid lyrics and the breaths between them. Although musical theater purists have rigid expectations for such iconic roles, Marshall's ability to underscore precise Sondheimian pivots in close-up makes film a natural medium for the composer's complexity. "Sondheim requires everything of you," Blunt says. "You delve in and you discover, and even when you think you understand everything about this song or this moment, there's more. His music is so arresting; he wants people to sit up. He doesn't want you to ease back in your chair and let the spectacle wash over you like we so often do in musicals."
Fairy tales with happy endings, according to Blunt, are highly overrated. Sondheim's fable defies what the actor calls "the obsequious nature of many films these days, which only want to give you what you want." The bittersweet question "Into the Woods" prompts—what happens after you get exactly what you wish for?—bears revealing answers for young and old audience members alike. A new mother herself, Blunt is highly conscious of coddling in today's child-rearing culture; the protective instinct is often at odds with children's desire not to be patronized. "I think nobody walks through life unscathed," she insists. "It's a mistake to pretend that everything is going to be fine all the time. They don't want a happy ending." By resisting optimism and refusing to ignore loss and grief, Sondheim respects the youthful ability to notice and absorb crucial life lessons.
In fact, she goes on, the notion that optimism blinds us to harder truths can be applied to the entertainment industry as well. "It's a business that's built on hope and 'What if' and 'If only I'd.' Unfortunately, we're just bombarded by the happy ending." Blunt points to the Internet as the ultimate self-making tool, a means of "owning your own destiny a little bit more," but candidly acknowledges how difficult it can be for many, if not most. "You've got to get the thickest skin possible. Like a rhino hide. It's a very personal job. Put a helmet on."
Having spent years of her childhood terrified of speaking due to an acute stutter, Blunt also believes in observing human behavior. Because crafting stage characters with eccentric accents helped Blunt overcome the disorder, her advice for actors is simple: watch and listen. "You need to be curious pretty much about everything but the business," she explains. "Be curious about people and their tics and what makes them different. People are fascinating, they really are. I think acting is the ultimate expression of empathy."
Perhaps one of Sondheim's most universal, searing lyrics—"Children will listen"—rings true for performers as well. Like children learning what happens after happily ever after, actors must scrutinize the world and their place in it closely. Or, put more bluntly, "We should just tell everyone to shut up."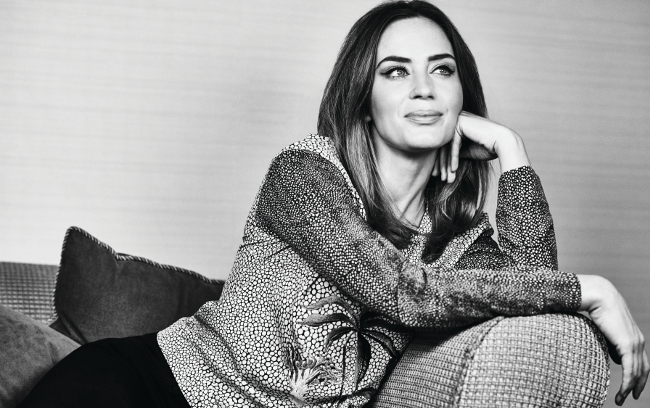 ---
The Witch Wears Prada
When asked to pick a favorite actor, Blunt sighs as if it's the biggest cliché imaginable and mutters, "Meryl." She pauses to think of others. "I love Mark Ruffalo at the moment; I just thought he was amazing in 'Foxcatcher.' There are so many." She notes with a laugh that Streep's Witch in "Into the Woods" echoes her character in "The Devil Wears Prada," albeit with a nuttier brand of nastiness and quite a bit more heart. "She's a mother who's feeling less than," says Blunt. "She's literally put her [daughter] in a tower and surrounded her with wonderful things. Meryl was like, 'I know that.' She's got three daughters; she said, 'There's always a guy trying to climb the tower.' "
What is it about Hollywood's most lauded actor that invites such reverence from even her frequent co-stars? "She's so inspiring because when you know her you don't just have the awestruck reaction, which is there in spades," explains Blunt. "You also have the awestruck reaction to what a broad she is, how she doesn't take herself seriously in the slightest—and yet is meticulous about the work." It's an approach Blunt has adopted, along with the philosophy that variety is the spice of life; as she points out, no one could ever accuse Meryl Streep of just playing Meryl Streep.
"I'm sure she has an eye-rolling reaction to it at this point. It's like, the poor woman is in a constant state of diffusing everyone's intimidation of her!" Blunt exclaims, before adding sarcastically: "Must be exhausting. Poor Meryl."
Want to read more? Check out our Backstage covers here!