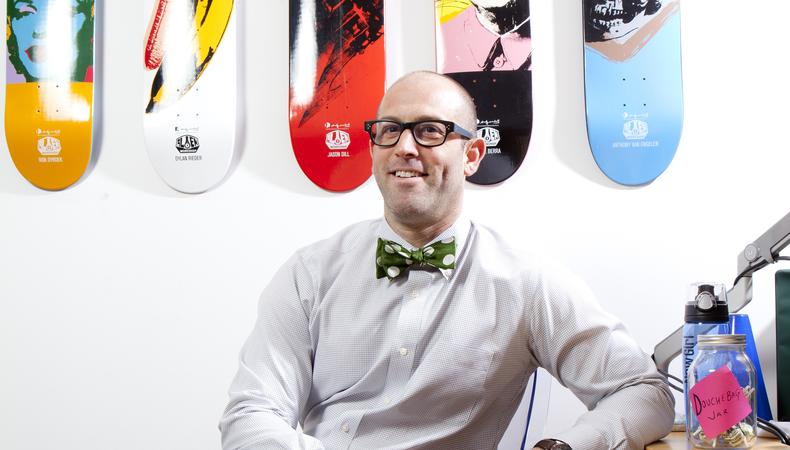 Seth Yanklewitz has much to celebrate. Not only was he recently named Vice President of Casting at Fox, Yanklewitz just received his first Emmy nomination for casting Fox's freshman comedy "New Girl," an honor he shares with former partner Juel Bestrop and the show's current CD, Anya Colloff. Yanklewitz and Bestrop clearly know comedy; they cast such films as "The Hangover" and the HBO comedy "Eastbound & Down."
Created by Liz Meriweather, "New Girl" stars Emmy nominee Zooey Deschanel as a bubbly teacher named Jess, who moves in with three guys after ending her relationship. To round out the supporting cast, the CDs brought in many familiar faces. These included actors they had seen many times, such as Jake Johnson and Max Greenfield, who also earned an Emmy nod for playing ladykiller Schmidt. Hannah Simone, who they had cast in a pilot called "Nevermind Nirvana," ended up booking the role of Cece, a model who gets involved with Schmidt. And after Damon Wayans Jr. appeared in the pilot, his commitment to "Happy Endings" kept him from continuing with the show, which made room for Lamorne Morris as the third roommate.
This is your first Emmy nomination; how does it feel?
Seth Yanklewitz: It's an unbelievably amazing feeling. I mean it's you know it's the highest honor that you can get in working in television casting. And you know, the movie academy doesn't recognize casting the way the television academy does, so it's really a huge honor.
Zooey Deschanel was someone you thought of right off the bat when casting Jess, correct?
Yanklewitz: Zooey is somebody that my then-partner Juel Bestrop and I always tried to cast. Because she's so funny and so expressive and so amazing and talented and fits the world of the comedy that we did. As far back as eight, nine years ago, I just fell in love with her and always have tried to cast her. So yeah she was absolutely on our original list and it sort of was kismet how her manager read it and called into Fox and it all just came together within a week.
How great is it that not only did Zooey earn an Emmy nomination, but so did Max Greenfield?
Yanklewitz: I mean, I just got chills as I'm sitting here because it's amazing. It's a great validation for any actor, especially someone new. Although he's not quote, unquote new, or an overnight sensation, but this was his big moment and it shows that the stuff he's created and the risks he's taken have really paid off. It literally makes me feel so proud and honored to have helped and been a part of it in any way that I could. And he deserves it. I hate to be the casting director who says, "I knew it the minute I read it…" But I kind of knew it the minute I read it that he could do what he's doing.
So you were familiar with him before "New Girl"?
Yanklewitz: I was an executive in the feature department at Fox about eight or nine years ago, and I had met him on what we call a general, and I always remembered him. I can't say that I auditioned him for every single thing I did, but I certainly always thought about him and if it was right, I would try to get him. The minute I got this script, he was somebody that was on our original list. I put him into one of my first few producer sessions, and everyone fell in love with him right away. You just saw it happen, you know? Not to be corny, but those are the moments casting directors live for.
After you cast the pilot, Damon Wayans Jr. couldn't do the show because "Happy Endings" was picked up for a second season. How did you go about recasting?
Yanklewitz: Lamorne Morris was actually going to audition for that role when he got a pilot offer and took it. When Damon couldn't do the show, we remembered Lamorne. I'd actually seen him in commercials for Vegas and wondered, "Who is that guy?" He came in and did one of the most funny and bizarrely out there auditions ever, and got the part. I'm really happy it worked out.
What advice would you offer an actor who comes in to audition for you?
Yanklewitz: What I always say if I talk to actors is to just be prepared, do all your homework, read the scripts, get as much information as you can. You don't have to be off book every time, but learn the material and be able to take adjustments and changes. Really take the time to make educated choices and be successful. There are so many factors in getting a job and one thing you can control is how prepared you are.