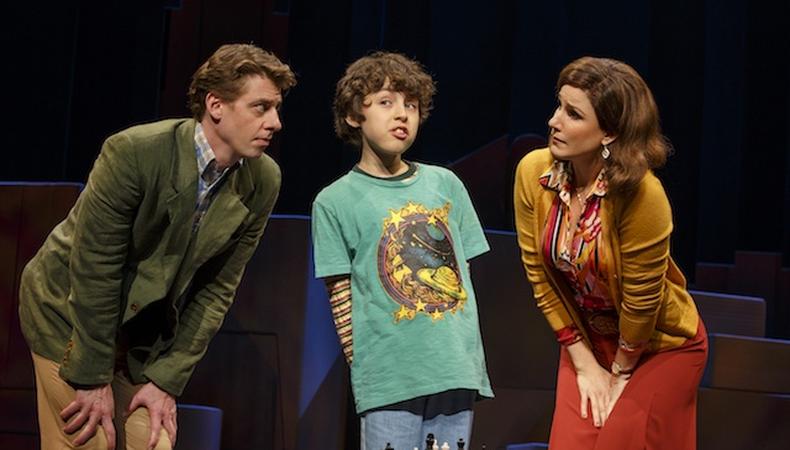 Anthony Rosenthal made his Broadway debut as the glue that held together the not-so-tight-knit family at the center of the "Falsettos" revival. (And you can catch him and his "Falsettos" castmates getting the big screen treatment between now and Aug. 3!) Years before his starring role in the Tony-nominated tuner, Rosenthal had a singular dream to play Les in "Newsies"—and he used Backstage to make it happen. Here, the 13-year-old talent (and his ever-helpful mom, Alli Davis) discuss his meteoric journey.
'Newsies' led him to Backstage.
Anthony Rosenthal: "I saw 'Newsies' when I was 8 years old and it really inspired me to be passionate about theater. Les was my dream role. We were looking on Backstage right around the time we found out 'Newsies' was closing on Broadway and we saw that they were casting for Les in New York for the tour. I was 10 and I was like, 'I need to do this,' but we were across the country, so we kept checking Backstage. And then we saw that they were casting for the tour nationwide and that they would be accepting video submissions, but just for the newsboys. We contacted the 'Newsies' casting because we found out on Backstage that they were accepting video submissions."
READ: 6 Tips to Get the Most From Your Backstage Profile
He was a prodigious Backstage user.
Alli Davis: "When Anthony was 9, he was in 'Oliver' at the 5th Avenue Theatre [in Seattle], and the day after it closed, he went on Backstage all by himself and found auditions for 'Matilda,' 'Kinky Boots,' and 'Newsies,' and was like, 'Well that's it! I'm gonna be 10 so we're going to New York, right?' He didn't have an agent. Our go-to was Backstage. We used Backstage for everything. We didn't know about Equity and he wasn't Equity so we didn't have Equity call board. We used Backstage."
Backstage is like an agent before you have one.
A.R.: "It blew my mind that you could use [Backstage] to see opportunities for kids to be on Broadway. A lot of people ask me about agents and how to get agents. You don't need an agent at first. Down the road it'd be nice to have if you're like, 'OK, this is what I want to keep doing.' But in the meantime, keep checking Backstage!"
A.D.: "We checked [Backstage] all the time, especially between [ages] eight and 10 once he realized that it was something he really wanted to do. We were checking Backstage on a regular basis. Backstage is so easy to navigate. You can switch the button to male roles, pick the age range. Even after we got off the 'Newsies' tour and I didn't know really how an agent worked, I just would put in the age range and select male and the region on Backstage."
READ: Ready to get cast yourself? Check out Backstage's theater audition listings!
The 'Newsies' video submission was a learning experience.
A.R.: "I wouldn't have cast me. Maybe they saw that I was genuine and really wanted to be part of the show and had potential. It was my first video musical audition and I was not experienced with them. We had a piano in our house and it was behind me in the video. We literally filmed me in front of a piano going, 'I don't have any piano accompaniment.' I had a 'Newsies' program as a prop folded as a newspaper. And then in the end I had credits roll with my contact information—like, all my contact information, and it was public!
"That can be a good and bad example for aspiring performers. For auditioners, be more prepared than I was. But it also goes to show that you have a chance [no matter what] if you have potential, because that cringe-y video got me a callback."
The callback, too, was a learning experience.
A.R.: "I was really nervous. It was at Telsey + Co. My whole family came—which was wrong! We didn't know. I was very new to it. I went in and I was about to walk in with a 'Newsies' hat and they said, 'Please take your hat off.' "
Casting directors want to meet a kid not a robot.
A.R.: "For auditions, get to know the material and know what you're doing. You don't have to practice every little thing you say when you walk into the room. Like for 'Newsies,' I didn't have time to do that. They just want to meet a kid, and not a robot who has every answer."
READ: How to Become an Actor
Being on Broadway doesn't get you out of school.
A.R.: "Now I do online school. A lot of people say to me, 'Oh, I wish I was a performer, you don't have to do school as often.' They shouldn't be jealous of my school situation. You still have to do school. When you're in a show, specifically, they hire a tutor and there's a certain amount of hours you have to do every week. When you're performing it gets really hard."
Being talented is only one part of the equation.
A.R.: "Performing is a talent but it's also a skill, which you can acquire by practicing. I took baby steps to get here. I did community theater and then I did regional and then the tour and then Broadway. You have to have a little luck on the way, but I worked really hard to get here."
'Falsettos' was a dream come true.
A.R.: " 'Falsettos' was surreal. It's easy to get talent in a room and it's easy to cast talented people, but it's really hard to get people who are also genuine, sweet, and caring, and the whole cast was so special. Ever since day one, we had a bond. I felt so welcomed. I'm really glad I got to be Jason. He's the best male kid role I could ever ask for. I love that Jason was kind of a link connecting everyone together and he's kept them in everybody's lives. I love the relationship I had with every actor, and I love the relationship that Jason had with every character."