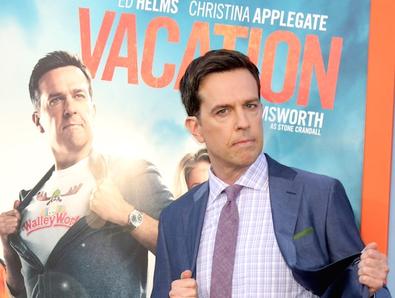 The secret is out: Atlanta is one of the hottest emerging markets in the film and television industry, and an amazing place for up-and-comers to develop their craft and seek out big breaks. Do you know which of your favorite performers originally called Atlanta home? Here are 10 awesome actors from the ATL.
Chloë Grace Moretz
Moretz was born and raised in Atlanta before booking her first role on the CBS show "The Guardian" in 2004. Other gigs quickly followed, including her breakout performance in 2005's "The Amityville Horror." Since entertaining fans with the cult hit "Kick-Ass" in 2010, Moretz has worked virtually nonstop in film, on television, and even Off-Broadway. The young star returned to Atlanta to film "The 5th Wave," currently in postproduction.
David Cross
Long before "The Ben Stiller Show," "Mr. Show," and "Arrested Development," this famous comedian set his roots in the ATL. Though his family relocated to Florida six months after he was born, Cross moved back to Roswell, Georgia, years later and attended North Atlanta High School.
Elle Fanning
Though her sister (and fellow Georgia-bred actor), Dakota, left home for Hollywood at a young age, this rising star spent her early years just outside of Atlanta. Fanning earned her biggest break yet with 2014's "Maleficent," and will be back in her hometown for Ben Affleck's upcoming "Live by Night."
Holly Hunter
Born and raised on a farm outside of the city, the "Raising Arizona" star left home at 18 to study acting at Carnegie Mellon, but Hunter's smooth Georgia drawl remains one of her most recognizable traits.
Brittany Murphy
Born in Atlanta in 1977, Murphy rose to early fame with '90s teen hits including "Clueless" and "Drop Dead Gorgeous." The quirky and soulful star died tragically in 2009, but not before making her mark with dozens of films and television roles, and in Broadway's "A View From the Bridge."
Tyler Perry
Born in New Orleans, Perry moved to Atlanta in the early 1990s and has been making a (major) mark on the city ever since. He rose to fame in the Atlanta theater market, and quickly became one of the most popular (and highest-grossing) artists in the United States. He virtually invented the "gospel film" genre, and his success with projects such as "Tyler Perry's House of Payne" and "Diary of a Mad Black Woman" has made a huge impact on the Atlanta film market.
Julia Roberts
Show business runs in the blood for Georgia native Roberts. The "Erin Brockovich" star's playwright parents met on tour as performers and created the Atlanta Actors and Writers Workshop in the early 1960s. Her brother, Eric, and sister Lisa are also actors, and her niece Emma (of "American Horror Story" fame) has wasted no time in making a name for herself.
Chris Tucker
Standup comic and "Rush Hour" star Tucker spent his early years clowning around the Atlanta suburb of Decatur. He attended Columbia High School in his hometown, and after relocating to Los Angeles, got his career started with "Def Comedy Jam," "Friday," and "The Fifth Element."
Ed Helms
Possibly most famous for his brilliant portrayal of the insufferable Andy Bernard on "The Office," Helms was born and raised in Hotlanta. He attended the private Westminster Schools as a youth before studying at Oberlin College in Ohio, and recently returned home to film the comedy "Vacation," in theaters now.
AnnaLynne McCord
Well before her bad-girl roles on shows such as "Nip/Tuck" and "90210," McCord was raised a pastor's daughter in the city of Buford, Georgia. She's since worked on numerous television shows and films, and devotes her time to several humanitarian efforts.
Inspired by this post? Check out our Atlanta audition listings!