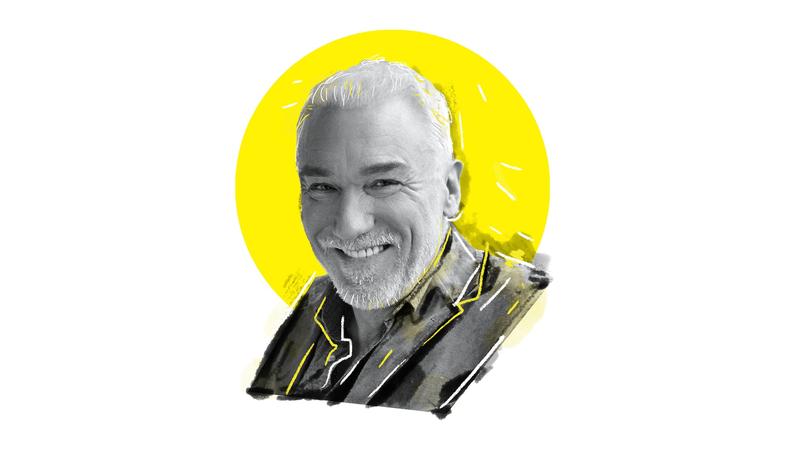 Heading way down to "Hadestown"—Broadway's new underworld-set chamber musical, now open at the Walter Kerr Theatre—is made all the more sinister by Patrick Page. And to think the veteran actor (who plays the mythical man himself, Hades) first learned about the Anaïs Mitchell musical right here on Backstage! Already a buzzed-about Tonys contender, Page hopped on the phone amidst rehearsals and preview performances to discuss his unique survival job and the audition mistake you need to check yourself on immediately.
Broadway is the show's fourth full-scale production. At what point did you get involved?
I first came to be involved because I saw a listing on Backstage. They were looking for a true bass for their little project that didn't have a production set yet, that was going to be a lab at New York Theatre Workshop. It intrigued me, the idea of this god of the underworld. I'd just seen [director] Rachel Chavkin's show "[Natasha, Pierre and the] Great Comet [of 1812]," and I thought, This woman's a genius. I knew nothing about [composer and book-writer] Anaïs Mitchell, and I downloaded the album she had made of the songs, long before there was ever a stage production. I listened to a song called "Hey Little Songbird," which Hades sings to Eurydice to seduce her to come to the underworld, and I said, "I have to sing this song." I called my agent and, long story short, I met the women involved. It was one of the best things that ever happened to me, and I've stayed with the production ever since. We did it at New York Theatre Workshop Off-Broadway, in Canada, at the National Theatre in London, and now, finally, we're coming back home to Broadway.
APPLY: Check out Backstage's current theater auditions!
And all because you saw a casting notice on Backstage!
Yes, well, when one starts out in the business, you have to have Backstage, right? You have to read it. I get it online now, but I used to go to the newsstand every Thursday, and you could tell how many actors there were in New York on a Thursday because you'd sit down on a subway and there'd be 15 copies of Backstage all over the subway car. It was so depressing to see how many people were going after your jobs! But it was also inspiring. That was 1993, and I've never gotten out of the habit. So every Thursday I read [Backstage] and I read all of the audition announcements. I think sometimes established actors forget how useful that can be.
For the few who don't know, tell us about this brand new musical.
It's an interweaving of two love stories: a story of a pair of young lovers, Orpheus and Eurydice, and a pair of ancient lovers, Hades and Persephone, who are gods. It's based on a Greek myth but it's absolutely modern. The music is a mixture of jazz, blues, [and] rock, and it's unlike anything I have heard before. It's just glorious.
And you play the titular Hades. How would you describe him?
It's the role of a lifetime. It's the kind of role an actor dreams of, where you get to use aspects of your personality, aspects of your skill set, that maybe haven't been used in other productions. And I get to play opposite the incandescent Amber Gray. Hades is, in some respects, the antagonist of the piece because he's the person who opposes Orpheus. But he's no regular villain. He's a man who's deeply in love with his wife, and he goes through a huge transformation during the show.
READ: How to Become a Musical Theater Actor
Switching gears to early career days, do you remember what your first headshot looked like?
There was just a thing on Facebook several months ago where everyone was posting their old headshots, and, of course, they were all black and white and were usually taken by a friend because no one could afford a professional photographer. I remember mine was taken by a friend of mine named Chris Maxfield at Whitman College in Walla Walla, Washington. And, I mean, he did a good job, but I'm shocked that I ever got any responses from that—but it seems to have worked out alright.
Did you ever have a survival job?
I was a magician. When I was in high school, I went through a rather awkward physical transition where I was no longer a cute little boy and there were no longer any roles for someone like me. I needed a performing outlet, so I started a magic show and eventually did it as a professional magician from the time I was about 15 to the time I was about 25. It was how I made my living, and how I worked my way through college. And then after I did begin working as an actor, when I would have a dry spell, I would pull the magic show back out of storage and make some money. For years now, my parents have said, "Patrick, can we give away the magic?," because it's all in storage back in Oregon. I always say no because I might need it someday!
How do you typically prepare for an audition?
I run an acting studio in New York City, the Patrick Page Studio, and one of the things that I notice is that nine out of 10 actors don't really understand how much preparation is necessary. People ask me all the time whether they need to be off-book, and I say, "If you're not off-book, you probably haven't put in enough hours on it," because if you've worked on the material enough to be competitive in New York City, you are simply going to know the words. I also think people don't use the space in the room. You've got an entire room that's your stage, and people tend to think they can only use 2 square feet of it. My advice is to learn the role, make your choices, have a point of view, and then go in and make a piece of theater. Never go in to get the role; go in to make a relationship with the people behind the table. As I say to my students, "Give them a problem," because the fact of the matter is there are probably five people in front of you. Everybody has a friend that they would like to cast, everyone knows someone, everyone has a Rolodex. You've got to go in and be better than that person in their mind. Give them a problem and make them say, "We really wanted Kelsey Grammer, but wasn't Patrick so great?"