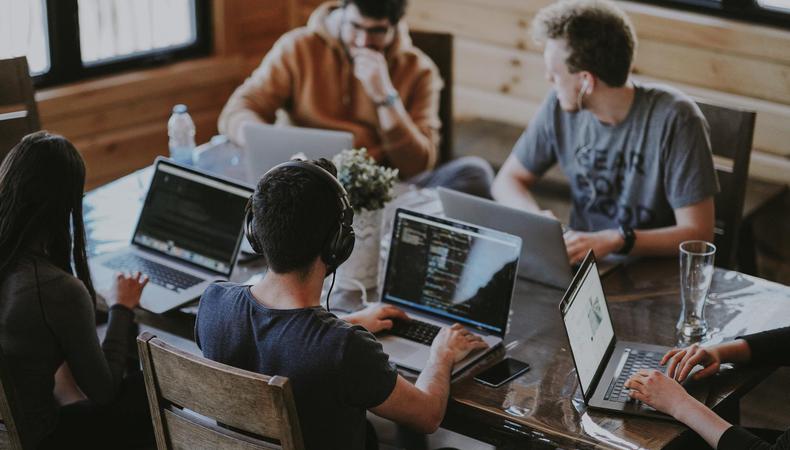 Times, they are a-changin'—particularly in the casting world.
COVID-19 has catalyzed a massive shift in the way brands, content creators, and casting directors find talent, and in a socially distanced world, as well as a generally globally connected one, utilizing technology is the only way to keep the cameras rolling.
"As a casting and production professional, what are some interesting ways you can take your current productions and alter them to fit a remote format? How can you continue to develop fresh content that's impactful during such an unpredictable time?" Sabrina Safran, director of casting and talent development at Hearst, told Backstage. "It's up to all of us to collaborate in a way that makes sense and keep creating content that matters. And one thing to remember that's most important is that we're all in this together."
Here's how new technology is changing the way projects are cast.
How major brands are producing video content.
Perfecting the do-it-yourself self-taped audition
Self-tapes have long been a tool in casting directors' belts, but technology innovations over the last decade have made them more doable than ever before. The ease of creating and sharing these videos means casting directors have been requesting them from farther and farther away from where the CDs are based.
"Now, we're in this age with these cameras and all this stuff [where] it's never been easier to make audition tapes yourself," actor John C. Reilly told Backstage, adding that when he was making his name as an actor in Hollywood, "you'd go into some weird room" with "some video camera that no one else could afford, except maybe a casting director or an agent."
But now, with new technology like editing apps, auditioning platforms, and high-quality phone cameras, "you can really have a lot more control and agency in your creative offerings to [casting directors] than you had in the past," he added.
In 2020, that technology has become crucial for actors and casting directors alike. As The Los Angeles Times highlighted last month, the sharp pandemic-related dropoff of in-person opportunities has found actors stepping up their self-tape game with smartphone tripods, backdrops, ring lights, and more, making it possible for actors to be their own directors, producers, editors, and crew. It's a big lift, for sure—but it has its perks.
"Now that self-tapes are the new normal, you can deliver your best tape," casting director Julia Kim, who worked on Sundance Film Festival breakout "Minari," told The L.A. Times. "You could practice as much as you want behind the scenes and settle on the tape that you want to deliver to us. So right there, you have the advantage."
For more information on how to create the perfect self-tape, check out Backstage's guide!
How new technology is changing the way branded content is made.
Zooming in
Fancy self-tapes aren't the only way tech has been revolutionizing the way we think about casting. After all, for some casting directors, even the most creative self-tapes just don't match the in-person experience. "We get to meet you, we get to see your personality, we get to see if we can redirect you," casting director Melanie Forchetti told Backstage about her preference for in-person auditions. "[We get to see] how well you handle pressure if we throw something in and you have to think on your feet."
Of course, in-person auditions are a risk many can no longer take in the age of COVID-19, which is why many savvy brands and content creators are meeting in the middle by holding auditions via Zoom or other streaming services. Even ABC's "American Idol" is holding its auditions this year through custom-built Zoom technology after having finished its most recent season remotely.
"At least right now with Zoom, you can see [the person auditioning]," casting director Carla Hool told The L.A. Times. "It's crazy how, in every single department—every single aspect of our lives—it's just not going to be back to the way it was. I don't think things are ever going to go back to exactly the way they used to be."
Normalizing Zoom auditions will also give talent auditioning from afar to interface with a casting director beyond sending in a self-tape. This opens up the talent pool for those casting and provides many more opportunities for talent, given the production has the budget for travel.
CDs are even creating products themselves to solve the problems created by COVID-19, and some think they will be regularly used once we can be indoors together again. Justin Radley co-created a virtual waiting room to anticipate the resumption of in-person auditions in Los Angeles.
Plus, casting platforms like Backstage now provides the ability to schedule auditions and record and upload videos straight to your profile, all in one place, to streamline the casting and audition process.
Going the CGI route
Some say that casting for crowds might be a thing of the past. Due to COVID-19 restrictions, many have to do without crowds (and sets) entirely—at least for the foreseeable future.
David Conley, executive producer at Weta Digital, told The Hollywood Reporter that CGI artists could realistically recreate many background scenes and "bespoke, realistic characters at any scale and at any level of detail," eliminating the need to cast background actors.
"[We are] able to create bespoke, realistic characters at any scale and at any level of detail," he says. "You would always prefer to have the actor in frame, but in extraordinary circumstances like we are in now, moving to CG or compositing them in from another stage could be the thing that allows a production to start up again."
How brands can use UGC to create original content.
Online casting platforms
Through the tumultuousness of 2020, many companies have been turning to platforms like Backstage to create content. Take Hearst, for example, which was still casting and producing videos in April, just weeks after lockdown began.
"We're seeing brands casting more UGC (user-generated content) on Backstage than ever before. The industry is now finding that UGC isn't just some stopgap solution to be used until a crisis passes," said Josh Ellstein, CEO at Backstage. "It's a fast and effective way of getting a message across while enabling a more diverse talent pool, and it's here to stay."
Whether finding innovative ways to resume production on set, get around in person auditions, or deciding to produce your project completely remotely, technology has a way to make it happen, during COVID-19 and beyond.