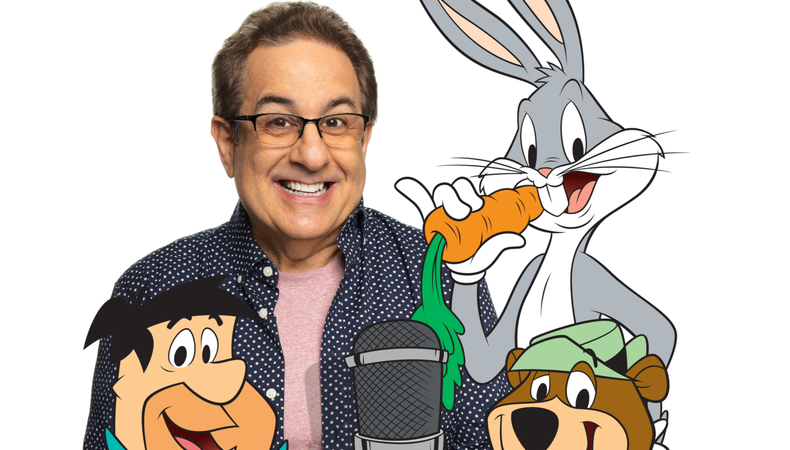 "In the Envelope: The Actor's Podcast" features in-depth conversations with today's most noteworthy actors and creators. Join host and Awards Editor Jack Smart for this guide on how to live the creative life from those who are doing it every day.
Jeff Bergman is a legend in the voiceover industry when it comes to cartoon animation: if you've tuned into a toon in the last decade or so, chances are you've heard his impressively versatile voice.
In particular, as the first actor to replace Mel Blanc as the voice of Bugs Bunny and other Hanna-Barbera characters, Bergman is an expert at recreating iconic animated characters. "I'm trying to capture the essence of the memory that I have, and maybe it's the memory that you have," he says of the process. His "In the Envelope" interview—which features instantaneous appearances from Bugs, Foghorn Leghorn, Yogi Bear, and even Donald Trump—is full of tips for artists on getting your foot in the industry's door, keeping your voice healthy, and paying attention to what ignites your passion.
Most of all, Bergman is proof that hustling for career opportunities and working hard at technical precision are one and the same in this business. "You must love what you do," advises Bergman. "You must love it. And it takes over you, it's a passion. Because that right there is your fuel of sustainability. That can sustain you through lean times, through difficult times, auditioning for 500 things and not getting one callback."
Born and raised in Pennsylvania and captivated by impressionists at a young age, Bergman was studying theater and communications at the University of Pittsburgh when a chance encounter with Blanc steered him toward a voiceover career. "He gave me some great advice, which is to stay in school, get your degree.... I did a little performance for him and he was very sweet and encouraging," remembers Bergman. "That was a watershed moment."
It wasn't until much later—after talking his way into William Morris Agency representation, working in radio, commercials, and on "The New Show" with Lorne Michaels—that his connection with Blanc came full circle. When the legendary voice actor died in 1989, Bergman was one of many invited to audition for the Looney Tunes. Using footage of the classic cartoon "What's Opera, Doc?", Bergman dubbed over his voice, duetting as both Bugs and Elmer Fudd. "Preparation meets opportunity, all at once," he says. "I thought to myself: I'll just let them see everything I have. And sometimes, if you don't over-strategize and overthink about it—it was the love, the joy of wanting to do it, that I think propelled me forward."
In addition to Daffy Duck, Sylvester, and many other Looney Tunes, Bergman has since lent his voice to "The Flintstones," "The Jetsons," "JellyStone," "Despicable Me" and "Batman" films, and Showtime's animated satire "Our Cartoon President." Alongside LeBron James, he now stars as Bugs and other voices in "Space Jam: A New Legacy," the long-awaited sequel from Warner Bros and HBO Max.
"Anybody that wants to have a career in voiceover, or a career in animation, or doing book tapes or industrials, whatever it is," says Bergman, "if you love it, and you're passionate about it, keep recording yourself. Listen to everything that inspires you and anyone that inspires you. Keep at it, don't stop, and you'll get there." And knowing what inspires you is the key, he adds: "Anything that you gravitate towards is probably something that you're already inspired by and interested in, and you might even be led in that direction."
Hear it all for yourself at any of the podcast platforms below. Stay tuned also for Christine McKenna-Tirella's post-interview thoughts and Backstage casting notices of the week, as well as producer Jamie Muffett's update from the frontlines of the voiceover industry. For more on the ins and outs of the voiceover industry, check out sister podcast VO School!
Listen now on:
Looking for remote work? Backstage has got you covered! Click here for auditions you can do from home!