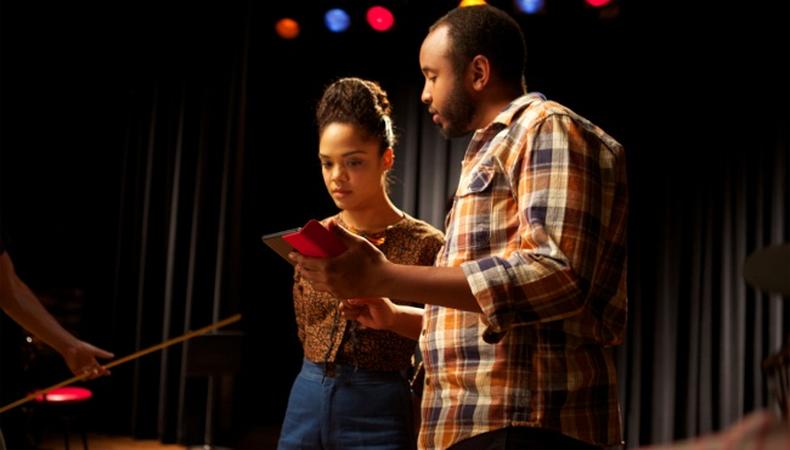 No matter the medium, Justin Simien "lives in the question"; advice given to the former actor by his acting teacher Suzanne Phillips Jennings. Before starting a career in public relations, then launching one in directing with his first feature film, "Dear White People"—winner of the Sundance Special Jury Prize for Breakthrough Talent—Simien was a Houston-based performer.
"There was a version of my life where instead of film school I would study acting," he says. "The beginnings of my understanding of how to tell a story really are rooted in the theater and the kind of experiences that the theater can provoke in a person."
The learned practice of leaning into the uncomfortable question sits at the crux of "Dear White People," a bitingly intelligent look at the social chasm between the black minority and white majority at a fictional private college. In 2005, Simien wrote a script titled "The 2 Percent," which inspired the viral Twitter handle @DearWhitePeople.
"When the Twitter account started, so much was happening," explains Simien. "We were in this 'postracist' haze because we had Obama as president, but there were people telling our president to go back to Africa. And then there was the shooting of Trayvon Martin. All these truths that I knew about race relations were bubbling up to the surface."
Simien began satirically tweeting from @DearWhitePeople to comment on the racially charged current events; the tweets and their responses became his most valuable scriptwriting tool. No one knew it yet, but the combative lead in "Dear White People," Samantha White (played by Tessa Thompson), had hit the social media sphere.
The arduous process of developing Sam's voice—highly intelligent, rebellious, and full of almost theatrical political jargon—forced Simien to focus on realities like white college campus blackface parties, as well as the deep criticisms of @DearWhitePeople, in an effort to objectively "hold a mirror up to the situation."
"It's why 'Do the Right Thing' is such a profound film for me—because you don't necessarily walk out of that movie having seen people do the objectively right thing," explains the director, who set out to follow Spike Lee's "nonpreachy" approach to racial politics. "Sam doesn't really walk out of the movie smelling like a rose. She does and says a lot of things that the characters in the film don't agree with, necessarily, and their opinions were certainly informed by the response I got from her Twitter account."
The account went viral in 2012 and has since amassed over 16,000 followers, providing a perfect base to raise funds for a concept trailer. For Simien, it was the next logical step for a film that was not only facing the standard Hollywood hoops but also its portrayal of an array of black experiences.
But once he gained the platform and succeeded in getting the film made, it became about ensuring "Dear White People" was a positive commentary on black culture that didn't portray itself as all-encompassing.
Simien wasn't aiming to capture black identity but instead wanted to ask questions about human identity. "Yes, we should be talking about reverse racism, which is not real, and about microaggressions, but the main thing I want people to walk away with is thinking about their own identity. Are there places where that needs to be outgrown? Are there places where it hasn't really been enough?
"A lot of times we forget to shed off the old and move into the new, and what's cool about the movie is that people see themselves in ways they didn't expect to, and those are the quiet things you think about in contemplation—they're not even really things you want to talk about with somebody," Simien says. "That's one of the most powerful things to hear, the 'Wow, I really saw myself in so-and-so and I didn't expect to.' I know they're going to chew on that, and that's a great feeling as a storyteller."
Inspired by this post? Check out our film audition listings!