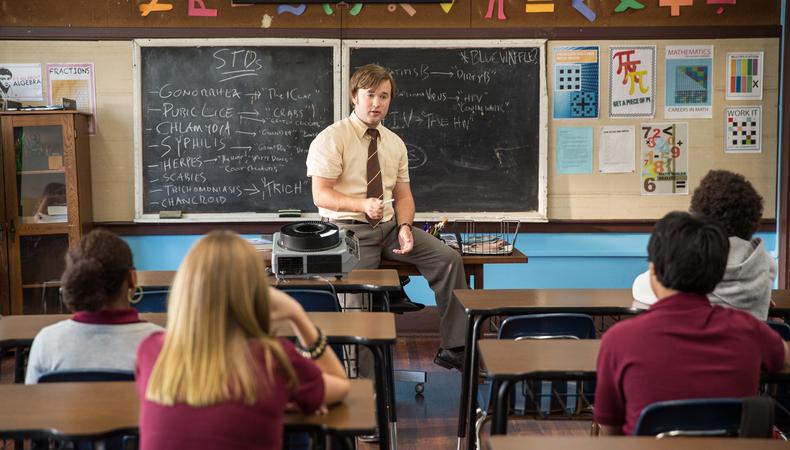 Adults can learn from children as well as vice versa, a message that's clear in Haley Joel Osment's new film "Sex Ed," even in its casting process. Director Isaac Feder balances humor, drama, and a positive message in the comedy about virgin Ed Cole, who ends up teaching a class of middle schoolers sex education. And casting directors Danielle Aufiero and Amber Horn assembled a cast that brings to life the awkwardly funny situations both in and out of the classroom.
One aspect of casting that has always appealed to Horn is the smaller roles. Of her first job, Horn says, "I remember being so excited to be able to get to cast the co-star roles in television." Aufiero agrees that the small roles make the story believable. So although they could have delegated casting the local roles, they went to Tampa themselves and cast about half of the child roles locally. "We really believed in Isaac and in this movie, and we didn't want to put it in anyone else's hands," Aufiero says.
Feder wanted the actors to actually be the age of the characters. "He wanted the kids to look real; he didn't want, like, polished TV kids," Aufiero says. To play the pivotal role of Tito, a student who bonds with Ed (and the younger brother of Ed's love interest) the team settled on Kevin Hernandez, whose work they were familiar with already.
"[Leon Hamilton] was the hardest role [to cast] because a lot of people passed on the content because he had to say some really dirty words," says Horn. When they got Isaac White's tape, Aufiero says, "We were like, 'this is the kid.'" Horn adds, "It was magic."
One actor who really popped for the casting team in auditions was the opposite of what the producers had in mind. "Sometimes you want the person to just be it. You want to just get it and it be magical in the room," says Aufiero, who notes this was case with Ray Santiago, who plays the sister's boyfriend. They were looking for a buff, extremely attractive, soap opera type. But, says Horn, "Ray Santiago came in and just made us laugh so hard." Aufiero says his audition was so good that it was undeniable he was the character.
Aufiero and Horn have noticed through their casting experience that adult actors could learn a lot from the way children react genuinely to situations. Horn notes that because children haven't had as much life experience, they often don't have preconceived notions about things and don't overthink scenes as often as adult actors. "There's a lot of really awesome things that come out of the pure reaction as long as you're getting a child who's listening to you like they are hearing something for the first time," Horn says.
Another tip actors can pick up from child actors (and international actors, Aufiero adds) is being prepared. Horn notes that kids tend to be off book and prepared more than adult actors, which makes a difference. "We'll have actors come and run camera for a session, and they can see for themselves what a difference it makes when you have a session of 20 people reading one character and 15 of them are not really in the scene because they keep looking down. It takes you out of it and it makes those five that are off book shine," Aufiero says.