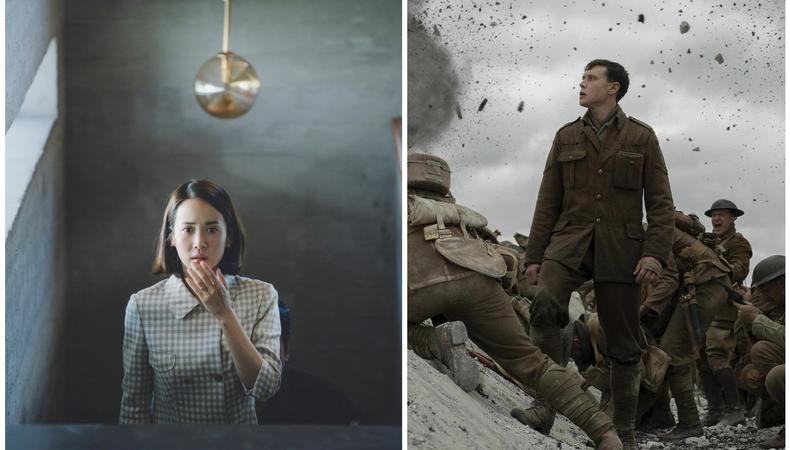 Want the inside scoop on all things awards? Welcome to Letter From the Awards Editor, our weekly series where Backstage's Jack Smart takes a look at the latest film and television news, industry trends, and awards projections that matter to today's working actor.
Dear Backstage reader,
So what were your favorite moments from the 92nd Oscars ceremony? Mine was definitely when Bong Joon-ho won the best director prize for "Parasite." Also when Bong and Han Jin-won earned the original screenplay prize, for "Parasite." Also when best international film, of course, went to South Korea for "Parasite." And most of all—an Oscars telecast moment that will surely go down as iconic—when presenter Jane Fonda took that exquisite pause before announcing that history had been made and that best picture had gone to Bong and Kwak Sin-ae for "Parasite."
Seriously, the first-ever foreign language film to win the top Academy Award makes 2020 a seismic turning point for the Oscars and by extension all film awards. As I noted last week (with, you may have noticed, some cynicism—I was fully convinced "1917" would take top honors), picking "Parasite" was pretty much the Academy's only shot at challenging long-held opinions about Hollywood's lack of progressivism. Maybe their efforts to diversify membership, and enough members' self-conscious desire to improve optics, launched the Korean hit to the top of voters' lists like one of Kim Chung-sook's shot puts.
Or maybe "Parasite" was always destined to win. Not only is it a superbly told story that feels both of the moment and completely timeless—as long as the perils of capitalism exist!—its entry into this awards season with a historic Palme d'Or victory at the Cannes Film Festival built just the right level of simmer. Then rave reviews out of Toronto brought buzz to a boil. And after a limited theatrical release and an unprecedented ensemble win at the Screen Actors Guild Awards, "Parasite" was in full blaze. At a November reception celebrating the film, I noticed an auspicious sign: A-lister after A-lister clamoring to express their enthusiasm to the unassumingly charming Bong (via his equally charming translator Sharon Choi, who is now looking to develop a film...about awards season!).
It's got me thinking about timing. There's a sweet spot between too late, when distributors can't build steam, and too early, when fatigue or even backlash cause a film to fizzle. When is the ideal premiere date, and what is the ideal rollout plan, for an Oscar champ? Is there a winning strategy?
First, a quick look at the 2020 best picture contenders. All took home at least one little gold man, with the unfortunate exception of Martin Scorsese's "The Irishman." That and Noah Baumbach's "Marriage Story" came into this season with a wild card status given their Netflix distribution; as it has for years in television races, the streamer's intense campaigning paid off with nominations list, but not quite as much with Oscar wins. (Only supporting actress Laura Dern and documentary feature "American Factory" prevailed.) A key takeaway from this awards season overall? Netflix has proven they can compete on the big screen.
Per the distributor's atypical rollouts, "The Irishman" premiered in select movie theaters Nov. 1, 2019, and began streaming on Netflix Nov. 27, while "Marriage Story" did the same Nov. 6 and Dec. 6. Of the remaining best picture nominees, Quentin Tarantino's two-time Oscar-winning "Once Upon a Time in Hollywood" (from Sony) opted for a summer release, July 26; Todd Phillips' two-time winner "Joker" (Warner Bros.) arrived Oct. 4 and became the list's highest grosser by a mile; Taika Waititi's adapted screenplay champ "Jojo Rabbit" (Fox Searchlight Pictures) came Oct. 18 after a people's choice prize from TIFF; while James Mangold's two-time winner "Ford v Ferrari" (20th Century Fox) premiered Nov. 15. Two nominees, Greta Gerwig's costume design winner "Little Women" (Sony) and Sam Mendes' three-time winner "1917" (Universal Pictures) hit U.S. theaters Dec. 25—late, especially in a season with an earlier-than-usual Oscars tightening awards schedules. But that didn't seem to hurt "1917" considering its victories at the Golden Globes, DGA Awards, and BAFTAs.
"Parasite" debuted stateside Oct. 11 in only a handful of select cities. That made its per-venue average the best ever for an international film. Its limited availability seemed to fuel the fire of its critical buzz; I remember desperate cinephiles on Twitter lamenting that screenings were sold out. Perhaps most notable of all about "Parasite's" release is the studio that made these decisions. Neon, an indie distributor barely three years old with one Oscar under its belt (Allison Janney's best supporting actress win for "I, Tonya"), bought North American distribution rights a year prior to premiere. With screenings for key voters like the SAG nominating committee, swanky L.A. parties, and relentless press coverage capitalizing on the film's novelty, Neon infiltrated the lavish mansion of Hollywood methodically. Pretty soon they were ringing the Academy's doorbell.
What about other recent best picture winners? Last year's "Green Book" premiered Nov. 21 after TIFF. Going back through this decade, "The Shape of Water" premiered Dec. 1; "Moonlight" on Oct. 21; "Spotlight" Nov. 6; "Birdman" Oct. 17; "12 Years a Slave" Nov. 8; "Argo" Oct. 12; "The Artist" Nov. 23; and "The King's Speech" the latest of the bunch with a Dec. 25 wide release. All received buzzy premieres at the festivals in Venice, Cannes, or Telluride.
So if you're releasing a best picture hopeful, following recent trends, and wondering when to schedule things on a calendar, the exact average of those premiere dates (yes, I did math for you, reader) is Nov. 9; the median would be Nov. 16. What else would you need in an ideal campaign? A splashy film festival debut and glowing reviews are of course key, as is steering a press narrative, a steady increase in attention that crescendos precisely during guild awards' nominating in November and sustains through Oscar nominating in January. Also judging by most best picture victors, you'd want to cast predominantly white, male, or middle-aged movie stars.
But that's exactly why this moment in Academy Award history thrills me so. When the winning film is a Korean comedy-horror-satire that resembles exactly zero of the best picture contenders before it, the rulebook might need a rewrite. When you compare "Parasite" to its predecessors, trying to calculate some award-winning formula feels foolish. Campaign strategies are still crucial for showcasing a film to voters, but ultimately they're judging projects on their content, craftsmanship, what a best picture win would signify, and more; in addition to an impeccably timed release and film fest buzz, there were a hundred other factors at play in the months-long lead-up to Fonda breathing the word "Parasite."
Why 'Parasite' Has One of the Best Acting Ensembles of 2019
Thank you, dear reader, for checking in with Backstage and your trusty awards editor to hear all about those hundred other factors this film awards season. It was a wild ride—sometimes stressful, sometimes joyful, with a shocker of a final moment. Now that the Oscars are put to bed, and publicists and industry insiders all over Hollywood are taking much-needed breathers, I'll sign off for now. But assuming my severe peach fuzz allergy doesn't act up, I'll be back with more letters soon! After all, awards season is hardly a season anymore. The Emmys are right around the corner....
Sincerely,
Jack
Some More Smart Stuff:
Let's not overlook the other big awards show from last weekend: the Film Independent Spirit Awards! Unlike the Oscars, they honored small-budget films and highly original film artists, including Adam Sandler of "Uncut Gems" and Shuzhen Zhao of Lulu Wang's "The Farewell," which took the top prize.
"People make entire careers out of just doing what they're good at, and I respect that," says this week's Backstage cover star, Matt Bomer. "But for some reason, that [fear] is what makes the process exciting to me." Keep an eye on him this upcoming TV awards season; his starring turn on Season 3 of "The Sinner" is sure to get some buzz.