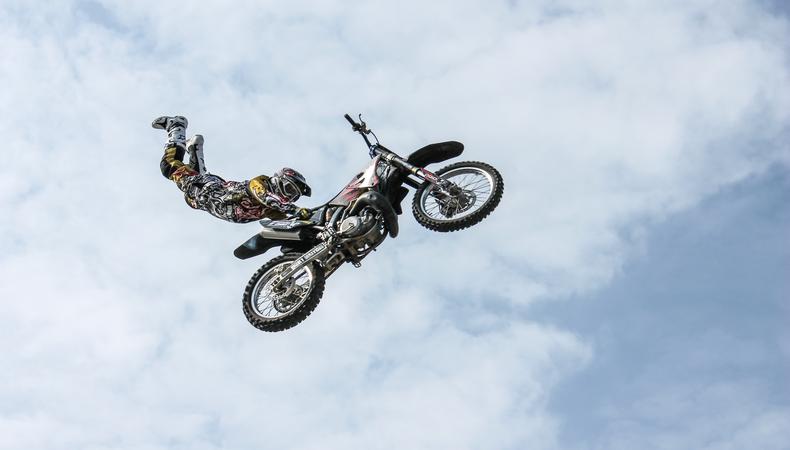 For 27 years, LaFaye Baker has been breaking both records and ceilings. The first Black stuntwoman to coordinate a big-budget project, HBO's "Dorothy Dandridge Story," starring Halle Berry, she's also doubled for some of the biggest names in Hollywood, and in some of the biggest projects. Most recently, she co-coordinated Season 4 of Issa Rae's beloved HBO comedy "Insecure," and is currently coordinating a show over at Netflix. Here, the industry vet shares what a typical day looks like for her and how she was able to move from stunt performer to stunt coordinator.
What does the role of the stunt coordinator entail?
As a stunt coordinator, it is my responsibility to execute the director's vision safely. I do this by breaking down the script, hiring the appropriate—and highly skilled—stunt performers, riggers, and utility stunt performers, to ensure stunts are performed in a safe manner.
How did you first become a stunt coordinator?
Well, my first stunt job was on the sitcom "Sister Sister." That was the first time I got to experience this wonderful opportunity. I still have the callsheet with my name listed as the coordinator. It was truly a big deal then. At that time I was also focusing primarily on performing every kind of stunt you could imagine, so that I could go on to secure more jobs to boost my résumé and qualifications as a Black performer. I really didn't take coordinating that seriously in the late '90s. But I was later contacted by Halle Berry's team to coordinate HBO's "Dorothy Dandridge Story," because she wanted a skilled woman to oversee the project and I was referred by the talented stunt coordinator and second unit director Eddie Watkins.
How to Become a Stunt Performer
What does a day in the life of a stunt coordinator on set look like?
A day in the life of a stunt coordinator is a combination of actual tasks, and mental preparation. When I wake up each morning I give thanks for seeing another day. Next, I meditate and visualize the type of day I expect. Once I arrive on set, I search for my trailer, drop off my stunt equipment, and check in with the first assistant director on whether there have been updates to the action sequences of the day. After that, I check on the stunt performers and riggers to see if there are any concerns. Then the stunt team all reports to the location of the stunt to observe the scene for safety concerns. Then we rehearse the scene and make sure everyone is on the same page. This helps to prevent mishaps from occurring.
What are some of the skills you need to become a stunt coordinator?
In order to become a stunt coordinator, you should have at least five years of experience as a stunt performer. From a technical standpoint, you should understand camera angles, be able to think on your feet, have an exceptional stunt team, know how to breakdown a script, create a budget, and be able to pitch and get approval on plans for the project, and be able to adapt to endless personalities and egos. Lastly, and probably most importantly, you need to build your networking skills. Stunt performers technically don't have agents, so it is usually about the hustle and who you know in the stunt community.
Are there any stunt coordinators you have been particularly inspired by?
I am inspired by so many. But I would be remiss not to mention Eddie Watkins again. He is by far the best mentor I've had and an extremely talented stunt coordinator and second unit director. Additionally, I have worked as his co-coordinator on several projects and I have learned so much from him. He's extremely talented with camera angles and can visualize how any stunt can be executed.
What advice would you give an aspiring stunt coordinator?
Learn camera angles and on-set lingo, be inquisitive, ask questions, pay close attention to riggers and the director of photography, and always volunteer your time if the crew need assistance setting up and breaking down equipment. Also, seek a stunt coordinator as a mentor.
Looking for remote work? Backstage has got you covered! Click here for auditions you can do from home!