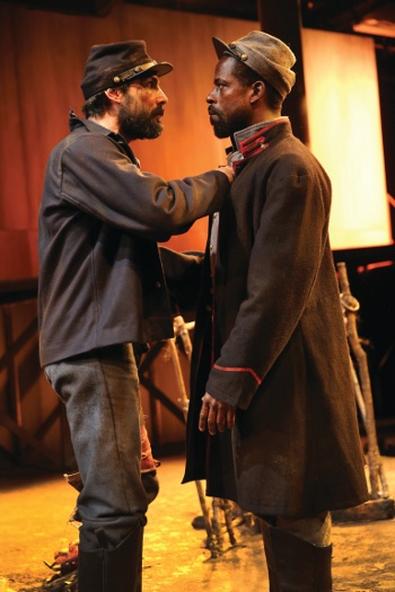 It was 3 o'clock in the morning when Suzan-Lori Parks woke up and realized she had to change the ending of her play. A theatrical epic on slavery, identity, and redemption, "Father Comes Home from the Wars (Parts 1, 2, & 3)" has been in development for years at the Public Theater, where Parks cut her teeth as a playwright. For her, middle-of-the-night epiphanies are integral to the creative process. "The 'what' comes first, like whoa!" she says. "The 'why' comes later. Knowing that I have to do it comes first."
Luckily for the Pulitzer Prize winner, she is surrounded by artists willing to chase those impulses. Parks raves about the work of director Jo Bonney and their cast of eager performers: "I mean, come on, I walked in and changed the ending of a play and they were like, 'We're going for it!' When actors are resistant and tiptoe-y, a playwright and director feel penned in and like we have to walk on eggshells. But when actors are like, 'We trust you, girl,' we jump in and try it and it works. They take up the words and the actions and make them fly."
As the Public's master writer chair, the theater provides Parks with unlimited artistic support, promoting a Watch Me Work series in the lobby ("It's so great because people can basically have a writing class with me for free!") as well as opening up performances of "Father" for a limited run this past spring. Part 3 had been finished, and the playwright wanted to test Parts 1 and 2 on an audience. "I had to make my beautiful little one-story cottage into a three-story gorgeous home," she says. Drafts of two subsequent trilogies—nine parts in total—will extend the story from 1860 into the present day.
It's important that the Civil War–era characters in "Father" have a striking connection to the present. Parks, who composed the play's old-timey music, wanted the show's live guitarist and several of the actors in contemporary garb. "It's not the History channel," she explains. Citing the mishmash qualities of hip-hop as an influence, Parks aims to create a quasi–period piece with a porous fourth wall, allowing audiences of all shapes and sizes to see parallels between slavery and their own realities.
"You have people in Nike sneakers and hoodies who are runaway slaves," she says of the production's conceptual design. One character conjures a lyric from the musical "Oklahoma!"; another quotes "King Lear." In one particularly resonant moment, Hero, a slave contemplating the notion of freedom, raises his arms over his head—a theatrical echo of Michael Brown's shooting in Ferguson, Mo. For Parks, theater provides an opportunity to look backward, forward, and inward. "What does the past have to do with me? How are we related, how are we connected?" she asks.
Throughout the evolution of "Father," Parks' cast and crew have celebrated those connections, which only live theater can foster. "I'm just saying, like, praise be to you all who have made plays over the years!" she exclaims. "Here I am now following in your footsteps. We are in love with the tradition and we are doing our best to carry it forward. And everybody's invited! Whether you're white or black or Asian or whatever, everybody's invited. Come in. This is a story about how we live now and how we lived then, too. And some shit that went down which still resonates now."
That she gets to invent, expand, and tinker with that world at the Public makes the creative process all the richer. Parks recalls a conversation with artistic director Oskar Eustis, who encouraged her to set up shop as resident writer. "He really said, 'Come home, let this be your home,' " she remembers. "And I said, 'You know what you do at home? You unpack.' "
Inspired by this post? Check out our theater audition listings!