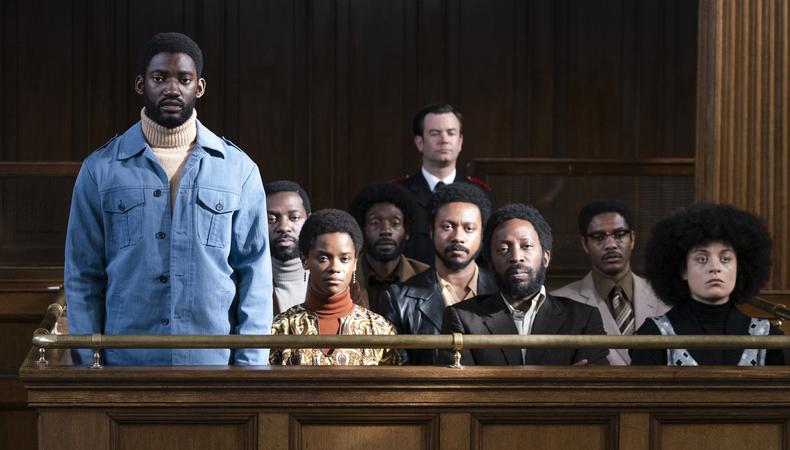 Welcome to Straight to Series, where Backstage takes a deep dive into how some of our era's most celebrated TV shows got made – and how you can make one, too.
Set from the late 60s to the mid-80s, Small Axe is a five-film anthology series (BBC/Amazon), each telling a different, timely story involving London's West Indian community. Most are based on real people and events – the trial of the Mangrove Nine; an all-night house party in 1980; the career of pioneering Black policeman Leroy Logan, an acclaimed writer's coming-of-age story set in Brixton, and a film about a clever 70s schoolboy branded as "educationally subnormal" – which is loosely based on director Sir Steve McQueen's own experiences.
The show's title comes from a Jamaican proverb once popularised in a Bob Marley song: "If you are the big tree, we are the small axe." Acclaimed artist and director Steve McQueen created the show, his first about the Black British experience. He told the New York Times: "I needed to understand myself, where I came from." The star power of McQueen's name as well as the show's scripts and content attracted top names such as Letitia Wright and John Boyega.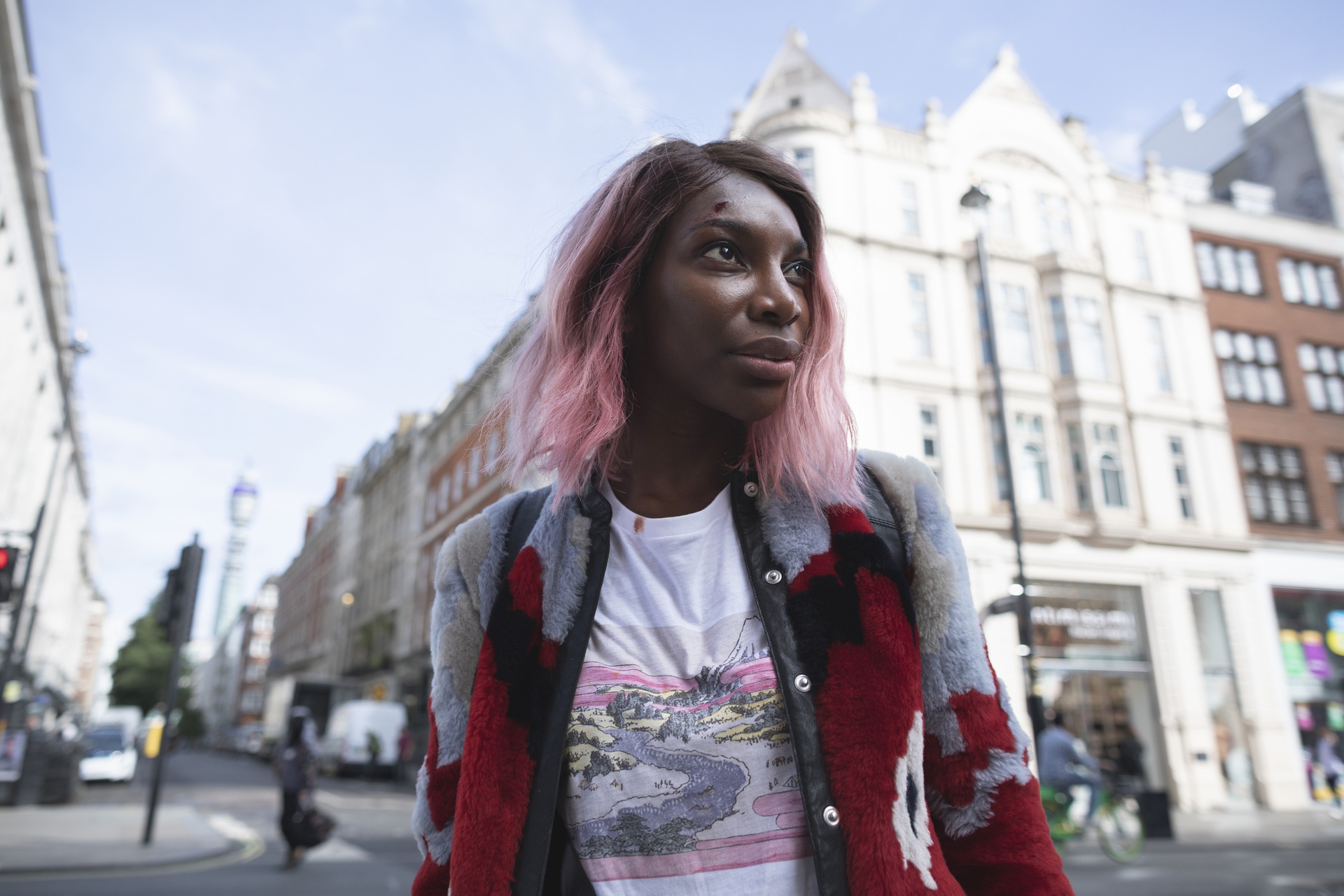 How 'I May Destroy You' Got Made
Small Axe was created by British director and artist Sir Steve McQueen. Born in west London, McQueen is the son of a Trinidadian mother and a Grenadian father, who began life as a Turner Prize-winning artist before effortlessly moving over to a highly successful filmmaking career. His third feature film Twelve Years a Slave won him rave reviews and a Best Picture Oscar in 2014.
McQueen had been working on Small Axe in one form or another for several years. He's described it as a personal project that should have been made many decades before but just wasn't, and the last film of the anthology is based on McQueen's own disappointing experience of the education system in the UK.
Back in 2014, McQueen told the BBC he was working on an "epic" drama for the corporation. He said he was working with a group of actors and a writer to develop the project that was in its very early stages. Initially, he'd planned to make a conventional serialised drama, but quickly realised he had an excess of material.
The official commission for the series came from the BBC in August 2015, with Amazon joining as co-producer alongside the UK's Turbine Studios in 2019. Six years in the making, Small Axe was first broadcast on the BBC in 2020 to almost universal acclaim.
McQueen told Sight & Sound magazine about how the idea came into being: "At first I wanted to make it about one family through the decades, but then I thought, after doing the research: 'No, these have to be individual stories.' So, I got this writers' room together because I thought: 'OK, it will be like an episodic TV series, but with different individual stories that are connected.' In some ways, the writers' room became an audition situation for the writers I wanted to work with, who were Courttia Newland [with whom McQueen co-wrote Lovers Rock and Red, White and Blue] and Alastair Siddons [with whom McQueen co-wrote Mangrove, Education and Alex Wheatle]. It was within that process that I decided on the stories I wanted to tell."
McQueen is credited as a screenwriter on all five episodes alongside Alastair Siddons and Courttia Newland. Newland wrote thirty drafts of Red, White and Blue for Small Axe.
Casting director Gary Davy cast Small Axe, winning a BAFTA for his efforts. He told Backstage: "Steve loves actors, so everyone had a meeting. There were story outlines for the films, and we had a few lead characters to search for. Setting a couple of "name" actors can help steady a ship for networks. Ultimately, Steve wanted the right person for each role."
Casting John Boyega and Letitia Wright happened first, but McQueen was eager to use talented lesser-known actors over the five films. During much of the casting process, McQueen was already shooting so had to trust Davy's decisions. Davy recalls: "We didn't have time to put loads of people in front of Steve, so having worked with him before was invaluable, as we had a shorthand. I prescreened most of the actors who met for the show, so time in the room wasn't wasted and actors had already run through scenes, meaning they were also prepped and got Steve's full attention. It was a fun and exciting time."
Davy looked at photography of the time, read books about the period and fully immersed himself in Small Axe's era. He went to drama schools, youth groups and the National Youth Theatre as well as trusting his instincts and experience to find the films cast. 26-year-old Amarah-Jae St Aubyn is just one actor who made her debut in Small Axe, with McQueen telling the Guardian: "There is a brightness and freshness about Amarah, an optimism which just reflects on the screen. Astonishingly, Small Axe was her first time on camera. She is what you call a star."
Promoting a new generation of Black talent is clearly something McQueen is passionate about. He told Sight & Sound magazine: "There are these amazing actors who just need to be given the opportunity and, like you say, play themselves. And they need more material to do it. We've lost geniuses. We've lost our Katharine Hepburns, we've lost our Marlon Brandos, they're all doing other jobs. We never got a chance to see what they were able to do; the films that they weren't able to star in. That's why it's so emotional, because it's like there's a catharsis about it – like my sister wanting to scream at the screen: 'I exist.' "
Alongside new talent, some of Small Axe's cast were already well-established stars. Talking to Variety, John Boyega revealed how he was approached by McQueen to take the role of trailblazing PC Leroy Logan: "I just really believed in the goal. To shine a light on stories that haven't been told before, that are kind of missing from the history books of film. I was just honestly excited by his expression about his experience growing up, the types of stories from the other films as well. I signed on to his creative vision."
Shaun Parkes plays Frank Critchlow, owner of the Mangrove Cafe in Mangrove, a role that earned him a BAFTA nomination. He described the audition to Backstage: "The thing about auditions is that these days, everybody's having to put themselves on tape. But this was a live audition. And what I loved about it was that Steve McQueen was there – it wasn't someone's assistant. He cares – he wrote it, so he has a horse in the race. And that brings another level of attention to detail in the audition. I love that."
"And he actually filmed the audition on film as opposed to digital. What was great about Steve is that he wants you to be an actor, meaning he wants you to do well – he really wants you to nail it.
Letitia Wright, who plays a British Black Power activist in Mangrove, was hired for Small Axe before she exploded onto the scene in Black Panther. McQueen didn't ask her to audition, relying on the chats the two shared. Talking to the Hollywood Reporter, Wright recalled being unnerved by it: "It threw me off because, with myself and John, we go through this process of people always trying to make us prove ourselves time and time again. You hardly are given the opportunity to play characters like this. Hardly, hardly, hardly. You have to fight and scrape and grit your teeth for words to come out your mouth like this as an actress, as a Black actress. So when Steve said to me, 'Tish, you need to trust that I know you can do this,' that fuelled me."
As well as in front of the camera, McQueen has pushed for true representation behind the scenes, focusing on finding Black production staff. He told Sight & Sound magazine it wasn't easy: "Oh blimey, that was a job! The fact that Black people in this country feel that there's no space for them in the British film industry is a problem. We had four Black heads of department, and then when we moved to Wolverhampton… there was no one. I said: 'We've got to do something about this, this is not on. In Wolverhampton, there's no Black people interested in film?' We got one spark, one technician. It was because people don't feel welcome, and it's just not good enough. I had to make a film, so you do as best you can, but it's one of those things where, how can I feel comfortable making something like this without a Black crew?"
Talking to The Hollywood Reporter, Boyega says he really noticed and appreciated having black crew members: "With my acting career and with my earned privilege, I'm just trying to use that to expand the opportunity, much like what we experienced with coming on set [on Small Axe]. We were really shocked to be surrounded by Black individuals, people that otherwise I would never see on a film set."
Wright agreed: "It felt just beautiful to be on set and the lingo of Trinidadians, Jamaicans, just flowing and you know exactly what they're saying. You don't have to go get a little dictionary. You just know it. You feel it. It's in the food. It's in the way we walk. It's in the way we talk to each other. The way we would suck our teeth. Whatever it is, it was us, and we were unapologetically Black on our set and it was beautiful. Everything that you were born with just comes out and everybody on set gets you, feels you."
Antiguan Cinematographer Shabier Kirchner shot all five films of the anthology between June and October 2019. Each story was shot using a different format – digital formats on one, and 16mm and 35mm film on another – meaning each episode of the anthology had its own feel and look. For the second film of the series, Lovers Rock, set in a house party, Kirchner shot on an ARRI Alexa so he could record long takes, and he lit the scene unobtrusively so the actors could move around freely.
With McQueen and Kirchner both known for cinema, it's perhaps surprising that Small Axe wasn't made specifically for the big screen, but Kirchner explained to Sight and Sound that there was a simple explanation for that choice: "When you ask Steve why he made Small Axe for television, he says it's because he wanted his mum to see it. He wants her to switch on the BBC and see our stories there on the screen in the living room. That is something that Black people got robbed of the chance of seeing."
The five episodes of Small Axe were shot in the order viewers have seen them released, and McQueen asks for his audience to watch them in release order, too, telling Rolling Stone: "Mangrove had to be first, then Lovers Rock. I wanted the optimism of Education [at the end]. I grew up with albums, so it's important for me to place what's first, second, and third. Of course, in this new day and age, people can choose what I want to watch, how I want to watch, when I want to watch, regardless of that. But it was very important to curate them in this manner."
Although made for TV, Small Axe actually made its debut on the big screen at the New York Film festival in September 2020. Two episodes, Mangrove and Red, White and Blue debuted at the London Film Festival a month later. Reviews were almost universally positive: Variety called it "an auspicious game-changer," the Guardian said it was a "triumph," and the Hollywood Reporter called it "ravishing."
Awards followed. Small Axe won six BAFTAS this year, including awards for Shabier Kirchner's photography, the Best Supporting actor prize for Malachi Kirby, and recognition for Helen Scott's Production Design. John Boyega also won a Golden Globe for his performance and the whole anthology won Best Limited Series or Television Film.
McQueen is back with the BBC, working on two documentaries about the Black Power movement and what has been described as "one of the biggest scandals in the history of British education" – the 'educationally subnormal' schools of the 60s and 70s which feature in Small Axe's Education. He'll also create a three-part documentary series, Uprising, covering three seminal events of 1981 that changed race relations in the UK.
Other Straight to Series: