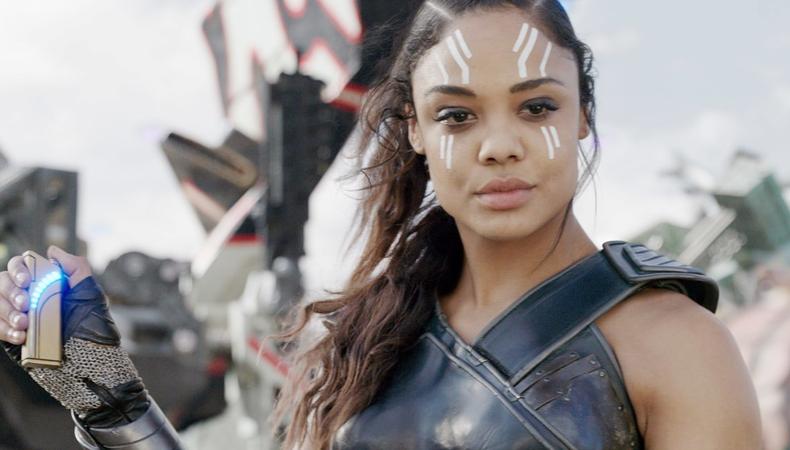 Hello, and welcome back to our roundup of industry-wide news. From stage to screens big and small, we've got you covered. It's everything you need to know and all you can't afford to miss.
Kit Harington: A gay superhero—when's it going to happen?
Game of Thrones' Kit Harington has criticised Marvel for not representing gay people within the brand's many film franchises. The actor, best known for playing Jon Snow on the HBO fantasy series, told Variety that gay and queer actors should be playing superheroes: "There's a big problem, I think, with the idea that masculinity and homosexuality can't somehow go hand in hand—that we can't have someone in a Marvel movie who's gay in real life and plays some superhero...When is that going to happen?"
Harington was joined by director Xavier Dolan and co-stars Emily Hampshire and Thandie Newton to promote upcoming film The Death and Life of John F. Donovan.
Newton used professional sports as an example of positive change for LGBT+ people, saying: "It is changing, but we have to get behind those changes and keep pushing." Marvel has come under fire in the past for not casting gay actors, and the Marvel Cinematic Universe has also seen criticism for not having any explicitly LGBT+ characters. In June this year, Marvel Studios president Kevin Feige confirmed that an LGBT+ superhero was in the works but declined to provide any details. Also this year, Ant-Man and the Wasp producer Stephen Broussard addressed the "frustration" over the lack of representation in Marvel movies, saying: "It is happening behind the scenes, you're going to be seeing that more and more." Harington's comments were welcomed on social media, with ShortList's Chris Mandle saying: "Speaking candidly about the lack of out actors in Marvel films is a refreshing example of a straight actor using their platform to advocate for the LGBTQ community."
#YesOrNo campaign gathers momentum
Some of the best-known commercial theatre producers have pledged to give every actor that auditions for their productions a "yes or no" response. Cameron Mackintosh and Sonia Friedman are amongst the names who have signed up to actor and campaigner Danny Lee Wynter's #YesOrNo initiative, launched on social media earlier this year. Others include Ambassador Theatre Group and Nimas Theatre's co-owner, Nica Burns.
The Stage approached a selection of commercial producers and casting directors for their views on the issue, hearing that Nica Burns was "surprised a campaign was needed", before adding: "Of course, actors should be told whether they have a part or not once casting is completed." Paul Wooller, head of casting for Cameron Mackintosh, told the Stage: "Although their casting department may not always be able to provide a quick response," the company would at least be giving a definitive answer.
Wynter welcomed those commercial producers who made the commitment, saying: "Their pledge helps set the bar for what has long been an industry wrong, an inaction performers have had to capitulate and accept for fear of biting the hand that feeds them."
History in the making with West End job share
A performer in West End musical 42nd Street has become the first person to take a role on a job-share basis. Hailed as a "landmark moment" by campaign group Parents in Performing Arts, ensemble performer Charlene Ford returned to work after maternity leave, and now appears in three out of the eight weekly shows.
Ford told the Stage that the show's producers had initially responded with a "flat no" but eventually agreed for her to share the role with her former maternity cover. PIPA co-founder Cassie Raine told the Stage: "This is a landmark moment for the theatre industry. It is a great sign of progress that a performer is empowered to negotiate for a solution that enables her to continue working while raising a family."
Manchester Theatre Awards discontinued
The Manchester Theatre Awards have been discontinued after 37 years, with organisers blaming the loss of advertising revenue from local venues.
The annual awards were founded in 1981 to celebrate theatre in the Greater Manchester area and were judged by a voluntary panel of reviewers. The panel also publishes reviews online throughout the year, which will continue despite the awards ending.
The last awards took place in March 2018, with recent winners including Julie Hesmondhalgh and Sheridan Smith. A spokesperson from the awards said: "We are naturally disappointed that the city's annual Oscars for its theatrical output—everything from major venues to fringe and studio-sized productions—will no longer enjoy an annual prize-giving. We thank the theatres for their generous support in the past and to the panellists and youth panellists for all the time and effort they have given voluntarily in order to make the awards such a success."
Screen production news
Although the star-studded His Dark Materials is reportedly one of the most expensive series ever commissioned by the BBC, bosses are excited by the adaptation so far and have ordered a second series. The first of Philip Pullman's three novels has been written up for the screen by Jack Thorne (Harry Potter and the Cursed Child) and is currently filming in Wales.
Last week Empire confirmed that the show has scored eight more episodes, though series one is yet to confirm a broadcast date. Tom Hooper, Jamie Childs, Dawn Shadforth and Otto Bathurst are directing the initial series. Casting for the new episodes is ongoing and casting director Kahleen Crawford is attached.
Stage production news
Andrew Lloyd Webber revealed last week that he's planning a musical based on Cinderella. The composer told the Hollywood Reporter the fairytale will be given a "modern twist" with a collaboration between Emerald Fennell and Tom MacRae—recently celebrated in the West End for the book and lyrics for Everybody's Talking About Jamie. Lloyd Webber said that the two "young writers, whose combined ages add up to up to less than mine," have remade Cinderella into a "completely modern, feisty girl," adding: "Every piece of the story is followed, but it will be turned around so it's not at all what you expect it to be."
Lloyd Webber will be working on the Cinderella project alongside shooting the big screen version of Cats this November, with a score for the new musical expected to be complete at the end of the year. It's likely to be produced for the stage by his Really Useful Group and cast by David Grindrod.
Read more here.

The Royal Shakespeare Company has announced the formation of a 27-strong rep company that reflects the UK "in terms of gender, ethnicity, regionality and disability." The company are to perform as part of the RSC's 2019 summer season which includes As You Like It, The Taming of the Shrew and Measure for Measure. The season will tour in repertoire to six venues following initial runs at the Royal Shakespeare Theatre. Meanwhile, the RSC's Stratford-upon-Avon home is to be "reconfigured" for the season, with artistic director Gregory Doran saying the new setup will offer a fresh perspective on the plays, and will show the work of the company "in a completely new way." Doran will direct Measure for Measure, Kimberley Sykes takes on As You Like It and Justin Audibert directs The Taming of the Shrew.
Read more here.