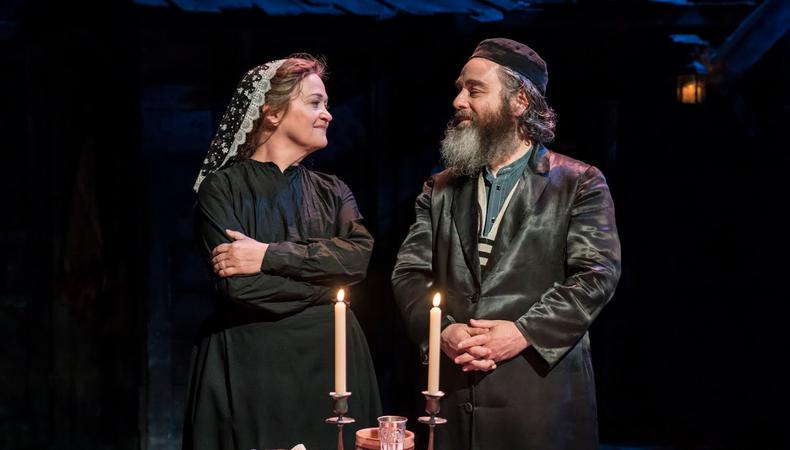 The idea of bringing theatre to people's homes during the pandemic has largely manifested in the form of digitally streamed productions. But husband-and-wife actors Maria Friedman and Adrian Der Gregorian have taken the concept a step further.
They have launched a company, Doorstep Productions, offering people the opportunity to book West End actors and musicians to perform – as the name implies – on their doorsteps, driveways, and streets. So, if you've ever dreamed of having an actual cast member from The Book of Mormon ring your doorbell and say "hello," this is your chance.
Friedman says the idea was born when they – like so many actors – were "hurled out of work overnight" when the lockdown came in back in March. Der Gregorian was about to go to Broadway in the transfer of Cyrano de Bergerac, while Friedman was rehearsing to play Judith Bliss in a revival of Hay Fever.
Looking for your next stage or screen role? Check out our UK castings
"Our skills are not transferable – what we do we've trained for all our lives, so the shutdown left us with nothing. I watched a lot of people having to leave London, get into debt, and be absolutely terrified for their livelihoods."
To flex their creative muscles, a few weeks ago they decided to go Christmas carol singing, and got in touch with a professional costume designer to kit them out. "Suddenly we thought: if we can do carol singing, we can do anything", says Friedman. "After all, everything is delivered these days, so why not West End theatre?"
They approached producers including Andrew Lloyd Webber, Cameron Mackintosh and Sonia Friedman (Maria's sister), who all lent their support. And before long, they had signed up a veritable army of fellow professionals to join them.
"Pretty much every one of our creative team is an Olivier winner," says Friedman. "Last week, we had a performance that included the Dreamgirls, Enjolras from Les Mis, Christine and Raoul from Phantom, Burt from Mary Poppins and a Mormon. It was beautiful and deeply moving, even though it was pouring with rain."
Not every doorstep production is on this scale – clients can book anything from a single performer upwards. Prices start at around £250, which Friedman points out is equivalent to taking your family to a West End theatre. They've already had over 80 enquiries, and demand doesn't look like letting up anytime soon.
Friedman is no stranger to success. A three-time Olivier winner as a musical theatre performer, she has also directed acclaimed productions including Stephen Sondheim's Merrily We Roll Along and Cole Porter's High Society. But like many, she and her husband have found the last few months a struggle. Der Gregorian has gone from performing in the West End to running deliveries – Friedman herself says she is fortunate that she had work lined up as a director on a PS5 game.
How to Find Work in Video Games in the UK
Their hope is that Doorstep Productions will provide not just a way of helping fellow actors and creatives financially (as well as paying fees, money is also being donated to charities that support theatre workers), but to flex their artistic muscles.
"There is something about live performance, seeing the whites of people's eyes, that is irreplaceable," says Friedman. "I'm not particularly sentimental about things but when I heard two of the Dreamgirls singing a duet, I sobbed out loud. Both of them have gone from being principals in the West End to serving coffee and delivering pizzas."
Performances are available across the UK, so if you're looking for a special theatrical gift this Christmas, this could be just the thing. And could this be a viable model for theatre beyond the pandemic? "It's certainly possible. If I'd said a year ago that West End performers would go out in the rain to perform on people's doorsteps I would have been taken off by someone in a white coat. But now, who knows."
For more info visit doorstepproductions.com