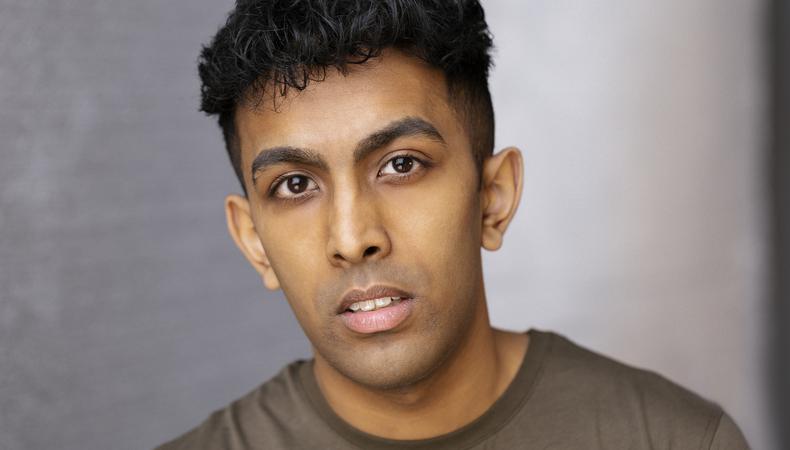 Actor Suraj Shah is founder of the B.A.M.E. General Open Auditions, an event that allows less-represented actors to access industry professionals like casting directors, agents, and writers. Backstage sat down with Shah to hear about the showcase's aims and how it came about.
Before Suraj Shah started training as an actor, he had no idea the entertainment industry had such a diversity problem. Falling in love with performing while growing up in Leicester, it had taken some convincing to get his parents on side.
"Coming from an Asian background, it was difficult because I had to balance what I wanted with what my parents wanted. At college, I did acting, music, dance, and business. And business was for my parents, obviously."
His mother relented after watching her son on Britain's Got Talent, but Shah had broken through one barrier only to find another, bigger one in front of him. On starting his foundation degree in Birmingham, a city more ethnically diverse than London, Shah says: "It hit me – there was no diversity in the people who taught or went there. And once I started really seeing theatre, I saw how much of an issue this was across the industry."
Setting up a new kind of showcase
That's where Shah's push for an industry that actually reflects the country began. And what started as a Twitter account transformed into running workshops with Cameron Mackintosh's casting team and a yearly showcase of ethnically diverse talent in front of the UK's biggest casting directors. Now studying at Mountview, Shah is in the process of setting up the second showcase, an edition which has been forced online because of the pandemic, but which still has casting directors, writers, directors, and producers clamouring to be on the panel. He takes us back to where the showcase began:
"The Twitter account had started to get followers and turn into a bit more of a movement. I wanted to start conversations about the industry and what needed to change. I was fed up talking about it; I wanted to do something practical, something where people could actually benefit from these conversations. I put a request on Twitter asking if anyone was interested in a showcase and a lot of agents and casting directors (CDs) said they would be on board. And I knew that now this was out there I had to do it." From there, with the support of agent Jilly Moore, the showcase went from late-night tweet to a reality.
Drama school is not the only way in
But when confronting the lack of diversity in performer training, why respond with a showcase for working actors? Shah counters that while training is important, drama school is not the only way: "I wanted to skip the process of waiting. Lots of my friends who are working didn't go to drama school and I wanted to highlight the people that, for whatever reason, aren't being let into the room. Not only because CDs don't see them but because producers don't think of them and so they just don't get seen for jobs. I wanted to create a day where the industry has no excuse to not see the people with talent, whatever their background."
Shah is also clear that talent has to shine through. Actors must audition for the showcase and although the day is packed, only the best get through. "Just because you've got melanin in your skin, it doesn't make you a good actor. You've got to have talent, you've got to be good. I want to show people who are just as good as the people already cast in shows that are completely whitewashed."
A demonstrable impact
One of those who got through and waited nervously in the theatre bar last year was actor Martin Edwards. Unhappy with his agent and feeling like he wasn't getting the opportunities he deserved, he found the event on Twitter, auditioned, and was picked to take part: "Following the showcase, I had meetings with three different agencies and was lucky enough to be offered representation by two of them. I signed with BBA and since then, I've secured my first TV role (EastEnders) and my first major commercial (The Co-Op's Christmas marketing campaign in 2019), not to mention my first audition for the National Theatre and the Globe."
And it's not just Edwards. Shah is modest when asked about the impact of last year's event but he reveals that "there were a lot of people who gained representation from agents." He adds: "A lot of CDs took headshots away with them. People were genuinely interested in these actors."
Even as the first event was taking place, agents and CDs wanted another. Casting director Shakyra Dowling attended in 2019 and is now coming back for more. Dowling leapt at the chance to be on the panel because she's "always interested in seeing undiscovered artists from under-represented communities. I've auditioned several artists from the showcase and one or two have got the job."
While this year's online edition is going to be a different experience, Shah sees a silver lining: "At the start of lockdown, I thought: 'I'm not going to be able to do this.' But it's simple – actors will record an intro, a monologue, and a song if they want, and we send those links out to the panel. And now it's more accessible, there's people taking part that otherwise couldn't. This year we have Louise Kiely, the casting director for Normal People. Where before it would be difficult for her to travel to London, now she can take part. So, it's worked out. And anyway, I was never going to let a pandemic stop me!"
The future
But despite its popularity, Shah doesn't want to do this forever: "It's good that people are talking about it and it becomes an important date for the industry. It shouldn't be me saying 'please come.' But I want to see the day that I don't have to run events like this. That's when equality is here, when equity has come about in the industry."
This year, Shah is taking his next steps to achieve that by broadening who sits on the panel. "We've invited writers this year, because although CDs and agents are important, it's more important to have directors, writers, and producers from different backgrounds. The people who make the stories and make the decisions to bring certain stories to films or theatres. Without those stories being more diverse, people like me are less likely to be cast."
Until then, Shah is going to keep on challenging the industry with talent they can't turn down. And the success of the showcase proves what he feels so strongly – that we should already be casting without stereotypes: "It shouldn't be exceptional to see a brown person playing a prince or princess, or whatever. The day it's just normal to see melanin on screens and stages is the day when that's happened, finally."