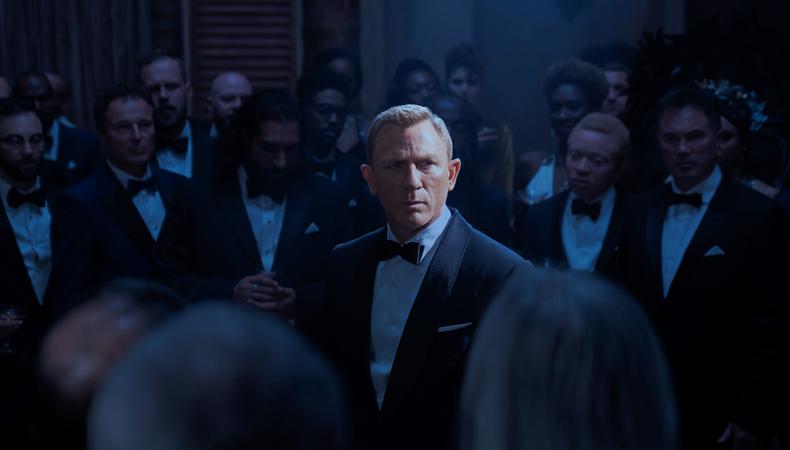 Might 2021 be the year UK film and television emerged from one of its darkest periods into a new golden age? That's the hope among people working in the industries—and increasingly, it's backed up by the reality on the ground.
Recent British Film Institute statistics show that the total spend from 300 film and high-end television (HETV) productions in the UK for the first half of 2021 (January–June) was £3.6 billion. That's the highest combined film and HETV spend BFI quarterly official statistics have on record, and clearly a cause for optimism.
However, the impact of the pandemic on our industry can't be sugar-coated. Cinemas closed, productions shut down, and people across the industry worried about making ends meet. Producers chose to premiere big titles like Black Widow via on-demand portals rather than in cinemas, and there were gloomy predictions of the death of the big screen experience. After a hellish 2020 for many, the green shoots of recovery are starting to show. Cinemas are open, productions are back on track (albeit with new safety protocols in place) and, most importantly, there is work to be had.
Amazon Rings in a New Chapter
In a major vote of confidence in British crews and talent, Amazon recently announced that their new mega TV series based on Lord of the Rings will move production of its second season from New Zealand to the UK. Speaking at the Edinburgh TV Festival in August, Amazon Originals European boss Georgia Brown heralded the move as "fantastic" news, adding: "We've talked a lot about investing into the UK infrastructure and it cements our place here. Will continue to invest heavily. I'm overjoyed the production is coming here."
"International media companies have always been attracted by the heady combination of tax breaks and the depth and creativity of British talent, and it seems COVID isn't going to stop that"
Lord of the Rings has been commissioned for multiple series and joins other big UK Amazon titles such as Neil Gaiman's Anansi Boys and Season 2 of Good Omens, as well as the streamer's big-bucks adaptation of Naomi Alderman's The Power. International media companies have always been attracted by the heady combination of tax breaks and the depth and creativity of British talent, and it seems COVID-19 isn't going to stop that—particularly when the UK is one of the leaders in on-set safety protocols.
The Chief Executive of the British Film Commission Adrian Wootton OBE called the detailed measures the industry and the government had put into place "the most comprehensive, extensively consulted on COVID-19 recovery production guidance in the world." He added that the package of on-set safety protocols is "a vital step to getting our world-class film and high-end TV sector back up and running, giving the world confidence we have the most rigorous safety measures in place, and signalling that our sector is ready to return to full strength."
"An exceptional growth period"
In perhaps the surest sign that the British film and TV industry is recovering, demand for UK studio space is very much on the increase. Netflix recently took out a long-term lease on the northern side of Surrey's Longcross Studios, adding to its already-announced production hub at Shepperton and its long-term relationship with the Pinewood Group. Netflix hits such as The Crown, The Witcher, Bridgerton, and Sex Education are all made here, and the streamer has committed to spending $1bn on UK production in 2021 alone.
According to UK property consultancy Lambert Smith Hampton, 2.3million square foot of new studio space will be needed by 2033 to meet the surge in demand for production space.
As a result, new studios are springing up everywhere. Dagenham's Eastbrook Studios, opening in 2023, will be London's largest film and television production centre, while the historic Bray Studios in Windsor is being revived. And expansions of existing complexes are taking place across the UK including The Bottle Yard Studios (Bristol), Space Studios Manchester, Seren Studios (Wales), Belfast Harbour Studios and others.
Adrian Wootton says this is evidence that the UK's film and TV industry is experiencing "an exceptional growth period, generating billions of pounds of investment into the UK economy and creating hundreds of jobs with long-term career prospects." He adds: "The demand for content has never been greater and we need to make sure we build the space and provide the talents and skills needed to keep this demand curve rising."
Another barometer of the state of the UK film industry is the annual London Film Festival (LFF), which just wrapped in the capital. The LFF's Director Tricia Tuttle recently told Backstage that although the pandemic has been hard, she's hopeful about the future for cinema. "Obviously right now we're in a moment of crisis, the economic hit to exhibition in particular but the whole film industry more generally is enormous. It's going to take a long time to recover, and it's astounding that more cinemas haven't closed… But [ticket sales] are going up little by little, and the more work there is to programme, the more cinemas will see audiences go back."
She continued, "The cinema industry is wringing its hands but you have to remember that in 2019 it made more money than it did two decades ago, so I think this is a blip."
That feeling of cautious optimism is backed up by the stats. According to the Cinema Advertising Association, UK cinema attendances at the beginning of 2020 were already strong. Over 16.5 million of us went to the cinema in January 2020, up 20.4% over 2019. This year isn't looking bad either. Audiences are coming back and for that, the industry—just like M and Q before—owe a debt of gratitude to a certain Mr Bond.
Can 007 save UK cinema?
The 25th Bond film, No Time to Die, finally made it onto big screens earlier this month after its release was put back three times due to the pandemic. There had been rumours that cinema's suavest secret agent might retreat to streaming services but producers Eon Productions stuck it out and it seems their decision has been vindicated.
Daniel Craig's final outing as 007 has smashed UK box office records. It made more on its opening weekend than any previous Craig-led Bond film and became the biggest film of the year after only four days in British cinemas, raking in £21m. Plus in the 54 global markets where the film launched, it made £88m in its first week.
Phil Clapp of the UK Cinema Association, which represents British cinema operators, says: "There's no doubt given the last 18 months that No Time to Die was particularly important in driving audiences back to the big screen, not least those occasional and/or older audiences who may not have returned since cinemas re-opened. That said the numbers – almost £33m at the UK box office in its first week – have been extraordinary."
He's also hopeful that the cinema industry has more to look forward to. "The health of the sector will depend on much more than one film, no matter how successful. Luckily we have a very strong and diverse slate to look forward to over the coming weeks and months. Indeed one of the consequences of the lockdown – and the decision of the major US studios to postpone the vast majority of their titles until cinemas opened – is that we are now looking forward to essentially three years of films in 18 months." Great news for audiences desperate to get back to the pictures, and even better news for crew and cast eager to work.
So despite the hell of the pandemic (and we are not making any assertions that it is over), it seems the British Film and HETV industry is in pretty good shape all things considered. Productions are back on track and audiences want to return to cinemas. It may take time to get back to where we were but it seems things are moving in the right direction.