Welcome to Straight to Series, where Backstage takes a deep dive into how some of our era's most celebrated TV shows got made – and how you can make one, too.
Currently filming its fifth season, The Crown is a big, sumptuous Netflix drama about the trials and tribulations of the long reign of Queen Elizabeth II. Starting from her marriage to Prince Phillip in 1947, and through her Coronation, The Crown will go on to cover events up to the early 21st century, ending with its sixth season.
One of the notable things about the series is its regular recasting of the central roles. Each cast plays Elizabeth, Phillip, Charles, Margaret and the rest for just two series, after which they're recast to more accurately reflect the main players' ages in different time periods. Claire Foy played the Queen for the first two seasons as a young woman, then Olivia Colman took over; and in the last two seasons of the show, Imelda Staunton takes on the matriarch's crown.
The show mainly tackles how the Queen deals with historical events, and how she is torn between family issues and her duty as the British monarch. There has been some controversy as to the historical accuracy of the drama, but The Crown has been well-received, both critically and by audiences; and figures released in 2020 showed a whopping 73 million households worldwide had watched it since it began in 2016. From its inception, it was clear The Crown was a bona fide Netflix global hit.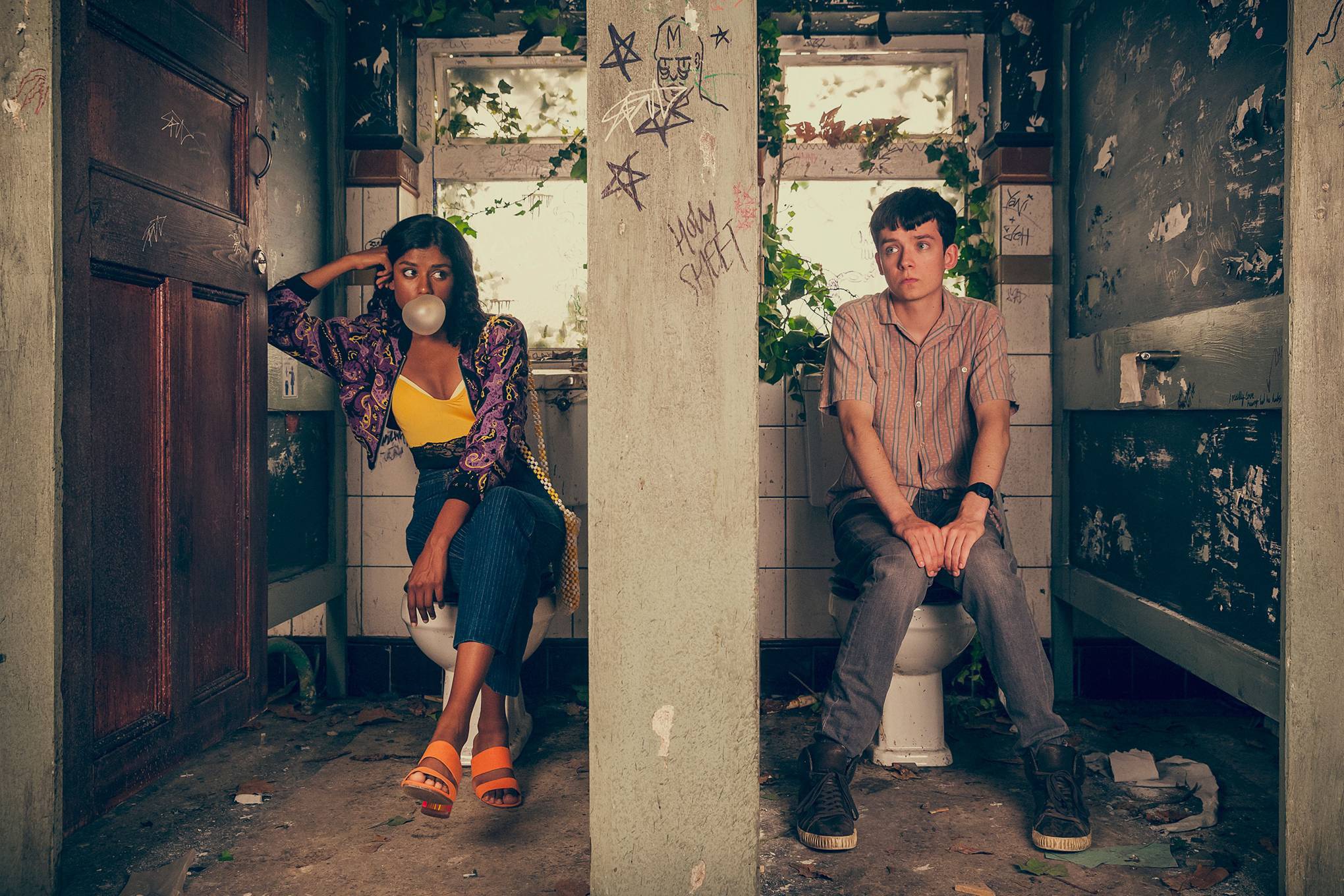 How 'Sex Education' Got Made
Writer and showrunner Peter Morgan is the main creative behind The Crown. A well-established screenwriter and playwright, Morgan made his name with plays and films taking on contemporary British history – well before The Crown was conceived, he'd already written The Queen starring Helen Mirren, The Audience (covering the Queen's weekly meetings with her Prime Ministers), and the award-winning Frost/Nixon – so it's fair to say he had a good track record and people want to work with him.
Morgan got the idea for The Crown while working on The Audience. He'd become fascinated about the relationship between the young, naive Queen Elizebeth and her first prime minister (PM), Winston Churchill.
Initially, he imagined the story as a two-hour film, but as the idea took off, it developed into a much larger project. Intricate research – which still continues today – was conducted into the history of the period, and Morgan began to write.
To produce his new series, Morgan teamed up with Left Bank Pictures and Sony Pictures Television. Left Bank was led by producer Andy Harries, who Morgan had worked with on The Queen and other TV dramas. The pair's relationship goes back decades – Harries told the Royal Television Society (RTS): "Any relationship that lasts more than 30 years has its emotional ups and downs. We have grown up together and achieved amazing things. We don't always see eye to eye – that's not surprising – but our relationship is underpinned by deep love and respect for each other. He was the best godfather to my twin boys."
Morgan and Left Bank envisioned a multi-season narrative arc, introducing a new cast for every period of her life. However, Morgan was far from certain it would all get made, confiding to the Hollywood Reporter: "I don't want you to think that I was audacious enough to go somewhere and ask for a six-season pitch. I really never imagined that, and barely imagined it getting recommissioned to even do the middle-aged… part. But it just seems to have worked out."
According to Harries, both the BBC and ITV had expressed an interest in commissioning the show, but in the end it was streaming giant Netflix that signed up, partly to help roll out its services in English-speaking countries around the world.
Harries told the RTS about that initial meeting in Hollywood: "The two key things in selling are: always try and get in on any new channels being set up; and always make sure the decision-makers are in the room. In the room at Netflix, we had Ted Sarandos [Netflix CEO] and Cindy Holland [Netflix former VP of content]. They bought 20 hours of The Crown.… We'd pitched it to both ITV and the BBC. They'd each expressed huge interest. In a sense, I had them in the bag if I needed them. Before we saw Netflix, we'd had meetings with HBO, Showtime, and Fox. They were all good meetings. Netflix was the last meeting and we were feeling a little gung-ho.… I think they'd already decided to buy it before we went into the room. They'd read the script and knew the talent we had on board."
Award-winning director Stephen Daldry was hired for the first season. He had nothing but praise for the global streamer's involvement, telling BAFTA: "They said 'yes' and got out of the way." Morgan says he thinks their hands-off attitude may be down to the story's Britishness, telling the RTS: "If we were writing about something that was set in their culture… We can just go all English on them (laughter) and they'll just shut up."
Claire Foy was the first of The Crown's queens to be cast. A few years earlier, casting director Nina Gold had cast her as Anne Boleyn in the BBC's Wolf Hall, but had actually been tracking the actor's work since drama school.
Talking to the Insider, Gold said it was Foy's commitment to playing Elizabeth that really set her apart: "The audition process had a hilarious culmination with her coming to finally test. After a few other auditions, Foy was in the full regalia with tiara, long gloves, and gown. And it's worth noting that she was six months pregnant with a lovely, huge belly. But all of us completely ignored that bit."
It was also memorable for Foy, who told W Magazine: "It was getting more and more ridiculous the more pregnant I got, going in for these auditions pretending to be the Queen of England. It was just really surreal." You can read how Foy prepares for auditions here.
Talking to Backstage, Peter Morgan said Claire Foy's casting was key to The Crown's success: "Out of the nine people who carried [the Queen's] train during the coronation, four of them are still alive. And I've spoken to them all. All of them think that Claire Foy is just sensational," he explains. "They are responding to the extraordinary complexity that Claire brings to a person who is shy by nature, and not five-dimensional. [Queen Elizabeth II] is a remarkably straightforward, uncomplicated woman in a very complicated predicament. Claire manages to do what almost none of the other actors we saw in auditions could do: She dared to be still."
The Guardian described casting director Gold as a benevolent pickpocket: "You walk in and you have a pocketful of what you think are brilliant ideas," she said. "By the time you leave you have none of those ideas anymore, and your pockets have been replaced with other stuff which you then find out is inevitably better." The Crown's cast was rounded out with Matt Smith as Phillip, John Lithgow as Churchill, and relative newbie Vanessa Kirby as Margaret (who Gold initially cast in another role).
Following the success of Seasons 1 and 2 of The Crown, it was perhaps inevitable that the next iteration of royals would be a bit more starry. Fresh off her Oscar success, Olivia Colman took over as the Queen from Foy, Tobias Menzies played Phillip, Helena Bonham Carter was Margaret, and Josh O'Connor as Prince Charles. That said, the star of the show was arguably the young unknown cast as Diana, 25-year-old Emma Corrin.
Corrin told Backstage she'd set her sights on The Crown, describing it to her agent at their very first meeting as her 'dream job': "We talked about how that might be a fit for me," the actor remembers. "But in a way, that seemed very distant at the time and an unreachable goal."
Corrin actually started her Crown journey by being a reader – someone brought in to act opposite other actors auditioning for the role of Camilla, including eventual choice Emerald Fennell. Her top tip for those at the start of their career: "If you're asked to read for something, if you're asked to help out, prepare! You might as well. You never know what's going to happen and the people you'll meet."
Speaking to the BBC about Corrin's casting, Nina Gold said: "We had met her for a small role in something else, and were struck with how good she'd be for Lady Diana. So, then we put her through a rigorous audition process and met a lot of other, also really interesting, contenders, and in the end she got the part."
As for the last ensemble to play the royals – the stature of the names involved suggests it's doubtful there were auditions, but rather offers made. Imelda Staunton, when cast as the Queen, said in a statement: "I am genuinely honoured to be joining such an exceptional creative team and to be taking The Crown to its conclusion."
Olivia Colman wasn't quite as regal, declaring at a press conference: "No one's going to remember us after that. God, it's amazing. I mean, almost, I wish she wasn't quite as good. … If she calls me, I'll be so excited. But then what would you say to Imelda Staunton? 'Uh, good luck. The wig's itchy.' "
At time of writing, it's also rumoured that the Hot Priest himself, Andrew Scott, is in talks to play Tony Blair. It's thought the show will cover the Queen's tussle with the PM over the handling of Diana's death. The new Diana will be played by Night Manager star Elizabeth Debicki.
Jessica Hobbs, one of The Crown's directors, told Backstage about working with Peter Morgan: "Peter's great skill as a writer and show creator is he takes huge macro themes and puts them into personal journeys. I thought he had some very profound things to say about humanity that I was really interested in." She added that Morgan encouraged her to think big: "Peter said, 'I want you to treat them as films. I don't want you to think they have to be what anyone else is doing' "
Cinematographer Adriano Goldman told Backstage about working on The Crown: "The philosophy is that less is more. We want to be absolutely sure that every shot looks and feels like a dedicated shot. We have an Oscar-winning production designer, we have the best costume designers in this country, we have the best first ADs you can find in the UK."
That sense of ambition is one of The Crown's hallmarks, and is enabled in part by the big budgets the filmmakers get to work with. It's thought The Crown is one of the most expensive TV dramas ever made. When it launched in 2017, Netflix committed an estimated £93m ($130m) over two seasons, and it showed up on screen with a feast of lavish sets, worldwide locations, and a cast of classy (read expensive) British thespians.
It's been reported that the nine-minute wedding scene of Elizabeth and Phillip in Season 1 took five days to shoot. Producers used Ely Cathedral, and Claire Foy's dress replica dress apparently cost a mere £26,000 ($37,000). Elsewhere, Buckingham Palace was replicated using studio sets, Greenwich Naval College, Goldsmiths Hall, Lancaster House and lots of CGI. Yes, The Crown has a big budget but arguably, viewers get to see it in every frame.
Talking at a BAFTA masterclass, Peter Morgan insisted the numbers had been exaggerated: "There's no way any of us are going to plead hardship, but none of the rumours of our budget were true." He added that the show had "a perfectly healthy budget."
As writer and showrunner of The Crown, Peter Morgan has a lot on his plate. He told the Hollywood Reporter about how he manages his very tight schedule: "We filmed The Crown in two-season chunks, so we had Claire Foy for two seasons, we've now got Olivia Colman for two seasons. And there was a gap year in there in which I frantically do a draft of all the scripts, and then I rewrite the scripts and polish the scripts after that — but at least we have a roadmap of where we're going for the two seasons. And I said that there was no way that I could possibly do that and be showrunning the seasons if they were in production. You do need a gap year to get ahead with the writing."
Seasons 5 and 6 are currently in production in the UK, with Imelda Staunton, Jonathan Pryce, Leslie Manville, and Dominic West taking over the roles of the Queen, Phillip, Margaret, and Charles.
Season 6 will be The Crown's last, taking it into the early 21st century and no further. Peter Morgan told The Hollywood Reporter he didn't want to get into more recent royal stories: "I'm much more comfortable writing about things that happened at least 20 years ago. I sort of have in my head a 20-year rule. That is enough time and enough distance to really understand something, to understand its role, to understand its position, to understand its relevance. Often, things that appear absolutely wildly important today are instantly forgotten, and other things have a habit of sticking around and proving to be historically very relevant and long-lasting. I don't know where in the scheme of things Prince Andrew or indeed Meghan Markle or Harry will ever appear."
If everything goes to plan, Season 5 of The Crown is due in 2022 (the Queen's Platinum Jubilee year), to be followed by the final series sometime after. It's not known what the end-point of the story will be, although it's been speculated that either the Diamond Jubilee in 2012 or her Golden Jubilee in 2002 would make sense as an ending. Although Peter Morgan has written about the royals and politics for much of his career, he told BAFTA that he'd actually like to do something unexpected: "I yearn to write a heist movie." So, watch this space.
Other Straight to Series: