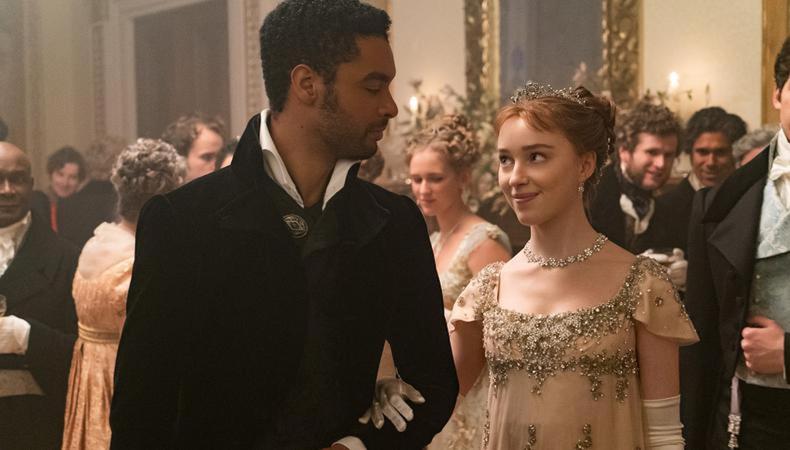 Welcome to Making It, where Backstage takes a (very) deep dive into how some of the most successful television series of this Golden Age got made and, of course, how you can make one, too.
It has been a mere three months since "Bridgerton" made its debut on "Netflix," quickly becoming the diamond of the season—not to mentioned Netflix's "biggest series ever." But the story of how "Bridgerton" got made is one filled with as much shock and awe, drama and laughter, as the show itself. On second thought, that is not surprising given that it is produced by the queen of drama, genre-defining Shonda Rhimes.
Billed as "Jane Austen meets 'Gossip Girl' with maybe '49 Shades [of Grey],' " according to its star Rege-Jean Page, the series has captured the hearts of 82 million households around the world and counting, with its tale of a young woman (played by Phoebe Dynevor) living in Regency England who pretends to fall in love with a rakish duke (played by Page). All's fun in love and war, until Daphne Bridgerton and the Duke of Hastings start catching feelings for each other—for real.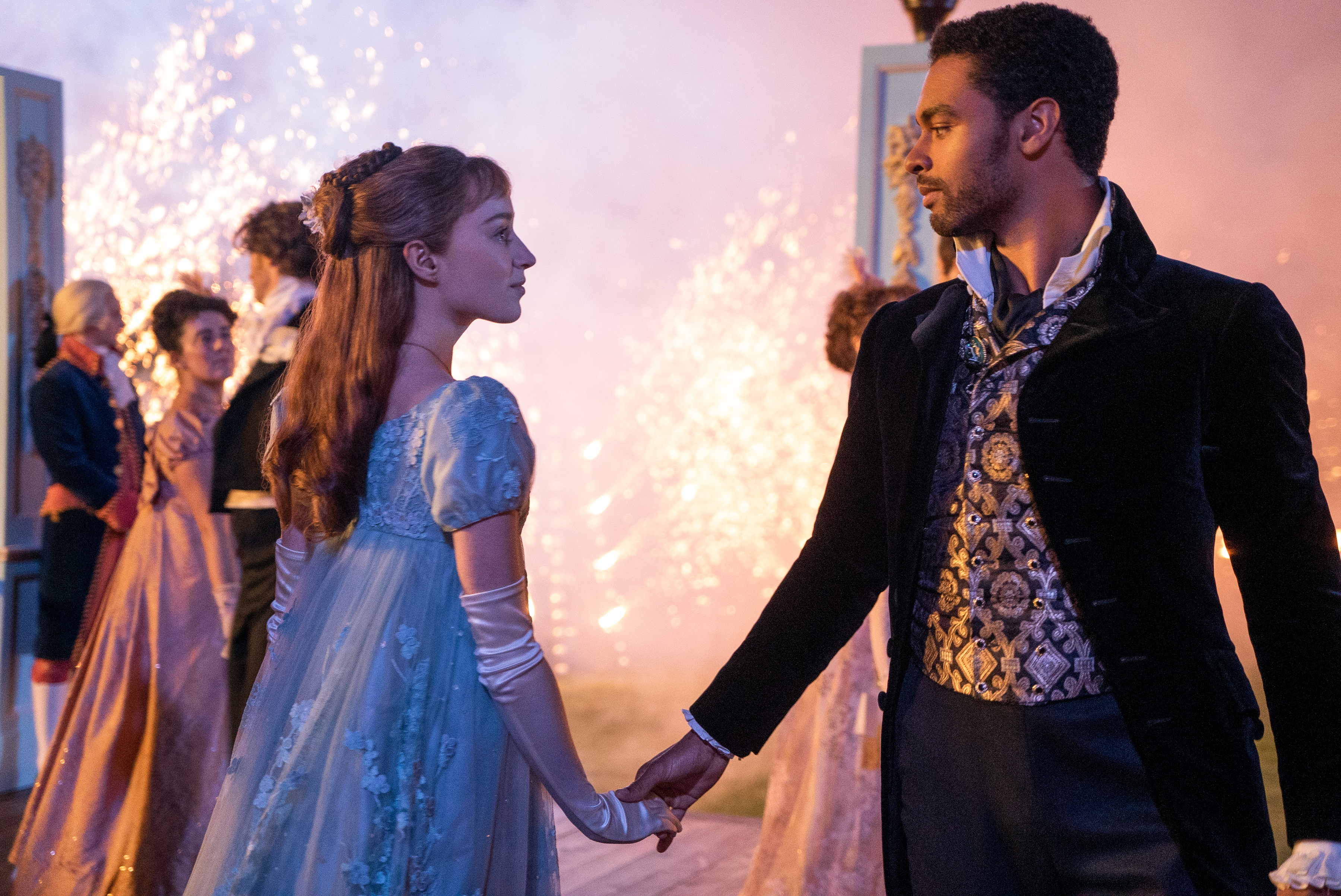 How To Get Cast on 'Bridgerton'
My name is Lady WhistleDiep. And I will leave no stone unturned as I explore how this show, this drama of the first water, got made for Netflix. Now grab a spot of tea and let's begin.
The making of "Bridgerton" began in a similar way to the show: with a scandal (and I'm not talking about Rhimes' television show). The beginnings of "Bridgerton" should be traced all the way back to when Rhimes was still at ABC, her longtime artistic home of 15 years and for whom she created addictive offerings such as "Grey's Anatomy," "Private Practice," "Scandal," and "How to Get Away With Murder."
In 2016, Netflix came courting. Rhimes took a lunch meeting with Netflix's co-CEO Ted Sarandos where she did not mince words.
"I said, 'I just want to be in a place where I can make stuff and no one's going to bother me or make me feel like I'm beholden,' and he was like, 'That sounds great to me,' " Rhymes told The Hollywood Reporter.
At the time, Rhimes' relationship with ABC was on the rocks. She had grown tired of the fast-paced world of network television, and all the restrictions and executive notes around what she could make. "I felt like I was dying," she added. "Like I'd been pushing the same ball up the same hill in the exact same way for a really long time."
Despite the fact that she had made millions for herself and $2 billion for Disney, when it came time in 2017 to renegotiate her contract with the network, Rhimes asked for a hefty sum and the network kept trying to offer her less money.
READ: 'Bridgerton' Star Luke Thompson Has Some Brilliant Advice
The breaking point for Rhimes came at Disneyland (you know, the happiest place on earth). As part of her deal with ABC, she got a pair of all-inclusive passes to the Magic Kingdom. But one day, she wanted another pass, for her sister. She called an executive at the network who allegedly told her, "Don't you have enough?" After Rhimes got off the phone, she called her lawyer and said, according to the Hollywood Reporter, "Figure out a way to get [me] over to Netflix, or [I'll] find new representatives."
Rhimes and her production company Shondaland then signed a $150-million deal with Netflix, to create eight new shows. Rhimes calls this next stage of life: "Shondaland 2.0."
And the first release from Shondaland 2.0? Yup, it's "Bridgerton," based on Julia Quinn's series of Regency romance novels. The books seem to contain the hallmark of a Shondaland show: intrigue, drama, bodice-ripping romance, and beautiful people making passionate speeches. It was also Shondaland's second foray into a period piece. In 2017, Shondaland produced "Still Star Crossed," a sequel to Shakespeare's "Romeo and Juliet." (Sadly, it was cancelled after one season.)
With "Bridgerton" came another opportunity to do a period romance. After all, Rhimes' characters have fallen in love at hospitals, universities, the White House; why couldn't they fall in love at balls?
Rhimes had quickly devoured Julia Quinn's novels, about a well-to-do family navigating the marriage market in 1812 England, during a time when a woman's fortune, her life, depended on marrying well.
"It's fascinating to me that no one has really done it before," Rhimes told the New York Times. "Romance novels really lend themselves to the TV genre. They're visual; they're well-paced; they have great plots."
But when it came to showrunning "Bridgerton," Rhimes didn't want to do it herself. She became the executive producer and handed the keys to the castle to her protege Chris van Dusen, who she first hired as her assistant in 2004. Van Dusen had worked his way up the ranks, first entering the writer's room at "Grey's Anatomy" and then worked on all of Shondaland's shows, including as co-executive producer on "Scandal."
"Bridgerton" is Van Dusen's first foray as a showrunner.. "What I was really struck by was this chance to marry history and fantasy in a really interesting, exciting way," he told Backstage. "I wanted to be able to show this beautiful world of escape, but where you look just beneath the surface and there's this really modern running commentary about how, in the last 200 years, everything has changed, but nothing has changed for both women and men."
He also saw "Bridgerton" as a way to reimagine what a period drama could be. He didn't want to create a mannered, Jane Austen-esque adaptation. "I was going to basically reimagine the Regency time period," he explained. "While I love a period show, I feel like they're also sometimes considered a little traditional and a little conservative. I wanted to make the period show that I've always wanted to see and one that I hadn't necessarily seen before. It was figuring out how to do that and how to infuse this world and tell it in a very modern way."
And one crucial way the "Bridgerton" team put a contemporary spin on the period drama was through casting.
One way that "Bridgerton" was going to feel like the modern day, even though it's set in 19th-century England and its characters wore empire-waist gowns and waistcoats, was if its cast was as diverse as the world viewers actually live in. Diversity in casting is nothing new with Shondaland. And the company had done it in a period drama before with "Still Star Crossed." But while that show went for a colorblind approach, where race was not a factor in the storytelling, Van Dusen and Rhimes wanted the casting to be intentional.
Van Dusen did some research and found that Queen Charlotte, the queen consort of King George III, might have had African ancestry. What if that were true and Queen Charlotte had openly embraced her heritage?
"It made me wonder what that could have looked like," he told the New York Times. "Could she have used her power to elevate other people of color in society? Could she have given them titles and lands and dukedoms?"
So "Bridgerton'' is set in that kind of alternate reality, where Black lords and ladies are acknowledged and treated with equality. Page sums it up as this: "It's not colorblind casting because I don't think it's helpful to put brown skin in the show without putting brown people in the show."
Fittingly, Page was the first role to be cast, as co-lead Simon, the Duke of Hastings. He had been the lead in the Shondaland legal drama "For the People."
"Shonda always wanted Regé [as the Duke]," director Julie Anne Robinson said to Deadline. Robinson directed the pilot and the much-talked-about Episode 6 of the show. "The person I am proudest of casting is Phoebe because we did see a lot of people for that role. I saw her on tape. And I was just taken by her because she is so captivating."
Dynevor was not a household name—and that's exactly what the show's producers wanted.
Said casting director Kelly Valentine Hendry to Backstage: "We were lucky that we didn't require 'names' for the roles so we had a lot of freedom and could bring in anyone we felt suitable. A mixture of ideas, lists, and in-person casting kicked off the process, and then actors were either chosen by our creatives there and then, or we waited and brought most into the studio when we had the creatives in London for recalls."
Dynevor had submitted two audition tapes for two different roles, after which she didn't hear anything for two months. Then, out of the blue, she got a call asking her to meet Van Dusen and producer Betsy Beers.
She went through the scenes with them and then they asked her to do a chemistry read with Page. She was actually the first actor that Page read with and the chemistry was instantaneous. Recalled Dynevor: "In acting sometimes, there's something quite intangible—you can feel the chemistry and I felt that. But as an actor who obviously is fairly used to a lot of nos, you push that aside…the next day I got a call saying, 'It's yours, can you fly out to London in a few days?'"
Said Luke Thompson—who plays Benedict Bridgerton, Daphne's brother—of the auditioning process: "Most auditions work—and don't work—in a similar way. There's no flow. It all gets a bit self-conscious and uncomfortable. The casting director is looking for something else. I do endless takes of the scenes, to try and get it right. It's all oddly unresponsive to pressure or self-flagellation. Mostly it doesn't, but sometimes, it just works. Beyond that, it helps to see it a little less actively, like a chemical reaction to undergo. It reminds me of getting a jab: This might hurt a little... OK, you're done."
Though arguably the biggest casting coup for the show was the legendary Julie Andrews, who voices the, in her words, "naughty" Lady Whistledown, the narrator of the show and the scribe behind the society gossip column that sends the characters into a frenzy.
"She was at the top of our list for Lady Whistledown," said Van Dusen. "We offered her the part, sent her the scripts, not thinking anything would really come of it. But surprisingly she read the scripts and fell in love with them."
Season 1 of "Bridgerton" was filmed in London and Bath. Before shooting, the cast had six weeks of rehearsal time, where they learned how to carry themselves like Regency lords and ladies.
READ: How Couples on 'Bridgerton' + More Found Their Chemistry
"We had to do so many dances throughout the show, so a lot of our time was spent rehearsing the amazing sequences that you see and really trying to get that right," Dynevor recalled. The rehearsals also helped her and Page develop their sizzling chemistry.
And now for the moment you have all been waiting for: How did they rehearse those swoon-worthy love scenes? According to Dynevor, having an intimacy coordinator helped—a lot. It was her first time working with an intimacy director and Dynevor hopes every set that shoots love scenes will have one from this point forward.
"It was my first time working with an intimacy coordinator, and it was a brilliant experience," she said. "I felt so safe. It just really felt like a stunt, you know? You rehearse a stunt so that nobody gets hurt, it looks good, it looks really real, but no one gets injured, and it's very much like that. You're rehearsing it so that everyone feels comfortable and that there's no one that can ever get crossed because you're very specific with what you're doing. And also, it just makes everyone feel comfortable, not just the actress, but the actor, and the crew members. It just makes for a safer space."
As for Page, who admits to Variety that he was shirtless more in "Bridgerton" than he had ever been on-screen, there was some work to make sure his appearance was, um, aesthetically pleasing to viewers.
"I was up at 5 a.m every morning going to the gym, meeting my trainer...for an hour and a half every morning," he said. "Luckily the pretentious actor in me could justify that because I do always start building characters from what the physical language is: If [the Duke is] a boxer, if he's a horse rider, if he's a fencer, what does that do to the body? Like, how do you carry yourself? And so this training kind of worked in with that." He then added. "And half of the time my wardrobe is not wardrobe, so I had to make sure that was tailored as well."
Principal photography wrapped in early 2020, right in time for the Covid-19 pandemic to shut all film sets down. Van Dusen said the show's post production process had to be done remotely: "We [spent] a lot of time on Zoom and Google Hangouts. We mixed the show virtually, almost all of the editing was done virtually." And one person Van Dusen spent a lot of time with on Zoom was Andrews, who recorded her voiceover in a studio in New York (she has a house in the Hamptons).
"We did all of our sessions virtually with her," said the showrunner. "I was in Los Angeles, and we were able to do it over Zoom. She was so fun to work with. Everything that you think Julie Andrews is, she is."
All eight episodes in the first season of "Bridgerton" were released on Dec. 25, 2020 and seemed to become a sensation overnight. Netflix announced that 82 million households around the world watched the show in its first 28 days, making it the No. 1 original series from the streaming giant.
And it immediately became a cultural phenomenon, inspiring a TikTok musical and a "Saturday Night Live" hosting gig for Page (there was even a sketch about the "Bridgerton" intimacy coordinator specifically). Page has become the breakout star of the show, landing on "Time" magazine's 100 list; Rhimes wrote his entry, saying, "Regé is a singular talent whose prospects are limitless. Today, he may be our duke. By tomorrow… not even I can dream big enough to imagine."
And to the surprise of no one, Netflix did not hesitate to renew "Bridgerton" for a second season. Each book in the series follows the romantic pursuits of one of the Bridgertons or their friends. So the second season will follow Anthony, Daphne's older brother played by Jonathan Bailey, as he learns to become less jaded in love. Simone Ashley has already been cast as Anthony's love interest.
READ: A Mistake to Avoid When Auditioning for 'Bridgerton'
Filming on Season Two will begin in spring 2021 in the UK, but no release date has been announced.
For her part, even though her character's love story was tied up in a satin bow at the end of season one, Dynevor hopes that Daphne will be a sizable presence in the show's second season. "I hope she gets involved in Antony's love life as much as he was involved in hers," she exclaimed. "Love is very complex and it's never necessarily a happy ending, there's always challenges to face along the way. So I think there probably will be more, and I hope to explore those. I think that would be fun."
As for me, dear reader, I will certainly be awaiting Season 2 of "Bridgerton" with bated breath, and my smelling salts in reach.
Looking for remote work? Backstage has got you covered! Click here for auditions you can do from home!